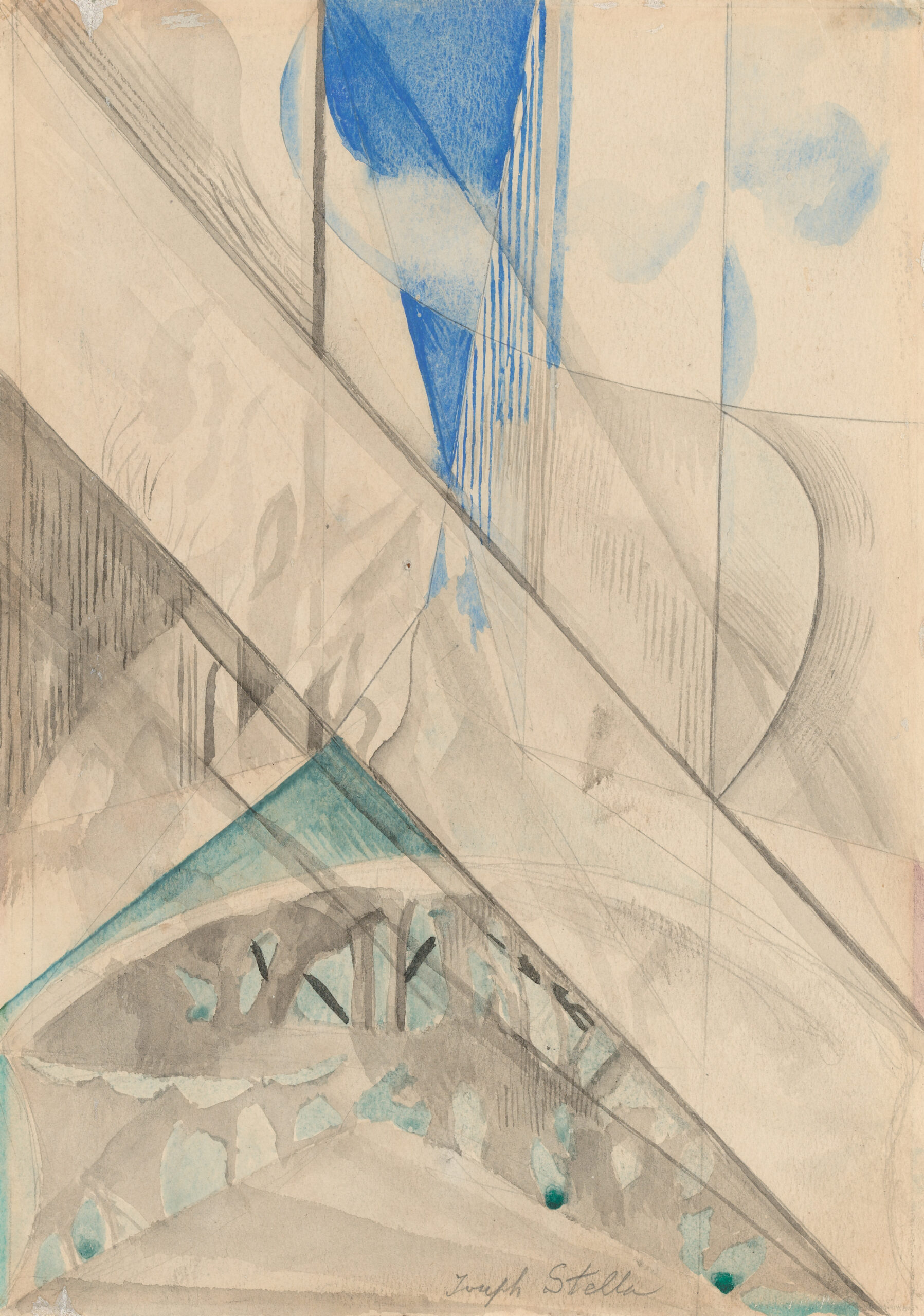 About the Object
In this watercolor, Stella presents a view of the Brooklyn Bridge, its iconic towers cropped out of the composition. Rows of cables draw our eye to the blue sky in the background, presumably between the towers.
Additional Information
Completed in 1883, the Brooklyn Bridge was a frequent subject of Stella's in the early 20th century including Brooklyn Bridge, 1919–20, Yale University Art Gallery; The Voice of the City of New York Interpreted, 1920–22, in the Newark Museum; and The Brooklyn Bridge: Variation on an Old Theme, 1939, in the Whitney Museum of American Art.
The Artist;
[Rabin and Kruger, New Jersey];
Ellenberger Family Collection, Florida;
By descent in the family, New York;
[Owings-Dewey Fine Art, Santa Fe, NM];
Tulsa. Philbrook Museum of Art.  From New York to New Mexico: Masterworks of American Modernism from the Vilcek Foundation Collection (February 8-May 3, 2015); Phoenix. Phoenix Art Museum (June 5-September 6, 2015); Santa Fe. Georgia O'Keeffe Museum (September 25, 2015-January 10, 2016).
Corpus Christi. The Art Museum of South Texas. Masterpieces of American Modernism from the Vilcek Collection of American Art. September 13, 2018-January 6, 2019.
Agee, William C. and Lewis Kachur. Masterpieces of American Modernism: From the Vilcek Collection. London: Merrell, 2013, pp. 78-79, 222, 235, 268, ill. p. 79.
Pochoda, Elizabeth. "Freedom and the abstract truth: Jan and Marica Vilcek's collection of American modernist art," The Magazine Antiques (May/June 2013), ill. p. 103, fig. 13.