The Vilcek Foundation has partnered with artist and illustrator Hiroki Otsuka to create a series of manga – graphic comics in the Japanese tradition – about our prizewinners. The first manga centers the life and work of Denise Scott Brown, recipient of the 2007 Vilcek Prize in Architecture. "Denise Scott Brown is one of the most influential American architects of the twentieth century. A pioneer of postmodernist thinking, her designs are rooted in a highly theoretical framework," says Vilcek Foundation President Rick Kinsel. "We are delighted with the way Hiroki captured these elements of Denise's life and work for this manga."
Hiroki's mastery of manga as a tool for storytelling is evident. In this manga, he translates abstract concepts into images and text, illuminating the approaches to study and design that make Denise Scott Brown an icon of modern architecture and urban planning.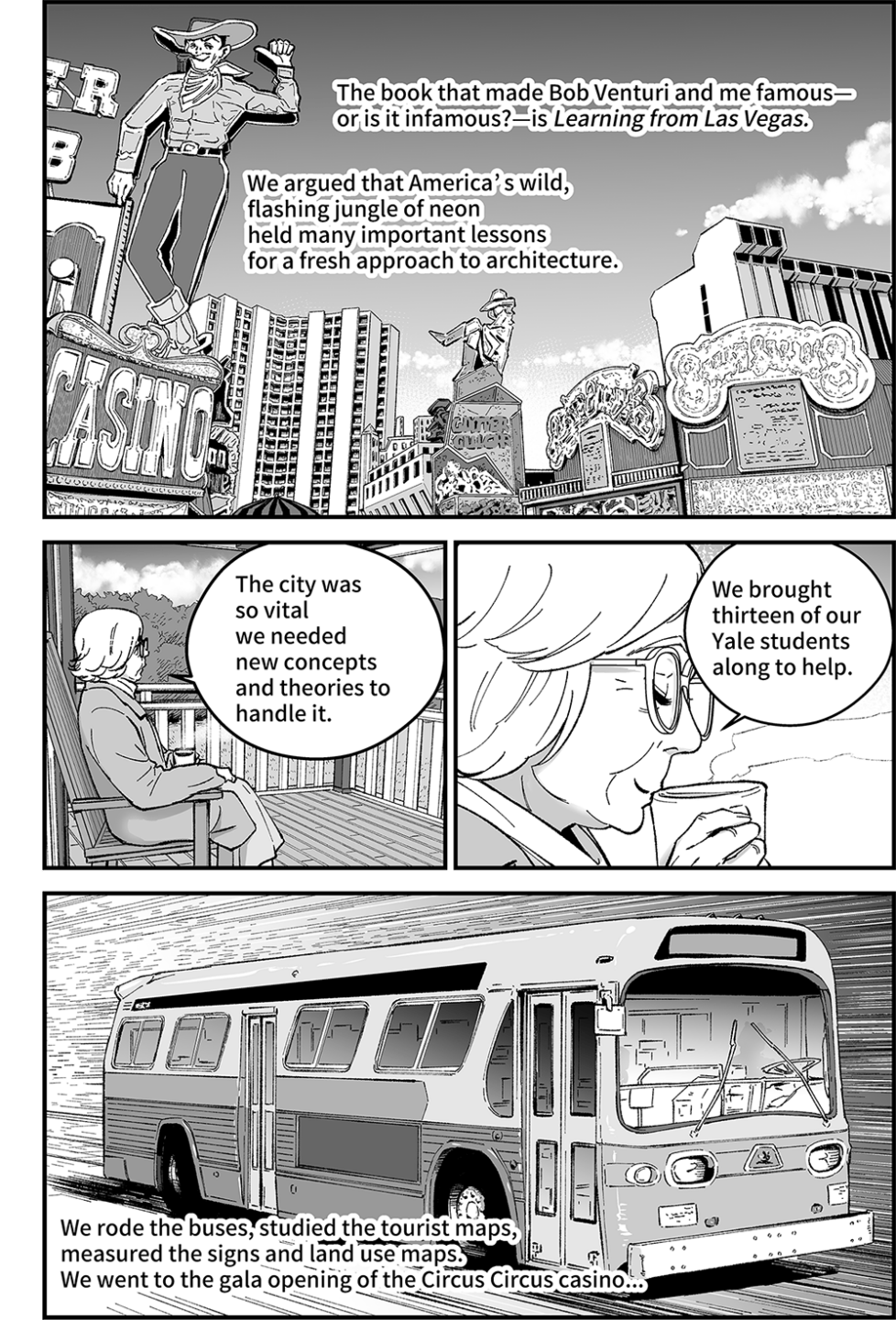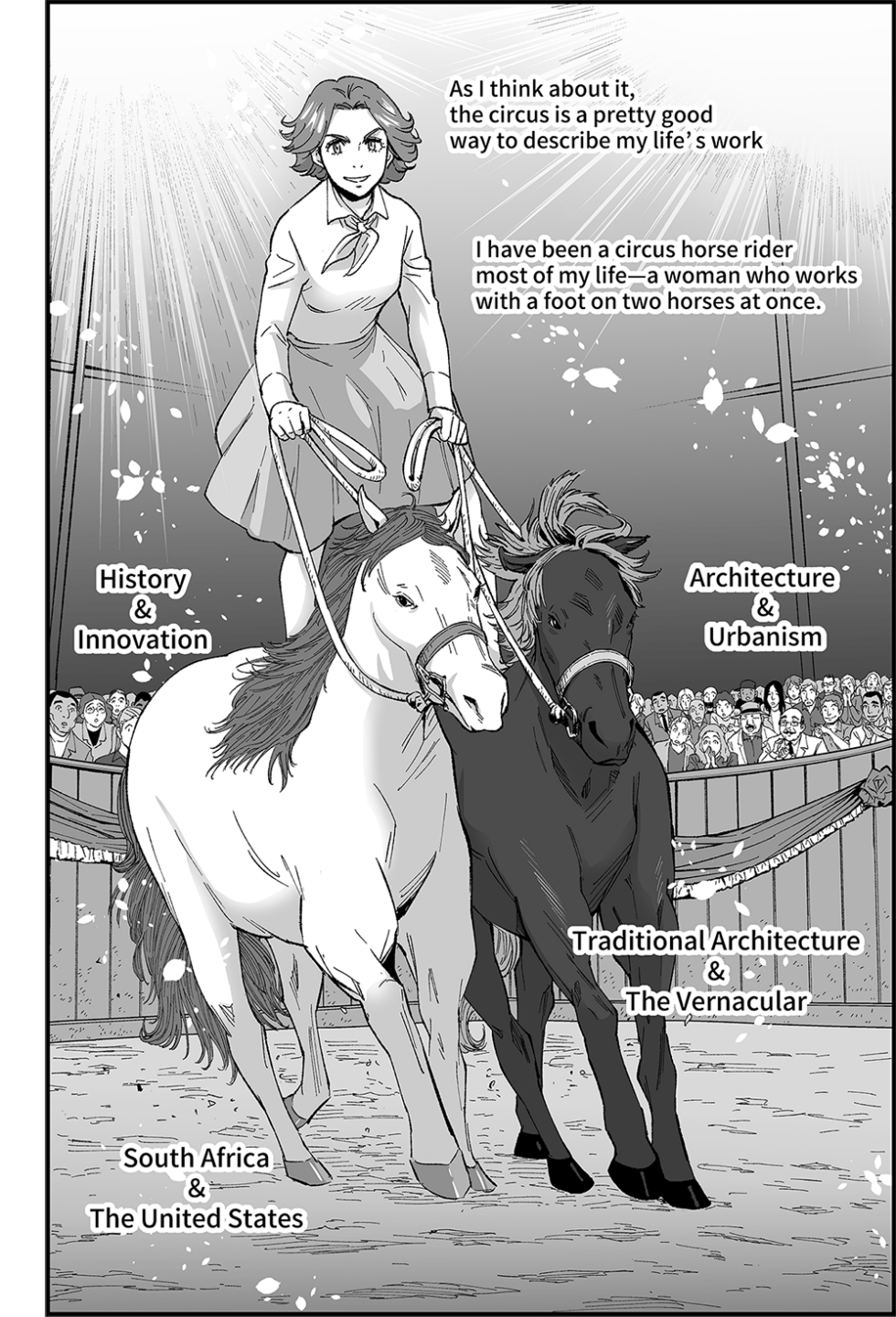 Denise Scott Brown
Born in Zambia and raised in South Africa, Denise rose to acclaim in the 1960s and 1970s for her approach to modern architecture and urban planning. She is fascinated by the way individuals interact with space, and the ways in which these interactions can be used to develop buildings and spaces that are functional and responsive to people's needs.
Hiroki Otsuka
Hiroki's work has appeared in major Japanese publications and in galleries and art fairs in New York, Tokyo, and Basel. Born in Japan, he has been a professional manga artist since 1994. In 2007, he was one of 33 Japanese contemporary artists featured in the Japan Society's centennial exhibition, Making a Home; and in 2010, he served as the Japan Society's first-ever manga artist-in-residence during the exhibition Graphic Heroes, Magic Monsters.
---
Transcript
Denise Scott Brown
2007 Vilcek Prize in Architecture
This is my Peaceable Kingdom. That's what I call my house. The buildings, books, essays on urban space—they all took shape here. It's been my home for more than forty years.
Johannesburg, South Africa
I grew up in South Africa. When I was a toddler, my mother started teaching me about modernism. Architecture was my destiny, I guess you'd say.
I had to experience European buildings through photos. For me, photography became a critical way to understand architecture…
…a new way of seeing. It's a tool I still use today!
I knew my calling. I left Africa to train in urban planning and architecture. But that was the 1960s and I quickly found…
…it was a challenge to be recognized in a field dominated by men.
I decided the way forward was to create bold, interesting work… and to always be learning!
The book that made Bob Venturi and me famous—or is it infamous?—is Learning from Las Vegas. We argued that America's wild, flashing jungle of neon held many important lessons for a fresh approach to architecture.
The city was so vital we needed new concepts and theories to handle it.
We brought thirteen of our Yale students along to help.
We rode the buses, studied the tourist maps, measured the signs and land use maps. We went to the gala opening of the Circus Circus casino…
As I think about it, the circus is a pretty good way to describe my life's work. I have been a circus horse rider most of my life—a woman who works with a foot on two horses at once.
Architecture & Urbanism
South Africa & The United States
History & Innovation
Traditional Architecture & The Vernacular
Provincial Capitol Building, Toulouse, France
Sainsbury Wing, National Gallery, London, United Kingdom
Nikko Kirifuri Resort, Nikko, Japan
People started to come to Bob and me with all sorts of wonderful problems… we designed museums and fire departments and hotels and monuments… and we helped plan the flow of universities and city centers.
Sometimes clients would be surprised by my approach!
Dartmouth
Dartmouth College consulted me on developing a campus plan. They asked me where their new mathematics building should go."Well how do you think about math?" I asked.
"Is it the shock troops of computer programming?"
"The handmaiden of the sciences?"
"Inspired, fun puzzle-solving?"
You've got to wrap your head around these questions and a hundred more… before you can think about laying a brick.
In 2007 I received the Vilcek Prize in Architecture.The Vilcek Foundation specifically recognizes immigrants in the arts and sciences.
I've won a number of awards in my time. In 1992, Bob and I were awarded the National Medal of Arts… we also received the American Institute of Architects' highest honor—the AIA Gold Medal.
But the Vilcek Prize is a special recognition because it acknowledges my whole life experience as well as my accomplishments.