Explore the traditions of music, storytelling, and art that have inspired Samuel "Blitz" Bazawule in a new manga. The Ghanaian-born musician, artist, filmmaker, and author received the Vilcek Prize for Creative Promise in Music in 2013.
The manga comes at a time when Bazawule's work is reaching more audiences than ever before: His debut novel, The Scent of Burnt Flowers, was published to critical acclaim in June 2022. Bazawule also recently wrapped filming on The Color Purple, a new full-length musical drama based on Alice Walker's 1982 novel.
Creative Promise and Artistic Growth
"With each new medium Blitz explores, his artistry deepens, adding new layers to the stories he shares with audiences and readers," says Vilcek Foundation President Rick Kinsel. "It has always been the foundation's intention that our Creative Promise Prizes could catalyze growth and new developments for the young artists who receive them.
Following his receipt of the Creative Promise Prize, Bazawule began to explore filmmaking through short films and his debut feature, The Burial of Kojo. In 2020, Bazawule was named a Guggenheim Fellow; later that year, millions would see his directorial work on Beyoncé's Black Is King, for which he received a Grammy.
Visual Storytelling
This chapter is the third in a series of manga biographies developed by the Vilcek Foundation with artist Hiroki Otsuka. Through this engaging visual format, the foundation hopes to bring the stories of outstanding immigrants to life through a medium that is accessible to readers of all ages.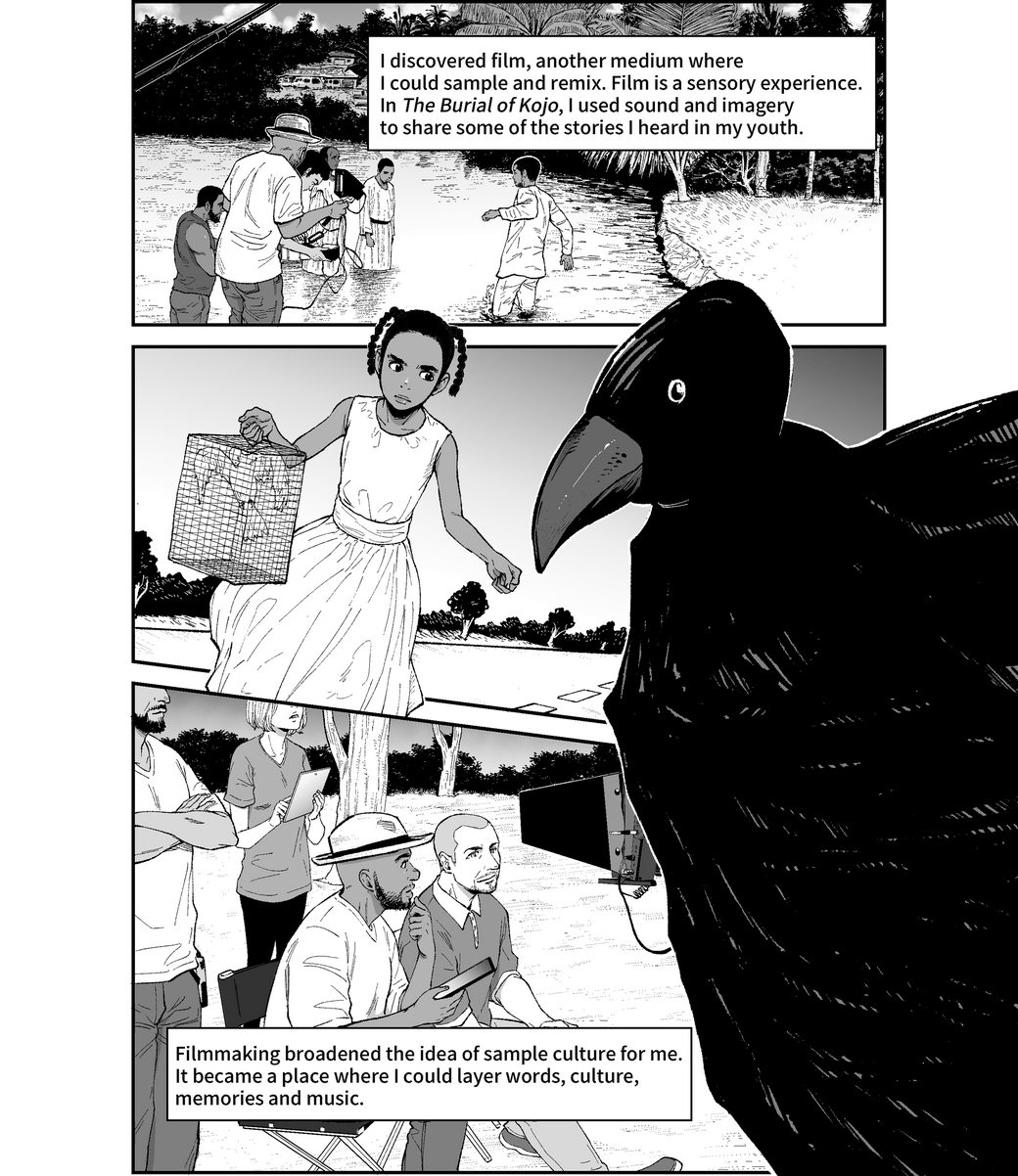 Samuel "Blitz" Bazawule
Samuel "Blitz" Bazawule received the Vilcek Prize for Creative Promise in Contemporary Music in 2013 for his socially and politically charged music that draws on global influences including hip-hop, bossa nova, Brazilian samba, and Moroccan gnawa. Since receiving the award, Bazawule has continued to expand his artistic repertoire through filmmaking, visual art, and writing. A dedicated activist, Bazawule is the founder of the Africa Film Society, an organization focused on the preservation of African cinema.
Hiroki Otsuka
Born in Japan, Otsuka has been a professional manga artist since 1994. His work has appeared in major Japanese publications and in galleries and art fairs in New York, Tokyo, and Basel. In 2007, Otsuka was one of 33 Japanese contemporary artists featured in the Japan Society's centennial exhibition, Making a Home; and in 2010, he served as the Japan Society's first-ever manga artist-in-residence during the exhibition Graphic Heroes, Magic Monsters.
______________________________________________________________________________
Transcript
Some audiences said The Burial of Kojo was like a dream.
That film was born from stories I heard in my boyhood in Ghana. When the power went out, we would beg my grandmother to tell us stories about the raven, the shape-shifter…
…my first encounter with the imaginative world.
Music was a universal language in the communities I grew up in. Always a band somewhere…
…then hip-hop arrived through tapes and CDs. That was a thunderclap!
Public Enemy toured Ghana in 1992 and it electrified us…you can imagine how much of an impact it had…
…Hip-hop Sparks something in every culture it touches.
I knew I had to make this music, too.
I started to tour as Blitz the Ambassador. As I traveled, I was influenced by Brazilian samba, bossa nova, Japanese funk from the seventies, Moroccan gnawa music from the sixties.
Hip-hop is sample culture. It borrows and it bends.
That's why the genre is always evolving. It is a medium that is incredibly welcoming, but there's a very clear thread of the African diaspora, which can be mapped all the way back through the drum.
In my own evolution, I moved to the United States. In 2013, the Vilcek Foundation and Rick Kinsel awarded me a Creative Promise Prize, acknowledging my voice and influence as an immigrant artist.
I discovered film, another medium where I could sample and remix. Film is a sensory experience. In The Burial of Kojo, I used sound and imagery to share some of the stories I heard in my youth.
Filmmaking broadened the idea of sample culture for me. It became a place where I could layer words, culture, memories and music.
Filmmaking expanded the possibilities for my artistry: as a writer, as a filmmaker, as a visual artist, and as a musician.
…through my novel The Scent of Burnt Flowers…
Through my work on The Color Purple and Beyonce's Black Is King.
…and through paintings like those in my series, A Moment in Time.
With each new medium, rediscovering the power of sample culture.
The ability to use art to tell stories that bring people together across cultures.