Born in Calgary, Alberta, Canada, artist Geoff McFetridge discovered drawing as an outlet early in life, using the steadiness of the pencil and the simplicity of line to tame his mind and make sense of the world around him. His work is now ubiquitous, with his bold, graphic style embraced by major companies like Hermès, Patagonia, Vans, and Apple. Geoff McFetridge: Drawing a Life, directed by Dan Covert, is a poetic and intimate look into the life of an artist that also explores universal questions of what makes a fulfilling life. 
The Vilcek Foundation is delighted to host McFetridge as part of our New American Perspectives program at the 43rd Annual Hawai'i International Film Festival in October 2023. The program shines a spotlight on immigrant and first-generation artists' contributions to cinema and the arts more broadly. As part of this year's program, the foundation will support a screening of Geoff McFetridge: Drawing a Life followed by a master class with the artist on Friday, October 20.
Geoff McFetridge
After attending a local arts college in Alberta, McFetridge moved to the United States to attend CalArts. Upon graduating, he expanded into printmaking and graphic design and began working as art director for the Beastie Boys' Grand Royal Magazine. He worked as a director of commercials and collaborated on films with Spike Jonze and Sofia Coppola to create distinctly recognizable titles and graphics—from the nostalgic title illustrations for The Virgin Suicides to the immersive user interface for Her.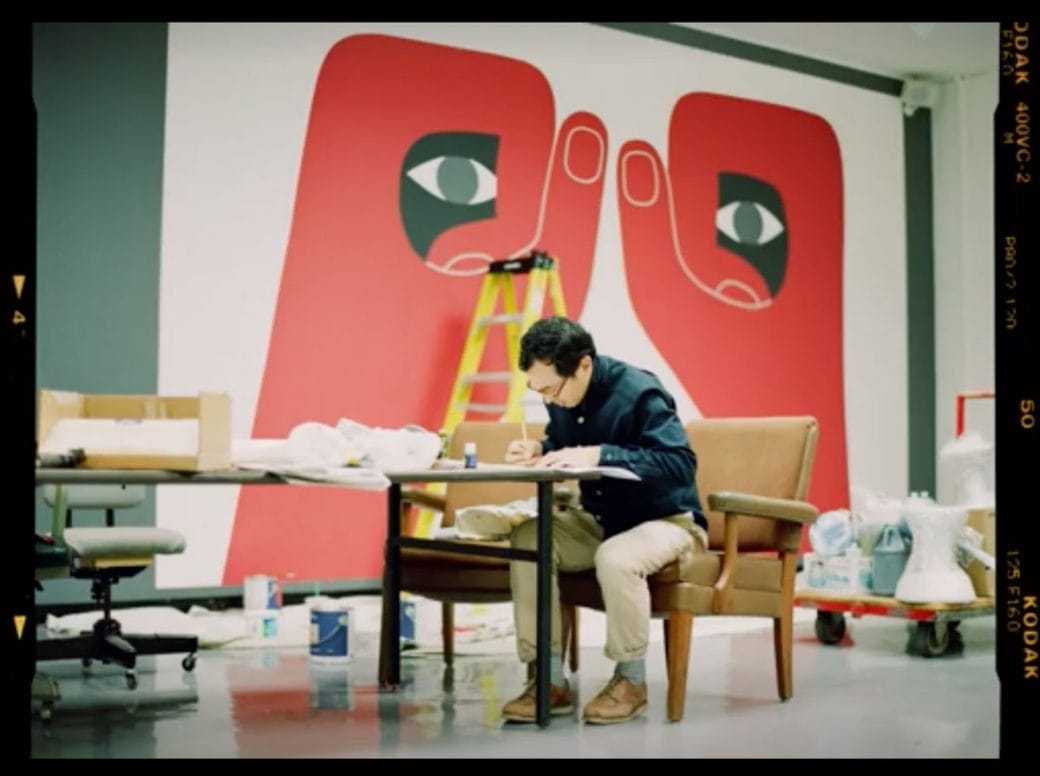 Geoff McFetridge: Drawing a Life explores the flux of McFetridge's art and life over the past two decades. To describe his practice, he uses the metaphor of the studio to hold space for the diversity of projects he takes on: "When you have a physical space, different things will pass through it. There's many things on the table."
DIY and Drive: Do It Yourself
"Geoff is part of an era of artists who came out of the DIY culture of the late '90s," says director Dan Covert. "He didn't wait for the world to give him a career; he built one painstakingly and authentically on his own terms, brick by brick."
His first solo exhibition was at Los Angeles' Georges Gallery in 1997, where he filled the space with prints, silkscreens, and hand-painted designs. The exhibition is now in the permanent collection of the San Francisco Museum of Modern Art and Design. Included in the canonical "Beautiful Losers" exhibition in 2004, his paintings and sculptures have since been featured in gallery and institutional exhibitions around the world and been commissioned for monument public artworks.
Outside of his art practice, McFetridge is an ultramarathoner, which characterizes the drive, passion, and commitment he puts into every project he takes on. Using art as a tool, he explores human vulnerability, intimacy, and perception—elements that can be uncomfortable but exemplify the intimacy and humanity that shines through in his work.
"You don't just go and do the stuff you can do," he says. "You go and do the stuff you can't do."