The Vilcek Foundation and The Arnold P. Gold Foundation announce Dr. Jirayut "New" Latthivongskorn and Dr. Denisse Rojas Marquez as joint recipients of the 2021 Vilcek-Gold Award for Humanism in Healthcare. The award embodies the missions of both the Vilcek Foundation and the Gold Foundation: It shines a spotlight on outstanding immigrant healthcare professionals and celebrates the positive impact that accessible and humanistic care has on public health.
Jirayut "New" Latthivongskorn and Denisse Rojas Marquez receive the 2021 Vilcek-Gold Award for their leadership in establishing Pre-Health Dreamers (PHD) with Angel Ku. PHD is a collective organization that provides information and resources to young immigrants who want to pursue higher education and careers in healthcare. New and Denisse also receive the award for their advocacy in support of undocumented immigrants in the United States. Denisse provided testimony at a 2017 Senate Judiciary Committee hearing in support of the Deferred Action for Childhood Arrivals (DACA) program. New was a plaintiff in the United States Supreme Court case regarding DACA in 2019.
New is a resident physician at the Zuckerberg San Francisco General Hospital and Trauma Center. He completed his doctor of medicine degree at the University of California, San Francisco (UCSF). Denisse is an incoming resident physician at Boston Medical Center and holds a doctor of medicine degree from the Icahn School of Medicine at Mount Sinai in New York City.
New and Denisse's commitment to supporting undocumented immigrants is compelling and personal. As adolescents, they witnessed their families encounter obstacles to accessing healthcare as a result of their immigration status; as a result of these experiences, they sought careers in healthcare and public health so that they could provide the kind of care to others that their own families struggled to receive. Both New and Denisse immigrated to the United States with their families when they were children—New from Thailand and Denisse from Mexico. Due to their ages at the time of their arrival in the United States, they were eligible to apply for deferred action under DACA; both are currently DACA recipients.
"The advocacy of Jirayut 'New' Latthivongskorn and Denisse Rojas Marquez has offered immigrants greater access to education, opportunity, and representation," said Jan Vilcek, CEO and chairman of the Vilcek Foundation. "As DACA recipients and young medical professionals, their leadership is grounded in their own experiences. We recognize New and Denisse as the joint recipients of the 2021 Vilcek-Gold Award for Humanism in Healthcare to highlight the outstanding contributions that immigrants make to our communities, our healthcare system, and our country."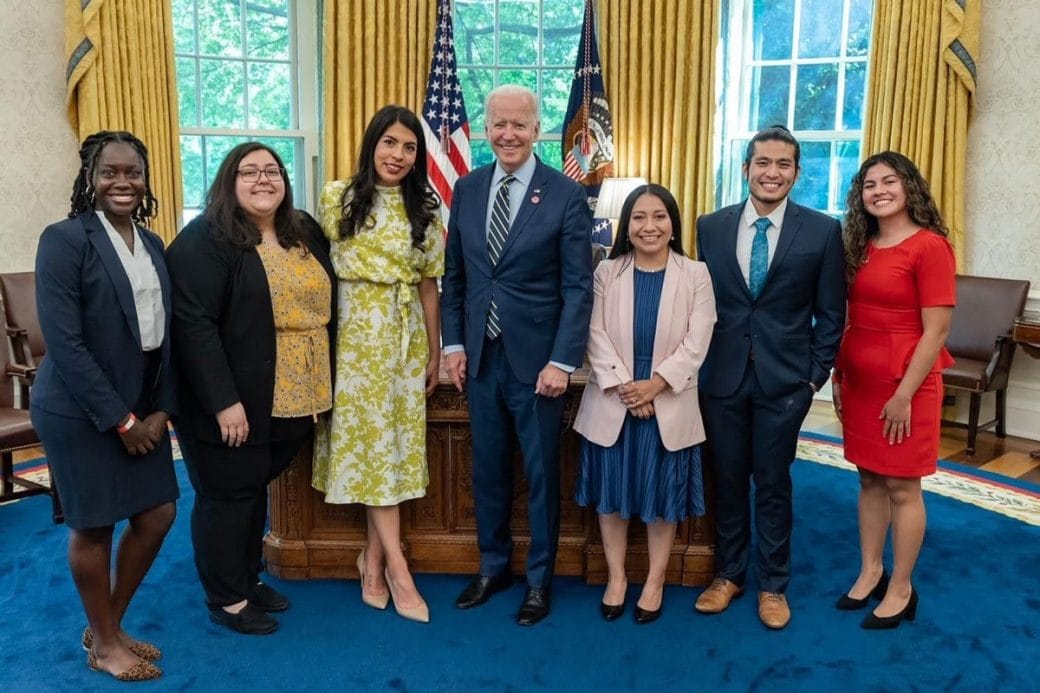 Dr. Mona Hanna-Attisha, recipient of the 2019 Vilcek-Gold Award for Humanism in Healthcare,  reflected: "In a year like no other, our young healthcare leaders have bravely and tirelessly stood up for justice, equality, democracy, and opportunity. Leading the revolution, New and Denisse have paved the way for countless immigrants to not just dream, but to realize, a career in healthcare."
The Vilcek-Gold Award for Humanism in Healthcare includes a cash prize of $10,000, and a commemorative heart-shaped trophy. The award will be presented to New and Denisse at the Association of American Medical Colleges (AAMC) Annual Meeting in November 2021.