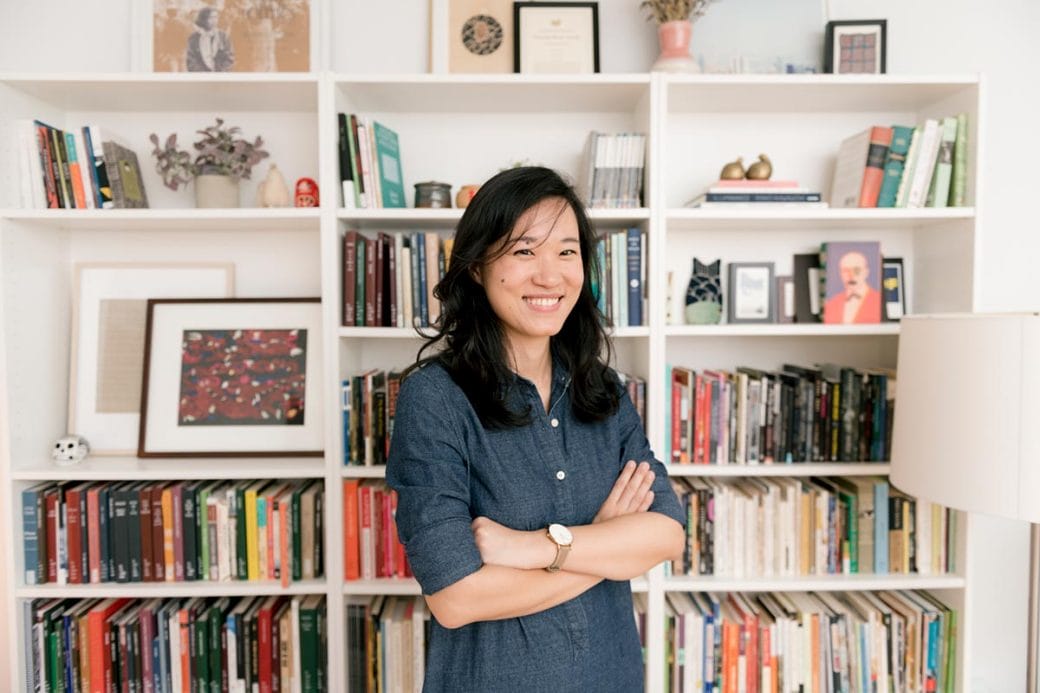 Poet and lecturer Jenny Xie emigrated to the United States from Anhui, China, at the age of 4 with her paternal grandmother, to reunite with her mother and father. Her parents had left China for the United States when Jenny was an infant—her father to pursue his PhD in mathematics at Rutgers University, with her mother following him shortly thereafter. Upon arriving in the United States, Jenny and her family lived in academic housing for Rutgers University academics in Piscataway, New Jersey.
From a young age, Jenny observed the double-ness of many immigrants' lives. She recalls there being a large contingent of faculty members who had emigrated from China living in Rutgers graduate housing, describing the experience of living there as that of living in an enclave: Chinese academics and their families relied on one another for child care, group dinners, and a social community. At home, Jenny was expected to conform to what her parents and extended family members expected of her as a Chinese American girl; however, she was also expected to learn English, to excel in public school, and to assimilate into American society outside of the home.
Early on, Jenny developed a love for reading, often being left to read when her parents were busy or attending to errands. "I grew to love being in my own head and that way of entertaining myself," she recalls, fondly remembering being dropped off at a bookstore or allowed to sit and read while her parents shopped at the grocery store.
Once you become a voracious reader, I think it's a natural next step to want to create stories of your own.
Growing up in a community that emphasized the quantitative sciences and math, Jenny notes the creative escape that literature and writing provided her: "It just felt like my own space… this protected space where I could fail, I could play around…. I didn't have to be assessed in any way," she recalled. The experience of learning English as a second language influenced Jenny's affinity for poetry and prose: "When English is not your native language, you are incredibly cautious around it," she said, and that she was drawn to the ways in which poetry "encouraged a kind of linguistic wildness and a departure from rules."
A graduate of both Princeton University and NYU, Jenny is now a lecturer in creative writing at Princeton University's Lewis Center for the Arts, and a language lecturer in NYU's expository writing program. Jenny is the author of the poetry collections Nowhere to Arrive and Eye Level; her work has been featured in Poetry magazine, the American Poetry Review, and the New Republic, among other publications. For Jenny's thoughtful contributions to contemporary literature that explore themes of identity, selfhood, perception, and power, she is being awarded a Vilcek Prize for Creative Promise in Literature.
Jenny's work explores the boundaries of self, identity, and perception. The New Yorker praises the insight and perspective Jenny brought to her collection Eye Level, noting "Through Xie's eyes, we can see the binds and paradoxes of being stuck inside a single point of view. When you're at eye level with another person, however, you can be briefly prodded out of solipsism: you see yourself being seen."
Jenny's work bears witness to the complex issues of our time: the feelings of belonging and alienation in a world where borders are real but invisible; and the internal and external complexities of identity—the internal self, the performative self, and the experience of otherness.
You may also be interested in