Marcus Samuelsson, winner of the Vilcek Prize in Culinary Arts, is an uncontested genius in the kitchen. Ethiopian-born and Swedish-raised, Marcus first won acclaim as the youngest chef to ever receive a three-star rating from the New York Times he was then only 23, and already the executive chef of one of New York's finest restaurants, Aquavit.
Since then, his resume has grown exponentially: Marcus is the recipient of five James Beard Awards and the author of several cookbooks and a memoir. He has served dinner at the White House for President Obama and proven his culinary prowess on television shows such as Top Chef Masters and Chopped All-Stars. Today he oversees a portfolio of a dozen restaurants internationally, in the United States, United Kingdom, Sweden, Bermuda, and other locations.
What the ensuing years have also shown, however, is that Marcus is just as much a genius outside of the kitchen. With the same intuition he has for elevating food to art, Marcus has demonstrated a deep understanding of the ways that food is a structural element of society, and thus can be harnessed for change.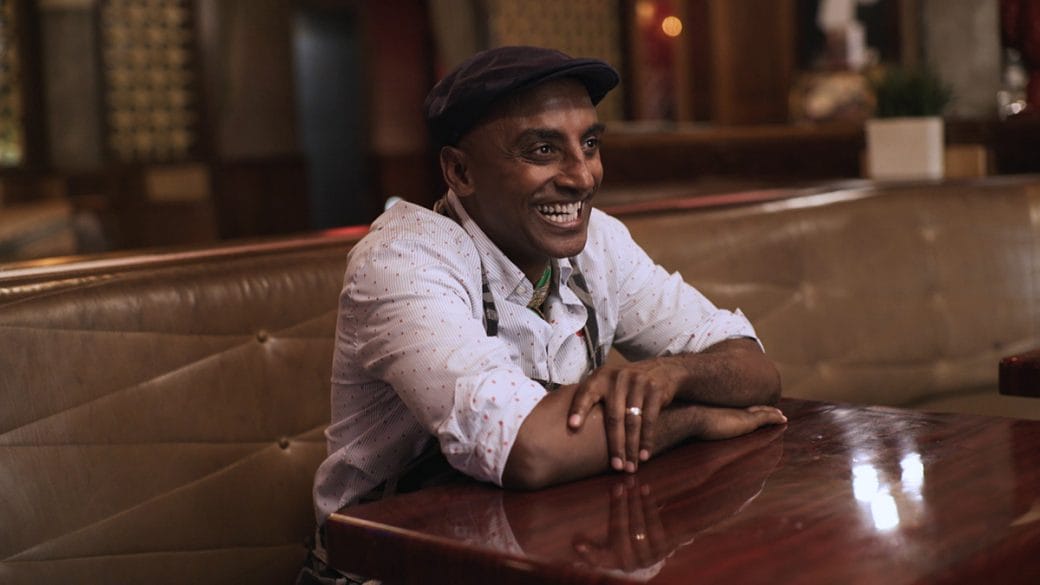 His culinary education began in childhood. When his mother passed away from tuberculosis, Marcus and his sister were adopted from Ethiopia by a couple in Sweden. From his grandmother Helga, Marcus learned the foundations of cooking: He learned when to pick rhubarb, how to pickle mushrooms, how to bake bread. "It was a constant motion of cooking and eating and learning about food from various stages," he says.
Then, from summers spent in the village where his father grew up, Marcus saw firsthand the myriad ways that food functioned in society. Every day was spent fishing, and afterwards, the catch would be divided up: Some given to the elderly, some sold for pocket money, some cured or smoked for the future, while the rest was to be cooked and enjoyed that day. "I was taught the whole cycle of food," Marcus said. "It was like a spiritual complex."
After studying at the Culinary Institute in Gothenberg, Marcus went on to complete apprenticeships around the world, including in Japan, Switzerland, and France. Although he did not speak the language or know the culture, and was often times the first black man his colleagues had ever met, he found means of connecting with his peers through their shared endeavors in the kitchen. "I've been able to express myself through food throughout the world since I was a teenager," he says.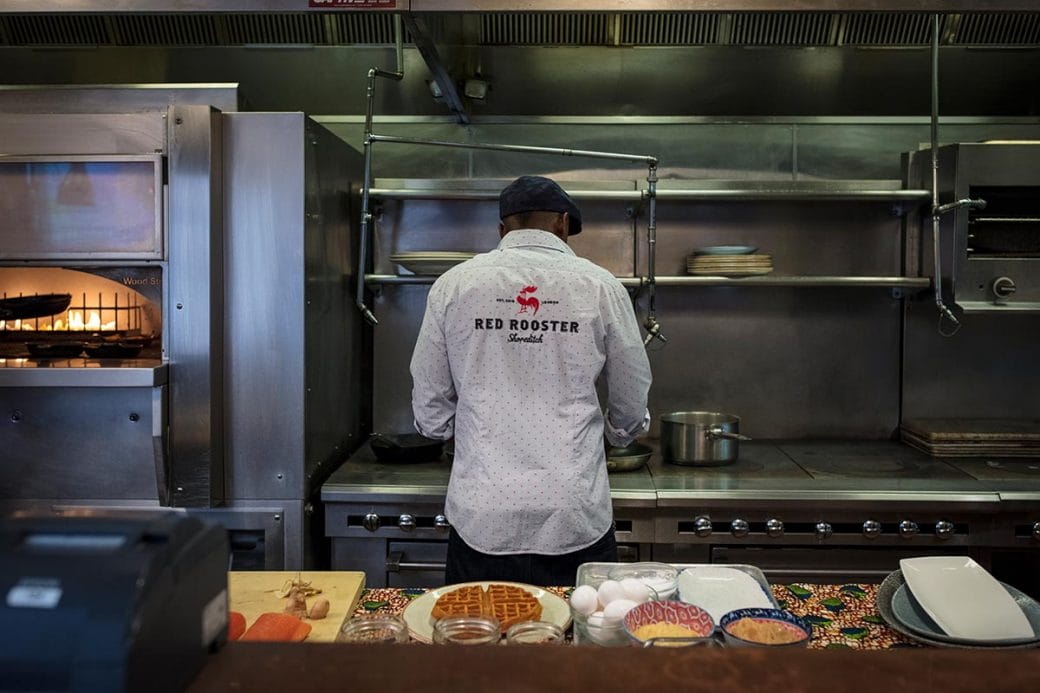 Toward the end of his apprenticeships, Marcus was working at a prestigious, three-star Michelin restaurant in Lyon, France. When the head chef asked him about his future plans, Marcus said he aspired to one day open his own fine-dining establishment.
Impossible, the chef said kindly—not because he lacked talent, will, or stamina, but because he was black. It simply wasn't done, Marcus was told. At least not in Europe.
So Marcus, with the blessing of his family, decided to move to the United States. He arrived at Aquavit as an apprentice, and a year later made New York Times history as the restaurant's executive chef. He went on to open other restaurants, proving many times over that he could indeed succeed as a black chef.
The events of 9/11, however, caused Marcus to stop and consider his responsibility to his adopted home: New York City had given him opportunities for success when others had discouraged him, but what was he giving back?
He poured his energy, then, into opening his next establishment, Red Rooster, deliberately located in Harlem. "Certain communities don't get the influx of new restaurant openings you see elsewhere in Manhattan, and that's not by coincidence," Marcus says. "This is more linked to Jim Crow than it is to people not wanting to eat good food."
Over an eight-year period, Marcus studied the community and its needs; more than just wanting another a successful restaurant, Marcus aspired to lift up the neighborhood along with him. And since Red Rooster's founding in 2010, he seems to have done just that: Featuring live music and art from Harlem, the restaurant draws patrons from all over the city and tourists from all over the world, while creating jobs for about 180 people from the community.
In 2015, Marcus co-founded the Harlem EatUp Festival, an annual weeklong event that brings 15,000 people to uptown Manhattan. "That's game-changing in a community," Marcus says. A celebration of local food, history, art, and music, the festival champions the existing culture of Harlem while introducing attendees to its businesses and restaurants; net proceeds are then donated to local nonprofits.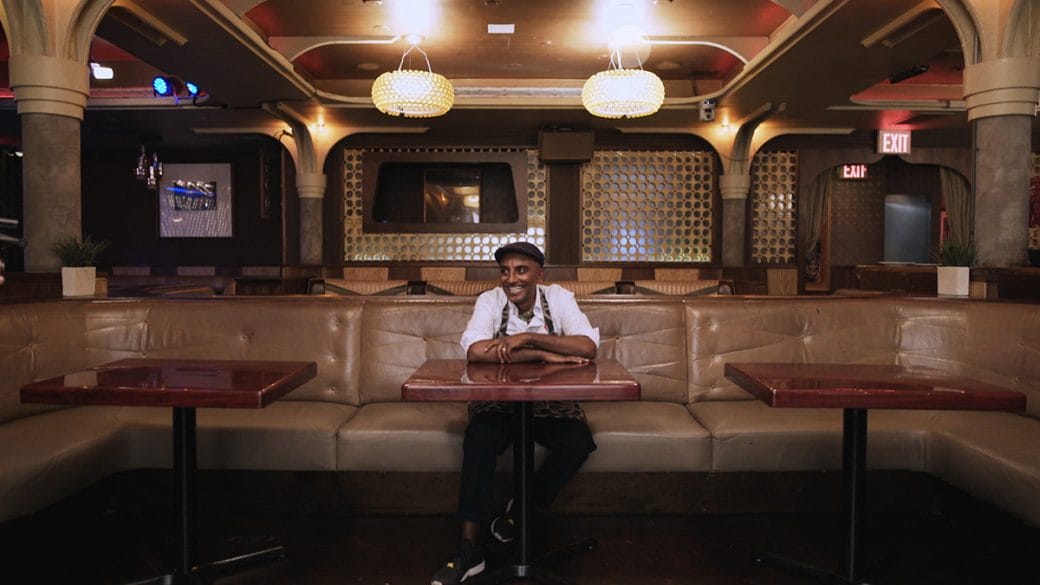 Marcus hopes, too, that the festival will allow people from disparate communities and networks to break bread together and connect in a convivial atmosphere. "If there had been a food festival in Ferguson, maybe those things wouldn't have happened," he says, referring to the weeks of protest and racial tension after Michael Brown Jr., an unarmed black teenager, was shot by a police officer. "I know it sounds absurd, but for me it is not a foreign idea."
In fact, it is an incredibly potent idea for Marcus: In addition to EatUp Harlem, he is actively involved with many other nonprofits that effect change through food and the culinary arts. He is the co-chair of Careers Through Culinary Arts Program, which provides underserved youth with training and scholarships for culinary careers; a UNICEF Ambassador, supporting its water and sanitation programs; and a board member of City Harvest, which rescues excess food to feed hungry New Yorkers.
Most recently, Marcus has been advocating for immigrants in America as the host of PBS's No Passport Required. Produced in partnership with Eater and Vox Entertainment, the show explores how deeply ingrained immigrant influences are in American cuisine across the country.
It is a partly a response to what Marcus calls the false narratives about immigrants that have sprung up in recent years, and he is committed to using his platform to create a space where immigrant communities can speak for themselves. Each episode focuses on a different city, and Marcus introduces viewers to the history of the community, whether recently arrived or established several generations ago, and how their culinary and artistic influences have given rise to their city's distinct culture.
"There are many ways of holding a fist up," Marcus says. "And for me, a fist up is showing beautiful people who are just contributing to the American way."