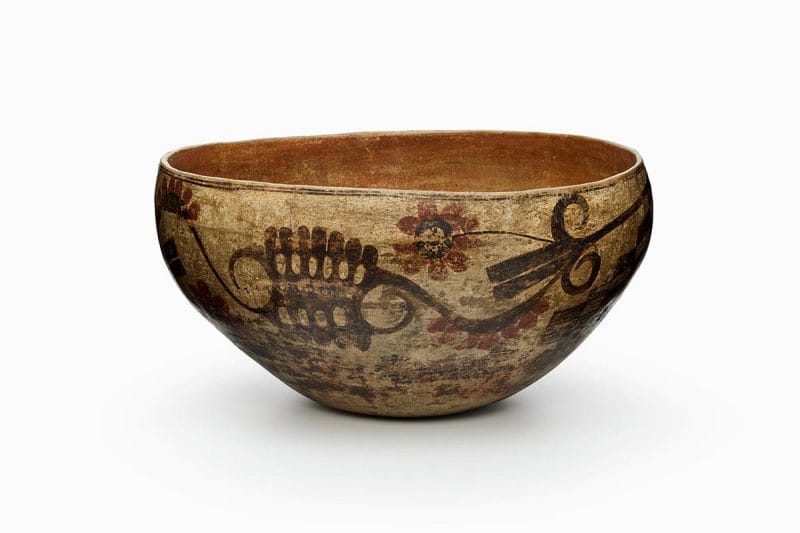 About the Object
This four-color Acoma polychrome dough bowl features white slip with black, red, and orange painted decoration. This dough bowl is strikingly unique for its red and orange floral motifs that hang off the head of the flared wings. In between each black wing is a diagonal band of checkerboards. The mouth of the bowl is outlined with double black lines, which rest on a warped mouth, likely the result of the firing process. The base of the bowl has a high red base that matches the interior slip.
Additional Information
The vessel form of the dough bowl is distinct as it is typically made thicker than other jars, especially for the classic Acoma olla (water jar) that is known for its thin walls. The thickness made the bowl more durable for better cooking and longer life. For decades it was theorized that the dough bowl was introduced by the Spanish, but this speculation has not been fully validated nor accepted by Pueblo communities. Today dough bowls are still used for a variety of reasons although the introduction of modern cookware has lessened their original use.
Unknown Artist;
Private Collection, Santa Fe, NM;
Robert Gallegos Collection, Albuquerque, NM;
Jack Silverman Collection, Aspen, CO;
[The Owings Gallery, Santa Fe, NM];
Santa Fe. Museum of Indian Arts and Culture. Grounded in Clay: The Spirit of Pueblo Pottery (July 30, 2022-May 29, 2023); New York. Vilcek Foundation and Metropolitan Museum of Art (July 13, 2023-June 2, 2024); Houston. Museum of Fine Arts, Houston (October 27, 2024-January 19, 2025); St. Louis. St. Louis Art Museum (March 9-June 1, 2025).
Sandoval, Cassandra et al. Pueblo Treasures from the Silverman Museum. Denver: Denver Public Library, 2005, pp. 44-45, cat. no. 15, ill. p. 45.
You may also be interested in