The Vilcek Foundation launches the second chapter in our series of manga sharing the work and life stories of our prizewinners. Produced in collaboration with illustrator Hiroki Otsuka, this chapter puts the spotlight on Vilcek Creative Promise Prize–winning biochemist, Mohamed Abou Donia. The first edition, published in January, celebrated architect and urban planner Denise Scott Brown.
Worlds Inside
Abou Donia's research focuses on microbial communities and the interactions between hosts, microbes, and metabolism. In the manga, Otsuka illustrates the parallels between the microbial communities and human communities that have influenced Abou Donia's life and work—from the Suez Canal in Egypt to his laboratory at Princeton University.
Visual Storytelling
"Mohamed's approach to his work is holistic—he thinks about the relationships between organisms and their microbial communities in the same way he thinks about diversity in human communities," says Otsuka. "It was fascinating to work with him to explore how we could craft a manga story that showcases the complexity of these relationships in a visual format."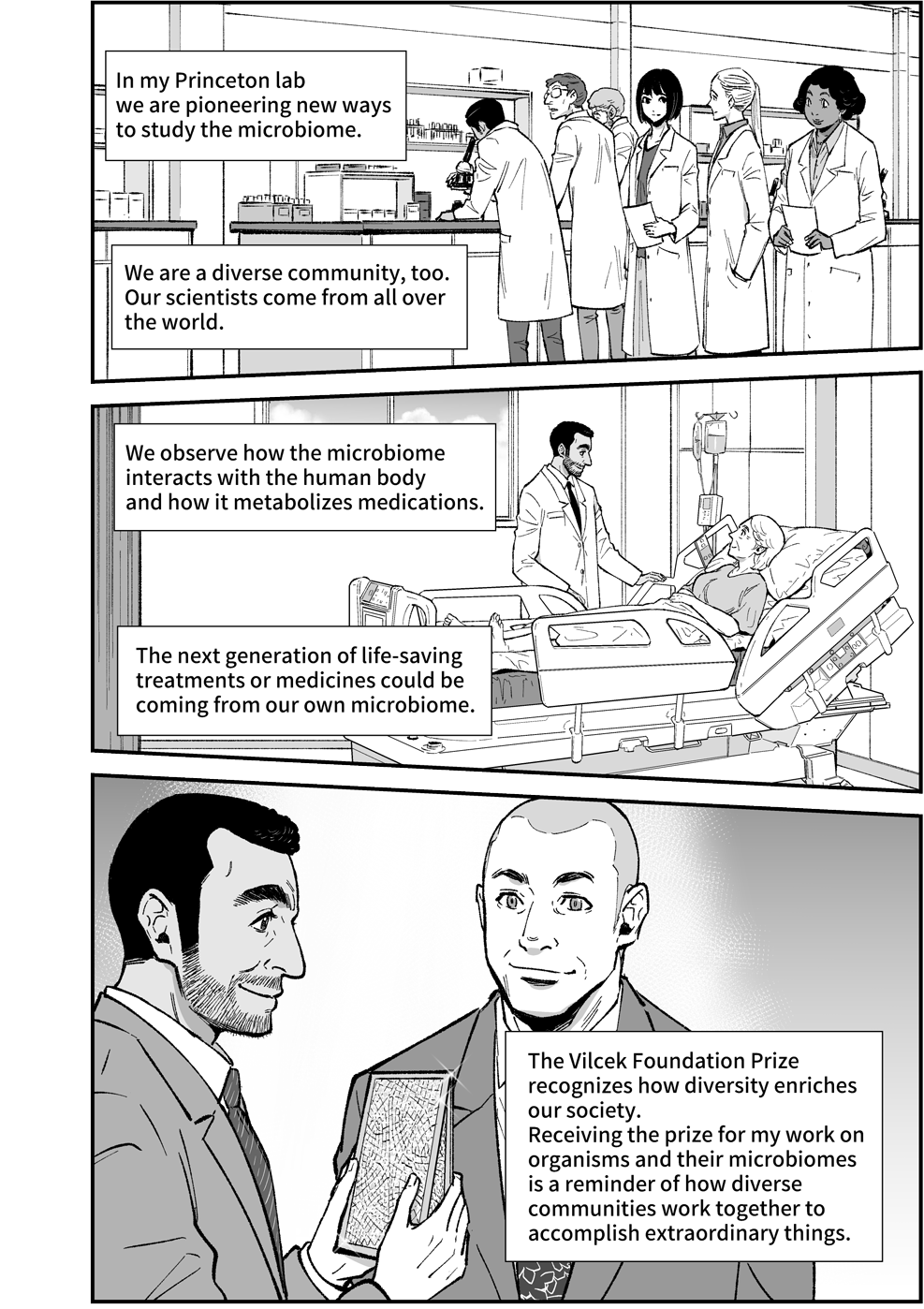 Mohamed Abou Donia
Born in Ismailia, Egypt, Abou Donia is an associate professor in the Department of Molecular Biology at Princeton University. A biochemist, Abou Donia's passion for understanding host-microbiome interactions initially grew out of his studies in pharmacology and medicinal chemistry. Abou Donia's work has led to a molecular understanding of the role of microbiome-derived chemical defense in marine organisms, the role of microbiome-derived bioactive chemicals in human health, and the role of the human gut microbiome in drug metabolism.
Hiroki Otsuka
Born in Japan, Otsuka has been a professional manga artist since 1994. His work has appeared in major Japanese publications and in galleries and art fairs in New York, Tokyo, and Basel. In 2007, Otsuka was one of 33 Japanese contemporary artists featured in the Japan Society's centennial exhibition, Making a Home; and in 2010, he served as the Japan Society's first-ever manga artist-in-residence during the exhibition Graphic Heroes, Magic Monsters.
________________________________________________________________________________
Transcript
 I am continually surprised by the diversity of life. Rich and complex communities are all around us.
Living communities are inside us, too. The microbes that inhabit humans are my life's work.
I was born near the Suez Canal in Egypt, a waterway traversed by ships from all over the world.
I grew up in lsmailia… a town with beaches and the most beautiful canal a boy could play in.
The water was my window into a strange new world.
Later, some of my research looked at one particular sea slug, Elysia rufescens, and its algal diet, Bryopsis sp.
The alga plays host to a wonderful community of tiny microorganisms. They help to protect the alga and the slug that feeds on it from other predators.
Humans are host to similar microbial communities.
It's so important to understand these microbial communities—the microbiome—because they affect everything in the body. They can affect how medicines work, and so many different aspects of our health!
If you look closely at the surface of marine algae or the human intestines….
…a whole world opens up! Hundreds of species live there in complex communities…
…different kinds of fungi, viruses, and bacteria, each surviving in a different niche.
Some microbes produce things we need—chemicals that help with physical or mental health…
…some are scoundrels that steal medicines or nutrients, or even produce harmful chemicals that can cause diseases.
In Bryopsis, some bacteria produce toxins that the alga uses in self-defense – Elysia rufescens steals these toxins and uses them for self-defense too.
In my Princeton lab we are pioneering new ways to study the microbiome.
We are a diverse community, too. Our scientists come from all over the world.
We observe how the microbiome interacts with the human body and how it metabolizes medications.
The next generation of life-saving treatments or medicines could be coming from our own microbiome.
The Vilcek Foundation Prize recognizes how diversity enriches our society. Receiving the prize for my work on organisms and their microbiomes is a reminder of how diverse communities work together to accomplish extraordinary things.