The Vilcek Foundation recently acquired Christo's Wrapped Oil Barrels (1958), the third work by the artist to be included in the Vilcek Collection. Wrapped Oil Barrels recalls the inception of a lifetime of ingenuity: It was in 1958 that Christo began experimenting with the idea of wrapping and stacking objects. The acquisition of this early work is a reminder of the fervor with which Christo pursued art from the very beginning. In his partnership with Jeanne-Claude, the pair would move on to create fantastically monumental sculptures featuring a simple object: a common oil barrel.
First Experimentations & Exhibitions
In 1961 the use of barrels gained Christo's full attention. He erected his first column of oil barrels in the courtyard behind his studio in Paris, assembling, photographing, and then disassembling the structures. Many of Christo's works from this era no longer exist; the young artist frequently struggled to pay his studio or storeroom rent, and his landlords would dispose of the barrels and assemblages. Lucky for Christo, barrels were easy to source, easy to replace, and their size made them formidable in creating large-scale works. They were conducive to what would become the essence of Christo's work: transforming commonplace objects and the environment.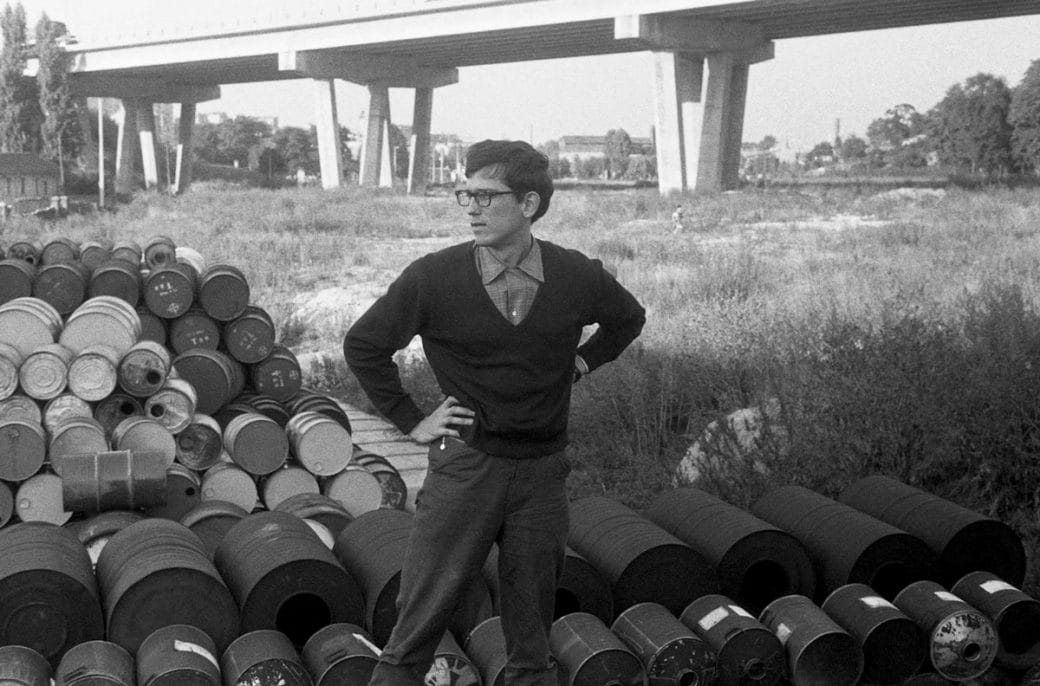 That same year, Christo's first major solo exhibition debuted in the Cologne Gallery of Haro Lauhus. The artist aimed for a claustrophobic and bold presentation. Visitors were welcomed in front of the entrance by a column of stacked barrels. Once inside, viewers found themselves in a room filled with barrels stacked from floor to ceiling, leaving only a small passage for visitors to pass through to the next room. In 1962 Christo's second major solo exhibition, at Jeanine De Goldschmidt's Galerie J, featured an installation of a wall of rusty steel drums that dominated a section of the gallery.
Moving Forward
During the first decade of Christo's work with oil barrels, walls were the defining feature of his installations. Barrels were stacked vertically and horizontally, both wrapped and unwrapped, and in a palette of neutral colors. Ink drawings proposing the use of barrels to cover building fronts/lobbies were made in the 1960s and showed the scope of the artist's vision. They were able to create powerful shifts in open and closed environments.
While Christo and Jeanne-Claude achieved impressive, elaborate, and sometimes controversial public installations in their career, not all of their projects came to fruition. Of the many sketches and drawings that exist in the Christo and Jeanne-Claude Foundation archives, few of the duo's grand ideas ultimately had the funding and logistical support necessary to be executed. 
The Vilcek Prize in Fine Arts
Artists Christo and Jeanne-Claude, born in Bulgaria and Morocco respectively, have long attracted audiences with their colorful, large-scale, site-specific works. Partners in life and in art, the duo positioned themselves at the forefront of the art world with their transformative and temporal installations. Christo and Jeanne-Claude received the inaugural Vilcek Prize in Fine Arts in 2006 for capturing the imagination of the world and broadening the popular conception of art.
This article was contributed by Vilcek Foundation Programs Intern Jennifer Zuniga and Digital Creator Intern Tatiana Stolpovskaya.
You may also be interested in