We mourn the passing of Christo, beloved artist, friend, and inaugural recipient of the Vilcek Prize in 2006. Christo Vladimirov Javacheff worked in partnership with his wife, Jeanne-Claude Denat de Guillebon, as Christo and Jeanne-Claude. Born on the same day in 1935—he in Bulgaria and she in Morocco—the couple lived in Paris, France, in the late 1950s and early 1960s before moving to New York in 1964. Together, Christo and Jeanne-Claude conceived of and executed provocative sculptures and installations that challenged viewers' experiences of objects and spaces, subverting and transforming the mundane. Jeanne-Claude—joint recipient of the inaugural Vilcek Prize with Christo—died in 2009.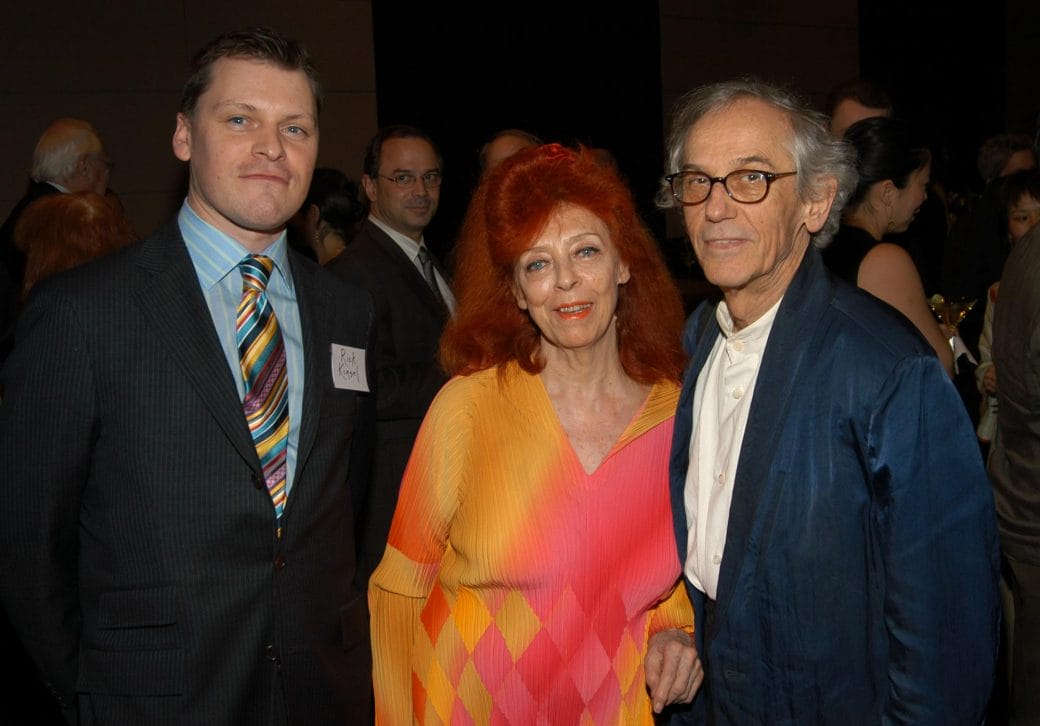 Christo and Jeanne-Claude were awarded the Vilcek Prize in Fine Arts just one year after the debut of their major work The Gates in New York's Central Park, on February 12, 2005. The Gates represented a powerful moment of transition and recovery for New York, as the city was still reeling from the impacts of the September 11, 2001, terrorist attacks. The installation—which lined 23 miles of the park's walkways with 7,500 saffron-colored gates draped with billowing fabric curtains—encouraged residents and visitors to see the city through new eyes.
Other highlights in their long career included Floating Piers (installing fabric-covered floating walkways on Italy's Lake Iseo, 2016); wrapping the Reichstag government building in Berlin, Germany (1995) and the Pont Neuf bridge in Paris (1985); and surrounding 11 islands in Miami's Biscayne Bay with pink fabric skirts (1983). Often involving decades of planning and permit applications, their projects typically existed for only two weeks, after which all materials were recycled.
Nobody can own this project, nobody can sell this work … All of these projects are about freedom. Absolute freedom.
Accessibility was at the core of the couple's ethos in producing art: Christo and Jeanne-Claude were committed to creating work that was accessible to everyone. They lived modestly, selling sketches, prints, and photographs to raise the capital necessary to fund new projects; they rejected grants and sponsored funding, so as to never be beholden to any outside entity.
"The unique experience is part of [our] aesthetics," said Christo. "Nobody can buy the work, nobody can own this project, nobody can sell this work, nobody can charge tickets for this project … All of these projects are about freedom. Absolute freedom."
Marica Vilcek, co-founder, vice chairman and secretary of the Vilcek Foundation, praised the contributions of these two immigrants to the United States: "Christo and Jeanne-Claude's monumental creations were the result of years of hard work that included not only artistic creativity but also political savvy, hard negotiations, assembly of work crews, patience and delays," she said. "The culmination of this complex process was the wrapped object, open to unrestricted public admiration—or wrath—until it would vanish into thin air."
"Christo was the best of what the Vilcek Foundation Prizes represent," said Brian Cavanaugh, director of digital for the Vilcek Foundation. "He was a fixture at our annual awards gala. His presence helped bring together countless artists, scientists, and supporters of immigration to build the foundation's community and was a steward for arts prizewinners to follow."
"Christo availed himself to younger immigrant artists in the foundation's network— like Ryo Toyonaga and Toshiko Nishikawa," recalled Rick Kinsel, president of the Vilcek Foundation. "He cared deeply about people's thoughts and ideas, and made people feel welcome."
As we reflect on Christo's passing at age 84 on May 31, 2020, we are grateful for all that he did to support and build community through his work. His openness with others—personally, and through his works with Jeanne-Claude—made people feel seen and acknowledged. We are honored that we were able to share in his vision of a world where art could be used to defy barriers and bring people together.
You may also be interested in