Ruth Lehmann receives the Vilcek Prize in Biomedical Science for her foundational contributions to the understanding of primordial germ cells and the germ cell life cycle, and for her institutional leadership in the field.
Growing up in Cologne, Germany, Ruth Lehmann was profoundly impacted by the reverberations of World War II. The cultural and social memory of the trauma inflicted by fascism loomed large.
"That… really influenced me in asking questions about the history, questioning authority," she recalls. "One answer I got, which I think is important, is you don't know how you would behave until you're in that situation. I'm thinking about that often now."
I think I'm most proud that I created an environment that encourages people to look at science with the same joy and enthusiasm and fearlessness that I do.
These early experiences and reflections shaped Ruth into the egalitarian leader she is today. Recently appointed director of the Whitehead Institute at the Massachusetts Institute of Technology (MIT), Ruth was previously director of the Skirball Institute of Biomolecular Medicine at New York University (NYU), and a Howard Hughes Medical Institute investigator. A developmental geneticist, Ruth's research has provided scientists with a deeper understanding of the germ cell life cycle, and how genes, cellular traits, and mitochondrial DNA are passed from generation to generation. Her studies have been fundamental to scientists' understanding of the critical role of RNA regulation in germ cells, and of genetic mutations that cause mitochondrial disorders.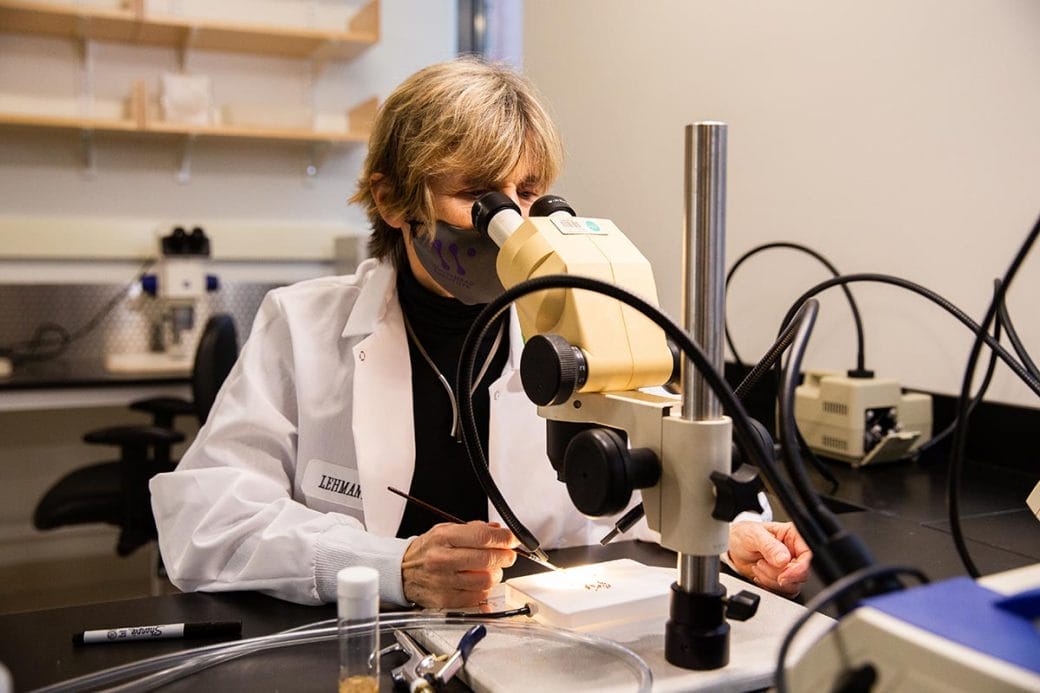 Ruth's path to research and leadership in the sciences was deeply influenced by her mentors. Ruth discovered her love of research science and genetics under the mentorship of Gerold Schubiger during a year-long Fulbright fellowship at the University of Washington. "That year was such a change for me… I finally understood what it meant to do science." While at a conference that year, Ruth met future Nobel Laureate Christiane Nüsslein-Volhard, who would serve as her graduate advisor at the Max Planck Institute. Seeing the challenges Nüsslein-Volhard faced as a woman in science steeled Ruth's resolve to make things better for young and aspiring women scientists.
Joining the Skirball Institute in 1996 marked a pivotal point in Ruth's career. "I'm very proud of making that turn because it allowed me, first of all, to become a leader," she says. "Really thinking about not just how to do science, but also how to lead science, and what kind of models and how research can be empowered." While at NYU, Ruth established a mentorship program for women. "If we want to include everyone in the scientific process, we need to make sure that everyone can get mentored," she says. She sees building mentorship structures particularly targeted to support women and other underrepresented groups as an important strategy to empower and foster greater diversity in the next generation of scientists.
"I think I'm most proud that I created an environment that encourages people to look at science with the same joy and enthusiasm and fearlessness that I do," says Ruth. "When I get up in the morning, I am doing something that I designed. I can make discoveries. To me that's very inspiring…. I just think it's the best profession to have."