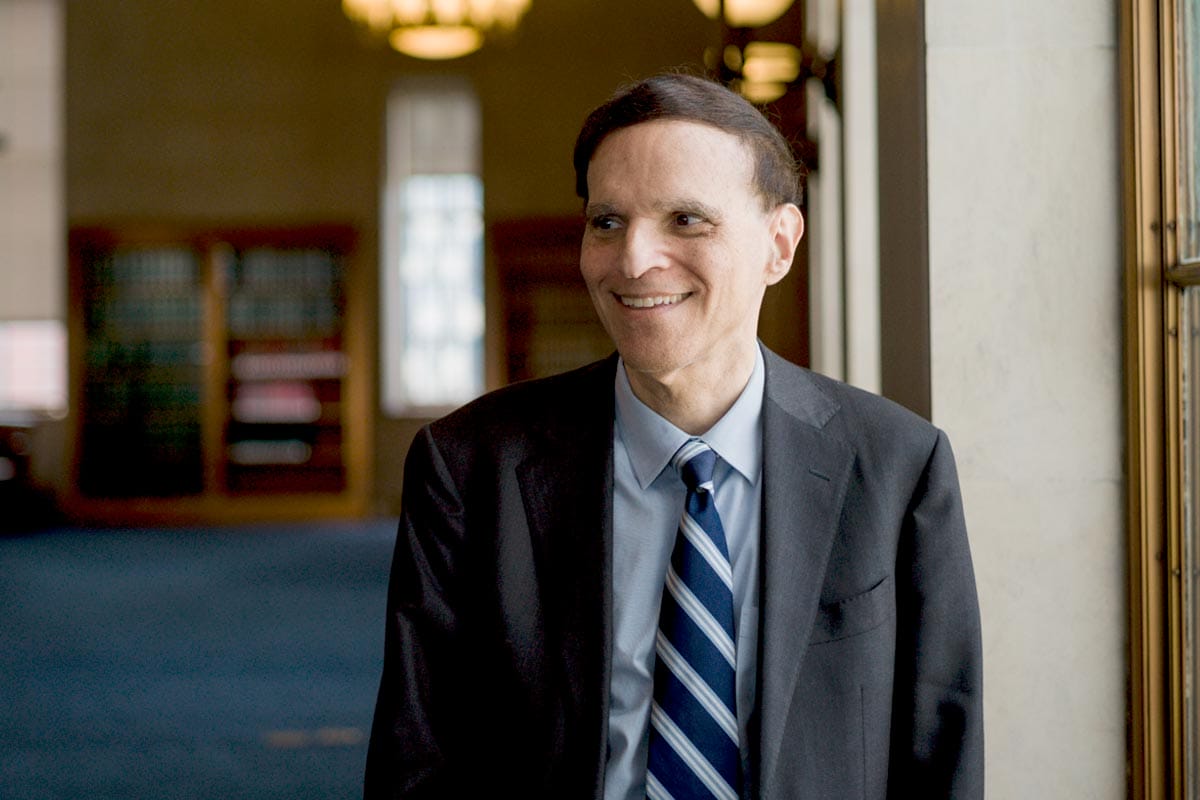 The Vilcek Foundation mourns the passing of Judge Robert A. Katzmann of the U.S. Court of Appeals for the Second Circuit. A thoughtful jurist, author, and humanitarian, Judge Katzmann was guided by a deep respect for civics and government, and by his profound empathy. He is particularly remembered for his resolute commitment to provide quality legal representation—and dignity—to immigrants in the halls of justice.
"An intellectual and moral giant, Judge Robert Katzmann was a humble, generous, and scrupulously ethical person," said Jan Vilcek, CEO and Chairman of the Vilcek Foundation. "His premature passing has created a huge void."
Katzmann grew up in Queens, New York, passionate about government and civics from a young age, empowered by the lessons he received from his father (an immigrant from Germany) and from his maternal grandparents (immigrants from Russia). Both families emigrated to the United States from their countries of origin in pursuit of freedom from oppression.
"I learned from an early age not to take things for granted," Judge Katzmann said, emphasizing "not to take this country for granted."
He would go on to receive his bachelor's degree from Columbia College before earning his master's and PhD in government from Harvard University and a Juris Doctor from Yale Law School. He then clerked for Judge Hugh H. Bownes of the U.S. Court of Appeals before joining the Brookings Institution. In 1999, Katzmann was appointed to the U.S. Court of Appeals for the Second Circuit by President Bill Clinton. From 2013 to 2020, he served as the court's chief judge.
Judge Katzmann witnessed the U.S. Court of Appeals' docket of cases expand by more than 40% following the events of September 11, 2001. He quickly saw the disparities in case outcomes for immigrants, based on defendants' ability to afford and access quality legal representation.
When the New York City Bar Association invited Judge Katzmann to deliver the Orison S. Marden Memorial Lecture in 2007, he took the opportunity to address the bar about the disparity and injustices he was witnessing in the courts. "Our system was not working," he said. "It was not working for immigrants. It was also not working for all of us who are involved in the administration of justice. Access to justice should not depend on the income level of those in the system."
The overwhelmingly positive response to that lecture led Katzmann to develop the Study Group on Immigrant Representation and to develop the "New York Immigrant Representation Study" to collect and analyze data regarding case outcomes for immigrants. The data confirmed Katzmann's hypothesis, which led him to take action to change the system through the development of the New York Immigrant Family Unity Project—a government-funded program.
Working with support from The Robin Hood Foundation, Judge Katzmann founded the Immigrant Justice Corps (IJC) in 2014. The IJC is a 501(c)(3) nonprofit established to address the disparities in legal representation experienced by immigrants with little or no access to financial resources. The IJC is a fellowship training program that provides immigrant advocacy training to college and law school graduates; it works with partner organizations to connect immigrants in need of legal representation with quality, trained counsel.
In 2016, Judge Katzmann presided over the largest immigrant naturalization ceremony in U.S. history, welcoming nearly 300 new Americans at Ellis Island. The ceremony held particular resonance for Katzmann, whose grandmother had come to the United States from Russia through that very port of entry.
Judge Katzmann passed away on June 9, 2021, at the age of 68. A full memorial honoring Judge Katzmann may be accessed at The New York Times.