"Certainly for me, I always felt an affinity for the underdog…I think that's something that a lot of immigrants and children of immigrants can relate to."
Andrew Yang was born in Schenectady, New York, and grew up in Katonah, in Westchester County. The youngest of two children, Yang's parents emigrated from Taiwan in the 1970s to study, and met while at the University of California, Berkeley.
Yang seeks to identify problems in the world, and to engineer innovative solutions to address them. It is this ambition and passion to build that have driven his work, and guided his multiple career paths. He credits a great deal of his tenacity to being the child of immigrants, acknowledging the impact of seeing the hard work his parents undertook to provide for him and his brother as children, to the challenges he experienced feeling isolated among his classmates as a young child – sometimes being the only Asian kid in his class.
Yang graduated from Phillips Exeter Academy, and went on to major in political science and economics at Brown University. He then earned his juris doctor from Columbia Law School. Following Law School, Yang went to work at the prestigious firm, Davis Polk & Wardwell.  Within 5 months of working with the firm, Yang knew he wanted to do something more creative than the opportunities that corporate law could afford him. He quit the firm, and developed a number of start-up companies during the early tech boom.
In 2011, he founded Venture for America, encouraging young entrepreneurs to develop businesses that would stoke job creation in the United States. The driving mission behind Venture for America is that change and positive economic growth require vision, leadership, and a willingness to take risks.
In November 2017, Yang filed with the Federal Election Commission to enter the United States Democratic Primaries for President, the first Asian American Democratic Candidate to do so. "If you're an entrepreneur," says Yang, "ideally you're motivated by a problem or a set of problems….the biggest problems I saw were problems that [the] government would have to address." Yang's campaign platform centered on  'Human Centered Capitalism' – seeking to provide universal basic income to individuals, and to address wealth inequality in the United States.
Immigration is the lifeblood of this country on so many levels.
Yang also supports broad immigration reform. "Immigration is the lifeblood of this country on so many levels. Certainly, economically and entrepreneurially: Immigrants and children of immigrants fuel much of our economy from communities in the Midwest, to Silicon Valley, to New York.. To me, one of the great challenges we have as a country is maintaining our ability to attract talented immigrants from around the world," says Yang, "People like my parents."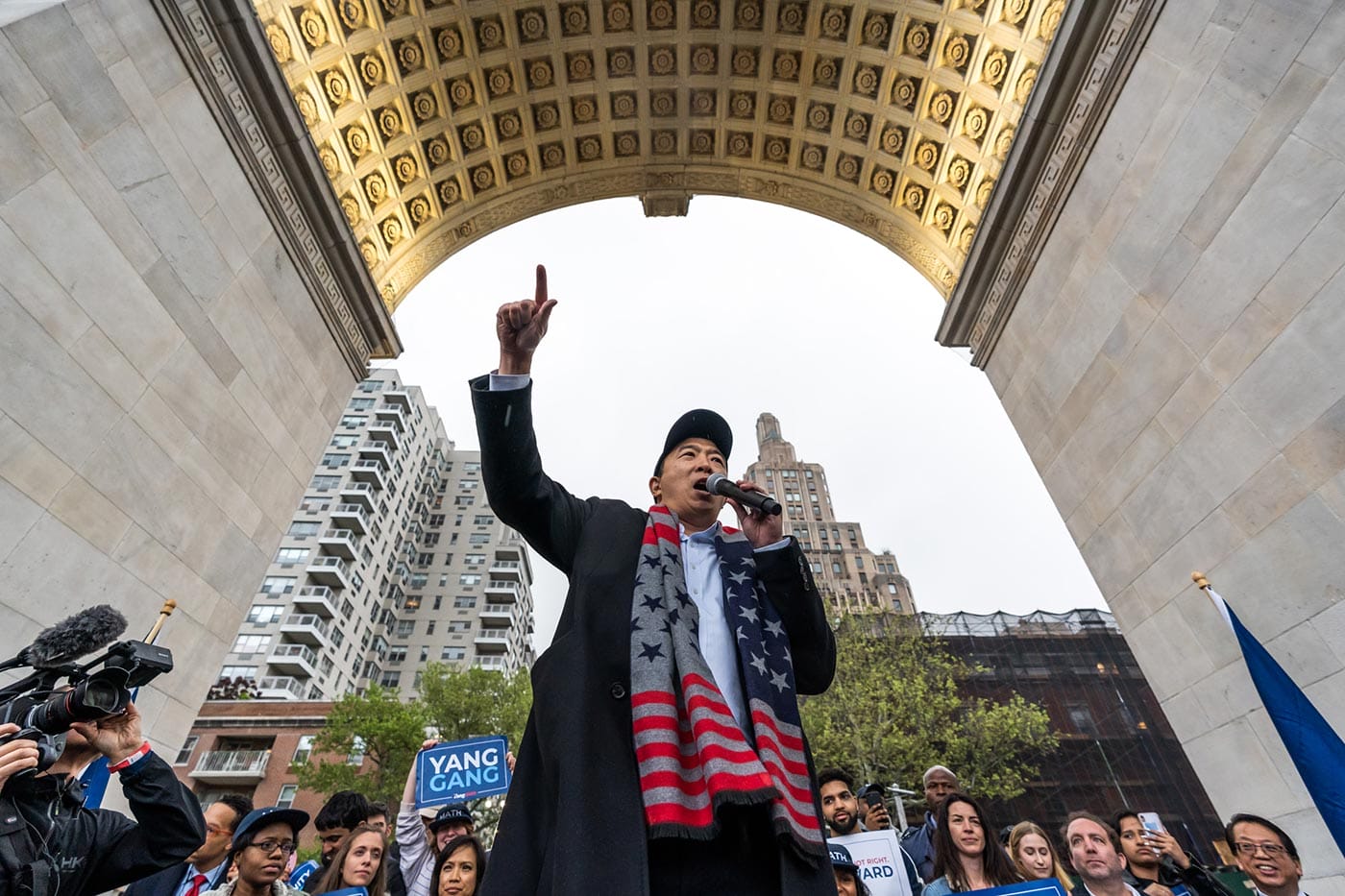 Since the end of his campaign in February, 2020, Yang has forayed his efforts to influence policy change in the United States into the development of the nonprofit, Humanity Forward. He is committed to pursuing the creation of policies for universal basic income in the United States, saying, "I'm going to be in the White House when we sign universal basic income into law and we eradicate gross poverty in this country. I don't know if I'm going to be holding the pen, but I'm going to be in that room and we're going to sign it."
Awards and Accomplishments
Presidential Ambassadors for Global Entrepreneurship (2015)
Champions of Change (2012)
Jury Members
2021 Vilcek Prize for Excellence in Public Service