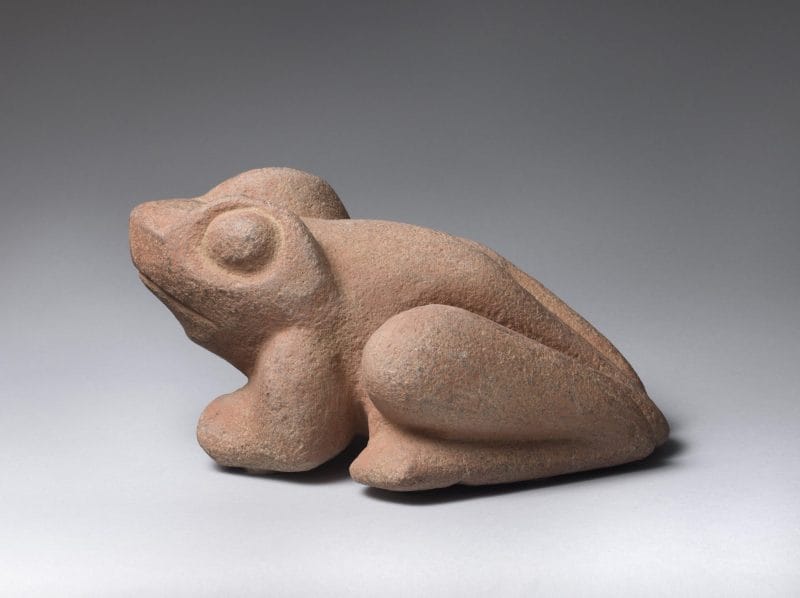 About the Object
Carved from volcanic stone, this sculpture features a frog, which was a Mexica symbol of water, rain, and fertility. Frogs were also connected with notions of childbirth, since these amphibians typically lay large amounts of eggs and in general crouch in a position that was viewed as similar to that of a woman in labor. Therefore, works like this may have been created to help channel such power related to agricultural and human fertility. They may have been part of a larger ritual or even particular spaces where people might go to seek supernatural aid in conceiving children or producing more abundant harvests in times of drought.
Additional Information
By the time the Spanish arrived at the southern part of North America in 1519, the Aztecs or Mexica, together with the Texcoco and Tlacopan, had built a large empire. Known as the "Triple Alliance," its dominion covered an approximate area from today's Gulf of Mexico to the Pacific Ocean. In addition to the development of complex political alliances and tributary taxes that served to enrich their central government based in Tenochtitlán (Mexico City), the Aztecs were known to have achieved advanced agricultural techniques such as floating gardens (chinampa), and abundant harvests. In fact, Tenochtitlán was counted among the largest cities in the world. The Aztecs were also known for their respect of religious rituals, the most important of which took place surrounding battle during harvest periods. While farming accounted for more than 90% of most human work, stone working achieved new levels of mastery among the Aztecs, whose production of portable and ceremonial sculptures was inspired by both human figures and nature.
[Throckmorton Fine Art, New York, NY];
The Jan T. and Marica Vilcek Collection, 2007-2010;
Gift to The Vilcek Foundation, 2010;