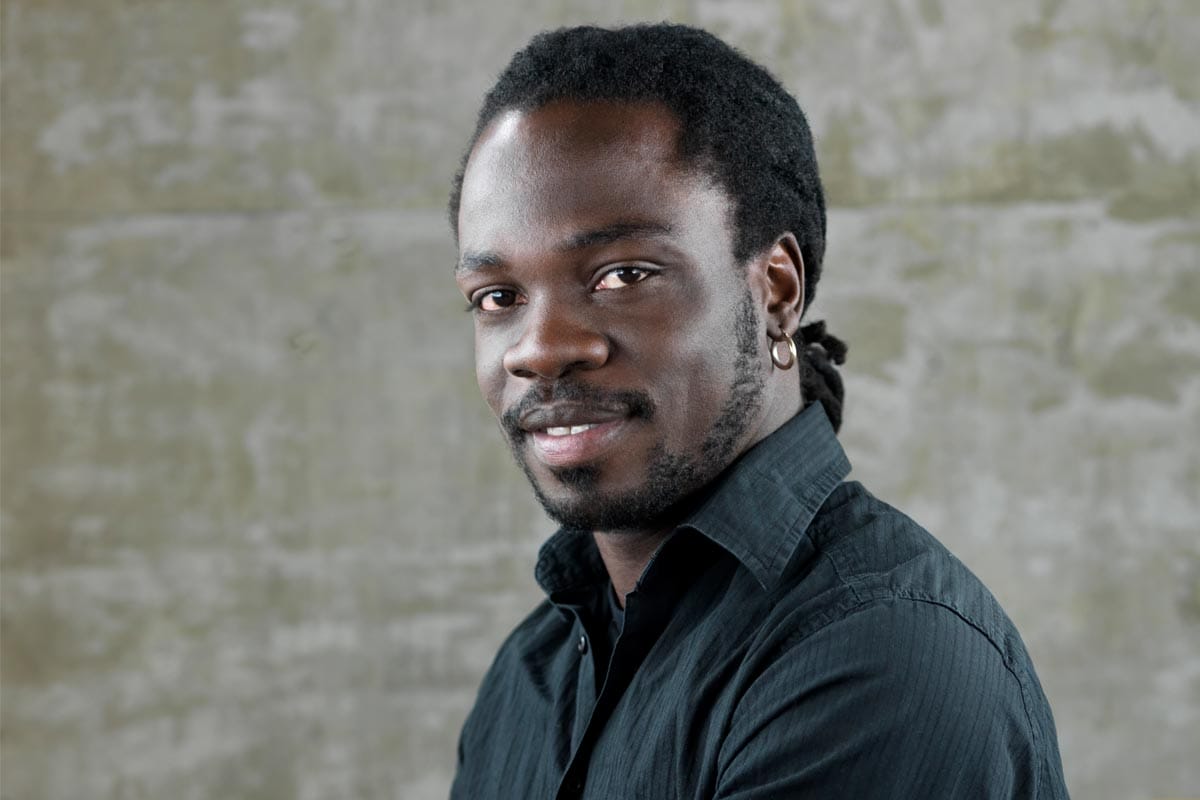 Contemporary artist Michel Kouakou is fluent in the language of dance on four continents — but his personal identity as a dancer is firmly rooted in Africa, the source of his earliest experiences with movement.
Born in Cote d'Ivoire, Kouakou's first contact with dance came in the person of Werewere Liking, in the village of Ki Yi M'Bock village, in Abidjan. It was Liking, he says, who introduced him to the "spiritual dimension of a life through the arts" and gave him faith in the "unlimited potential of art." He also studied acrobatics and marionette theater.
He had already won several prizes for dance in Abidjan when he began to study with his next mentor, Germaine Acogny, in Senegal. She directed him to a path along which he would be influenced and motivated by artists from all over the world, and is, in part, the reason he now considers himself a global artist. When, in 1999, war in Ivory Coast caused the destruction of arts facilities and institutions there, Kouakou traveled to Brussels, where he worked with choreographer Bud Blumenthal. In Japan, he encountered Butoh, and recognized the similarities between this movement form and the African traditions of "trance" dancing. Over time, he would also work with choreographers from Burkina Faso, Germany, Italy, and, ultimately, the United States.
In 2003, Kouakou joined the faculty at the Duncan Centre Conservatory in Prague, to teach modern dance for six months. That same year, he formed his own company, Daara Dance. He has performed all around the U.S. and has presented his work internationally, and also offers workshops and classes throughout Europe, Japan, and the United States.
Now based in Los Angeles, he plans to "maintain his footsteps" across the globe as he pursues his long-term goal of building an "artistic bridge" between his origins in Ivory Coast and the United States.
Awards and Accomplishments
Jerome Foundation Fellowship, Research in Dance (2012)
U.S. Japan Fellowship (2008)
New York Foundation for the Arts Artists' Fellowship (2007)
Jury Members
2012 Vilcek Prize for Creative Promise in Dance
Alicia Adams
Vice President of International Programming & Dance, The John F. Kennedy Center for Performing Arts
Bonnie Brooks
Chair of Dance, Columbia College Chicago
Joan Finkelstein
Director of Dance, New York City Department of Education
Jane Forde
Independent Arts Consultant
Larry Keigwin
Artistic Director, Keigwan + Company
Lawrence Rhodes
Artistic Director of Dance, The Juilliard School
Andrea Snyder
Co-Director, American Dance Abroad