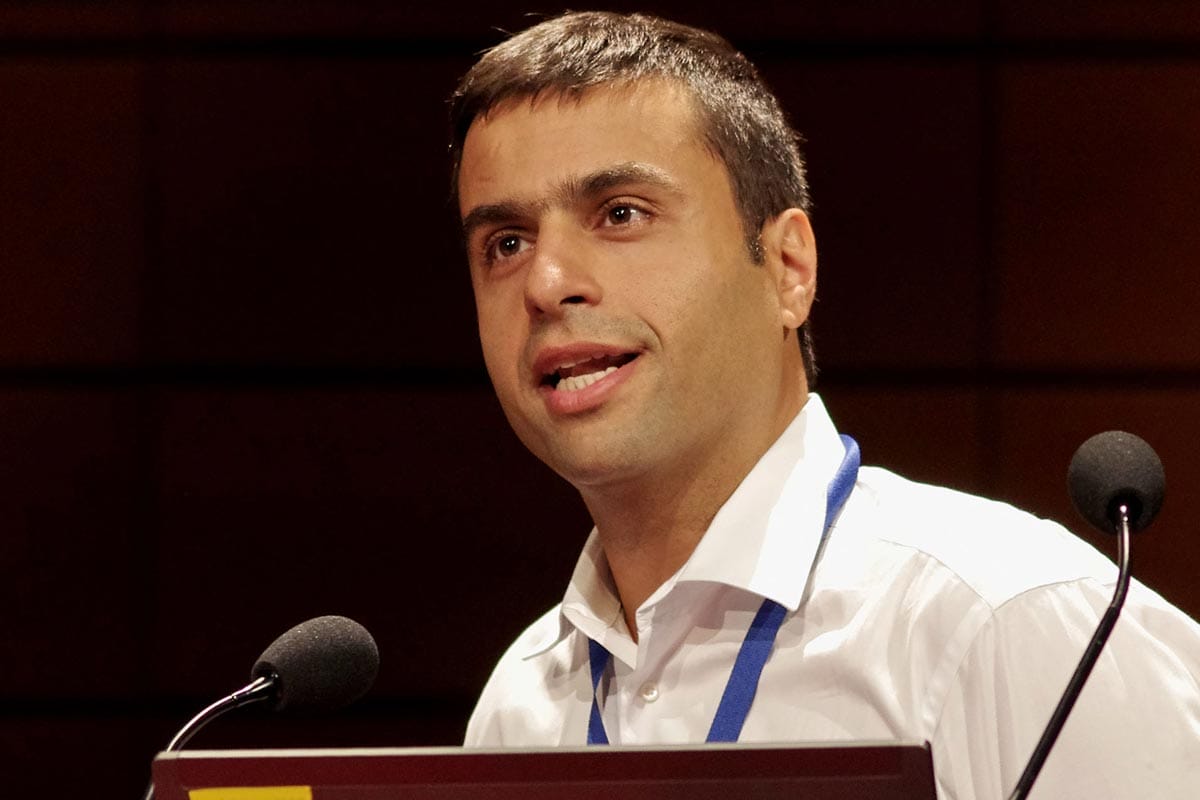 Watching genes morph into different shapes and seeing atoms "dance" is, to Hashim Al-Hashimi, exhilarating. Even as a postgrad at Yale, he was convinced that in the "jiggling and wiggling of atoms" lay the innermost secrets of biomolecules.
He found scientific inspiration much earlier, in his father, who taught him to pursue his educational goals, wherever they might lead. For Al-Hashimi, that meant far from his birthplace in Beirut, Lebanon. Civil war uprooted the family when he was a year old, and by the time he was a teenager, he had lived in Greece, Italy, and Jordan; at 16, he was sent to an international high school in Wales, and he completed his bachelor's in chemistry at Imperial College, London.
At Yale, he immersed himself in nuclear magnetic resonance (NMR) spectroscopy to investigate the structure and dynamics of molecules. Throughout his postdoctoral years, at Memorial Sloane-Kettering Cancer Center, and into his tenure at the University of Michigan, Al-Hashimi remained steadfast in his determination to solve the problem of how to visualize atomic motion, "to obtain a deeper understanding of gene regulation and to build new technologies for drug discovery and biotechnology." Twelve years later, he and his team succeeded in developing the NMR techniques for capturing a molecule in action, morphing into different shapes at atomic resolution. "This was," he explains,"the first experimentally determined 3D movie of matter at the atomic scale."
He continues to make atomic movies today, as the J. Lawrence Oncley Collegiate Professor of Chemistry and Biophysics, at the University of Michigan. One of them,"starring" the iconic DNA double helix occasionally morphing into an entirely different structure, "produced a bombshell effect throughout the world community of nucleic acid biophysicists," says David A. Frank-Kamenetskii, a world authority in DNA structure and biophysics.
The title Al-Hashimi might prefer above all others is teacher: "Teaching undergraduates," he says, "is the best part of my job," and he credits some of his group's best research ideas to his students.
Awards and Accomplishments
Founder's Medal, International Conference on Magnetic Resonance in Biological Systems (2012)
LSA Excellence in Teaching Award (2009)
Jury Members
2013 Vilcek Prize for Creative Promise in Biomedical Science
Heran Darwin
Associate Professor of Microbiology, New York University School of Medicine
Laurie Dempsey
Senior Editor, Nature Immunology
Peter Palese
Professor and Chair, Microbiology, Mount Sinai School of Medicine
Jan Vilcek
Professor of Microbiology, New York University School of Medicine
Leslie Vosshall
Robin Chemers Neustein Professor, The Rockefeller University
Nicholas Wade
Science Department, The New York Times
Jedd Wolchok
Director of Immunotherapy, Memorial Sloan Kettering Cancer Center