Angelika Amon's journey from her native Vienna, Austria, to Cambridge, Massachusetts, has been marked by milestones attesting to her ambition. Amon nursed a bottomless curiosity about the natural world at an early age and became smitten with cell biology in high school when a teacher showed the class movies of plant cells parceling out chromosomes during division.
That adolescent infatuation portended Amon's scientific research into the logic of the cell cycle—the perfectly timed succession of steps through which living cells replicate genetic material, split contents, and divide. Her efforts have revealed that the timely breakdown of proteins called cyclins helps ensure the cycle's orderly progression.
"This work really showed how one stage of the cell cycle sets up the next," says Amon.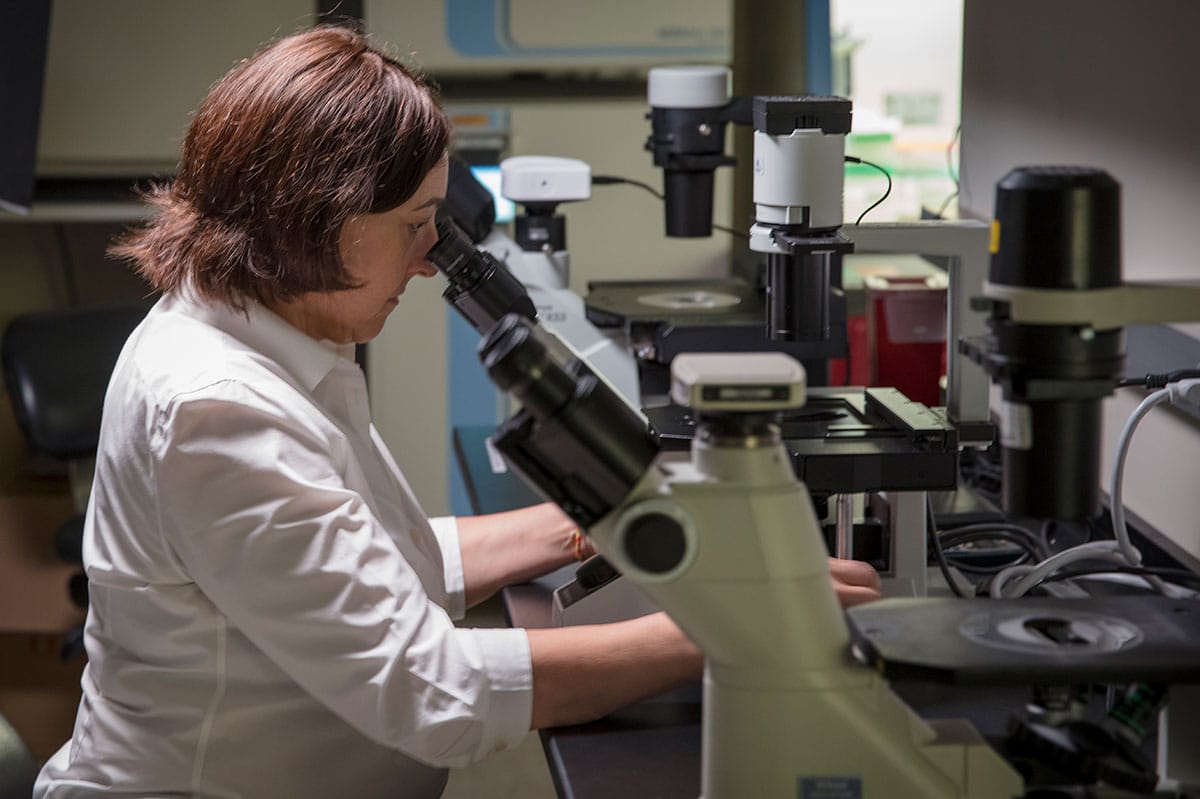 Amon arrived in the United States in 1994 to the Whitehead Institute for Biomedical Research in Cambridge, where she pursued a postdoctoral stint and earned a prestigious Whitehead fellowship for young scientists. She then struck out on her own, using genetic techniques to unravel the complex web of signals that orchestrate cell division in yeast.
Researching yeast led her to study a condition called aneuploidy—the presence of an abnormal number of chromosomes within a cell, which can lead to illnesses like Down syndrome. Amon is best known for her work on how aneuploidy throws vital cell functions into disarray—work that took shape at MIT's Koch Institute for Integrative Cancer Research, where she was appointed a faculty member in 1999.
Considered among the world's leading geneticists and experts on cell division, Amon has broadened her arena into the biggest human scourge brought about by unchecked cell division: cancer. Recently, she and her colleagues found that aneuploid human cells trigger an innate immune response, which helps curb runaway cell division, hinting at a potential new therapeutic approach for the oncological world.
Awards and Accomplishments
Breakthrough Prize in Life Sciences (2019)
Vanderbilt Prize in Biomedical Sciences (2018)
American Academy of Arts and Sciences, Member (2017)
Elected Foreign Associate to EMBO (2015)
Elected Foreign Associate to the Austrian Academy of Sciences (2015)
Genetics Society of America Medal (2014)
Ernst Jung Prize for Medicine (2013)
National Academy of Sciences, Member (2010)
National Academy of Sciences Award in Molecular Biology (2008)
Paul Marks Prize (2007)
ASBMB Amgen Award (2007)
Alan T. Waterman Award (2003)
Eli Lilly and Company Research Award (2003)
Howard Hughes Medical Institute, HHMI Investigator (2000)
It is with sadness that we mourn the passing of Angelika Amon. "Angelika was a passionate leader in her field, she lived and taught with brightness and enthusiasm," says Rick Kinsel, president of the Vilcek Foundation. "She will be sincerely missed."
Amon passed away on October 29, 2020. She will be remembered as a dedicated scientist and mentor who was passionate about her research.
Jury Members
2019 Vilcek Prize in Biomedical Science
Titia de Lange
Leon Hess Professor and Head of the Laboratory of Cell Biology and Genetics, The Rockefeller University
Lily Jan
Jack and De Loris Lange Endowed Chair of Physiology and Biophysics, University of California San Francisco
Dan R. Littman
Helen L. and Martin S. Kimmel Professor of Molecular Immunology, New York University School of Medicine
Joan Massagué
Director, Memorial Sloan Kettering Cancer Center
Ruslan Medzhitov
Sterling Professor of Immunobiology, Yale School of Medicine
Huda Zoghbi
Professor of Molecular and Human Genetics, Baylor College of Medicine