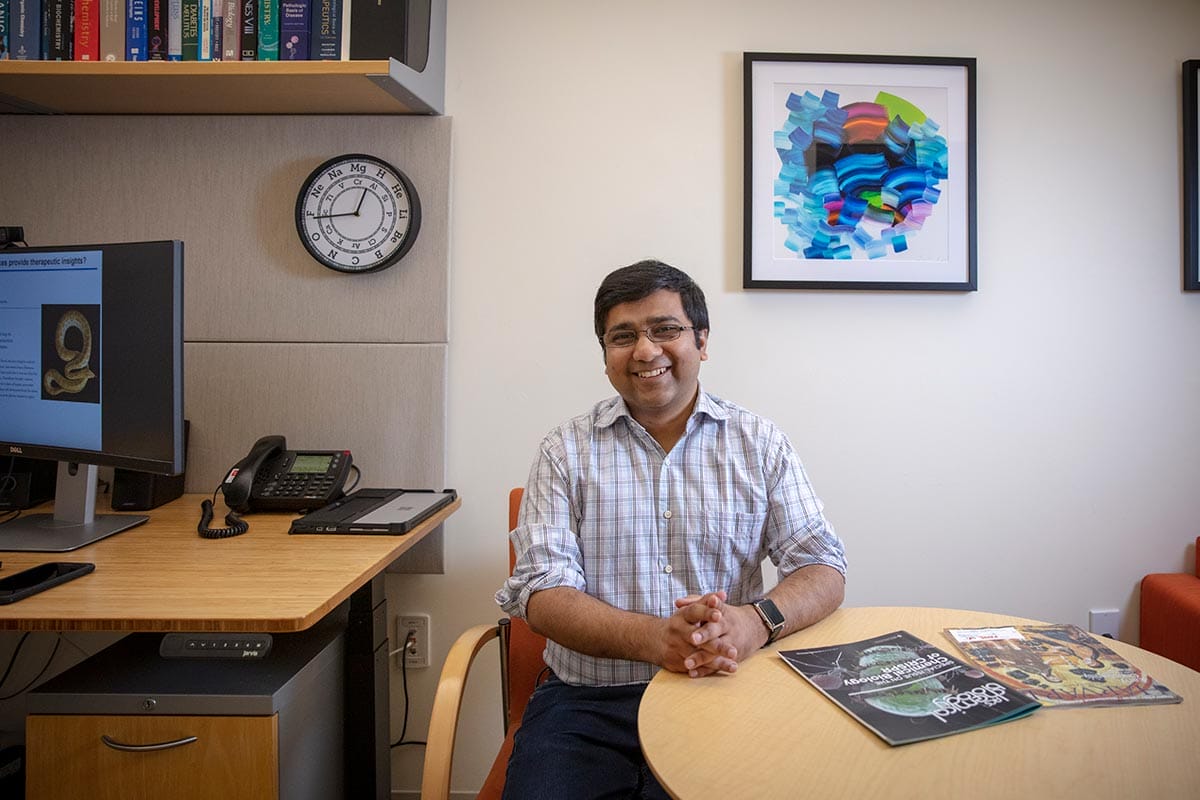 Amit Choudhary grew up in a farming community in northeastern India where most kids barely completed high school. His father was a store manager, and his mother cared for the family. Choudhary dreamed of being a scientist, and from an early age, he fed his scientific curiosity by tinkering with chemicals.
He became the first in his family to venture abroad and obtain a doctoral degree. Choudhary pursued graduate studies in biophysics, which marked a turning point in his career. He unveiled the hallmarks of a fundamental force of nature that had largely eluded scientists, dubbed "n to pi star interaction," crucial for the structural integrity of biomolecules like proteins and DNA. Choudhary's work suggests that that the force may have played a role in generating the building blocks of primordial RNA molecules, thought to have jump-started life on Earth.
Those early findings signaled Choudhary's scientific promise, securing him a position at Harvard, where he worked with chemical biologist Stuart Schreiber at the Broad Institute researching pancreatic beta cells. These cells secrete the metabolic hormone insulin, and dysfunction or loss of pancreatic beta cells results in diabetes.
Choudhary addressed beta cell biology from an oblique angle — by examining the extraordinary physiology of binge-eating snakes like Burmese pythons. He has shown that some actors that protect binge-eating snakes' pancreases could have similarly protective effects on human beta cells, which might in turn lead to better diabetic drugs.
While continuing to study beta-cell biology, Choudhary has developed technological solutions for diseases that plague the developing world. His current work is centered on CRISPR-Cas9, a tool that has enabled researchers to rapidly and precisely edit the genomes of living organisms. Eventually, his efforts could lead to ways to correct genetic mutations underlying diseases like monogenic diabetes and combat insect vectors that transmit malaria.
Awards and Accomplishments
Career Award at the Scientific Interface, Burroughs Wellcome Fund (2014–2019)
Junior Fellow, Society of Fellows, Harvard University  (2011–2015)
Protein Society Young Investigator Travel Grant, American Protein Society (2010, 2011)
Jury Members
2019 Vilcek Prize for Creative Promise in Biomedical Science
Heran Darwin
Professor of Microbiology, New York University School of Medicine
Laurie Dempsey
Senior Editor, Nature Immunology, Nature Publishing Group
Yibin Kang
Warner-Lambert Parke-Davis Professor of Molecular Biology, Princeton University
Harmit S. Malik
Principal Investigator, Fred Hutchinson Cancer Research Center
Peter Palese
Horace W. Goldsmith Professor and Chair of Microbiology, Professor of Medicine, Icahn School of Medicine at Mount Sinai
Leslie Vosshall
Robin Chemers Neustein Professor, The Rockefeller University
Jedd Wolchok
Lloyd J. Old Chair for Clinical Investigation, Memorial Sloan Kettering Cancer Center