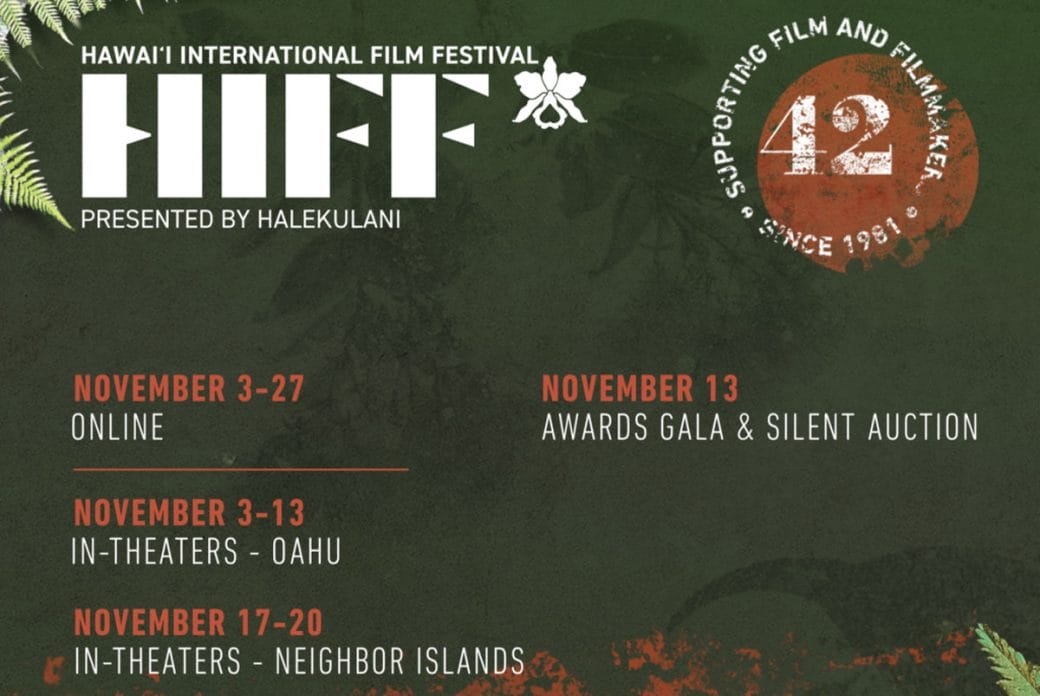 The Vilcek Foundation will present the New American Perspectives program at the 42nd Annual Hawai'i international Film Festival (HIFF) in Honolulu in November 2022. Comprising film screenings, filmmaker discussions and panels, a master class, and classroom presentations by filmmakers, the program centers and highlights the contributions of immigrants and foreign-born filmmakers to contemporary cinema in the United States.
New American Perspectives is underwritten by a grant from the Vilcek Foundation to bring foreign-born filmmakers and their work to the festival. The Vilcek Foundation has partnered with HIFF on the presentation of work by immigrant and foreign-born filmmakers since 2007.  At the 2022 festival this November, the Vilcek Foundation is thrilled to present exclusive events and screenings with:
Deborah Chow (b. Canada)
Laurent Barthelemy (b. France)
Ellie Foumbi (b. Cameroon)
Nardeep Khurmi (b. Switzerland)
Rena Owen (b. New Zealand)
"Foreign-born artists have shaped film for more than a century, and have been the leading force behind some of cinema's most indelible works," says Vilcek Foundation President Rick Kinsel. "Since 1980, the Hawai'i International Film Festival has served as an important platform for foreign-born, indigenous, and underrepresented filmmakers. HIFF's mission resonates closely with that of the Vilcek Foundation, and this mission alignment led us to work with HIFF to develop New American Perspectives. We are delighted to present the program at the 42nd annual Hawai'i International Film Festival, and to celebrate the work of these five outstanding filmmakers.
With New American Perspectives the Vilcek Foundation honors the contributions of foreign-born artists to the arts, culture, and society in the United States. It is particularly meaningful to share this program in Hawai'i, a territory and state that has been profoundly shaped by migration, immigration, and layered cultural histories.
Stay tuned for individual profiles and content highlighting each of the five New American Perspectives filmmakers from the Vilcek Foundation in the coming weeks. A full schedule of programs and events is available at HIFF.org.
Films and Filmmakers
"Obi-Wan Kenobi"
Deborah Chow (b. Canada), director
As a special presentation featuring the work of director Deborah Chow, HIFF and the Vilcek Foundation present a screening of the Disney+ series "Obi-Wan Kenobi."
A filmmaker of Chinese Australian descent, Chow has directed extensively in film and television. She has directed dozens of groundbreaking television programs and limited series over the past two decades, with credits including "Mr. Robot," "Better Call Saul," "American Gods," "Reign," and "Jessica Jones." She won an NAACP Image Award for her work on "Better Call Saul," and was recently honored with a DGC Visionary award.
Finding Satoshi
Laurent Barthelemy (b. France), writer and director
Finding Satoshi tells the compelling story of the longest global hide-and-seek puzzle game ever created. In 2005, a British company developed an alternate reality game (ARG) called Perplex City. ARGs are played in the real world and use different mediums to deliver a fictional story to players. Players had to solve 256 puzzles to win. The game ended officially in 2007. However, one puzzle remained unsolved: a picture, a name, and "Find me!" written in Japanese. A group, led by Laura Hall, continued the search for more than a decade.
Laurent Barthelemey is a writer, director, and producer. Deeply influenced by sci-fi and fantasy films from the 1980s, he seeks to tell stories that inspire a sense of hope and positivity about the future. At a time when there are deep concerns about the power of social media to do harm, Finding Satoshi reminds viewers of the connectivity and community that the internet has fostered for people around the world.
Our Father, The Devil
Ellie Foumbi (b. Cameroon), screenwriter and director
Our Father, The Devil  is a riveting psychological thriller. Marie, an African refugee, has found a humble but satisfying life for herself in a small mountain town in southern France. Her peaceful existence is thrown into turmoil when a charismatic Catholic priest arrives in town—a man with whom she's convinced she shares a heavy past in her homeland. The film dissects the emotional complexities of trauma, power, guilt, catharsis, and the devils hiding within us all.
Our Father, The Devil is Foumbi's first feature-length film; the picture is nominated for the Hawai'i International Film Festival's prestigious Kau Ka Hoku award. Foumbi recalls that storytelling was an important part of her life as a child, and this influenced her early forays into acting, writing, and directing at Fordham University and Columbia University in New York.  "I am inspired by human nature and what makes us behave the way we do," she says. "This is what I try to uncover in the stories I tell."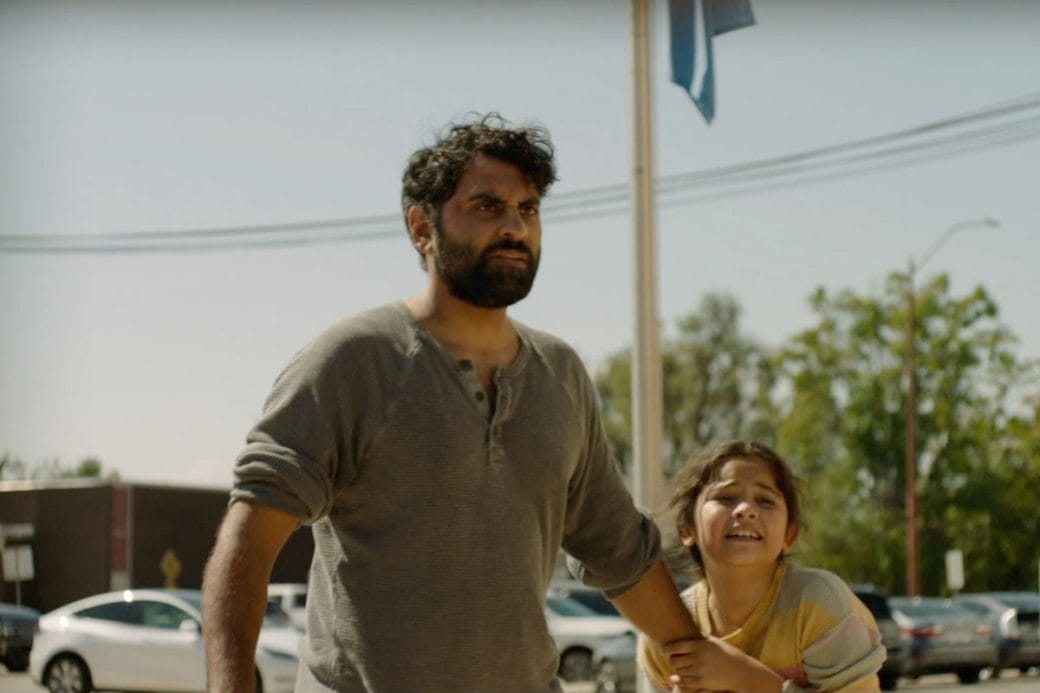 Land of Gold
Nardeep Khurmi (b. Switzerland), screenwriter, director, actor, and producer
Land of Gold marks Nardeep Khurmi's debut feature film, and highlights his talents as a writer, director, and performer. "Land of Gold is a poignant and timely look at solidarity, difference, and found family, focusing on the bond between two first-generation immigrants as they travel across America to find home," says Khurmi. "[With Land of Gold], I want audiences to build empathy towards communities they may be unfamiliar with, to put a name and face to the statistics they often read about in the news and then forget about."
When truck driver Kiran hears pounding on a shipping container and finds a young Mexican American girl inside, his life takes a drastic turn as he seeks to reunite her with her family. Over the arduous journey, the pair evade the police while feuding and bonding over music, paint swatches, and what it means to be seen as "other" in white America. Winner of the 2021 AT&T Untold Stories award, Land of Gold is bursting with heart, conviction, and power, becoming something much greater than the sum of its parts."
Whina
Rena Owen (b. New Zealand), actor and associate producer
Rena Owen has brought authenticity and truth to the stories and experiences of the people of New Zealand to audiences around the globe for more than three decades. Of Māori descent on her father's side, Dame Whina Cooper's life and work resonated deeply for Owen, as she recalled witnessing as a child the land march led by Cooper. "I share and will always promote Cooper's belief, 'Kotahi tatou' which means, 'We are one people,' says Owen. "I believe my job as an actor and writer is to portray aspects of humanity that hopefully shed light where there is darkness and enable understanding, bridge building, and healing. "Who I am and the life I have lived is powerful and inspiring."
Owen garnered international recognition for her powerful portrayal of Beth Heke in Lee Tamahori's Once Were Warriors (1994), and has gone on to star in major films and television series in the United States and around the world, with more than 60 credits, including portraying Taun We in Star Wars: Episode II & III. Only six actors in the world have worked with both filmmaking legends George Lucas and Steven Spielberg, and to date Owen is the only woman to do so. Having demonstrated exceptional accomplishments in the field of theatrical motion pictures, Owen was accepted as a member of the Academy of Motion Picture Arts and Sciences (AMPAS) Class of 2022.