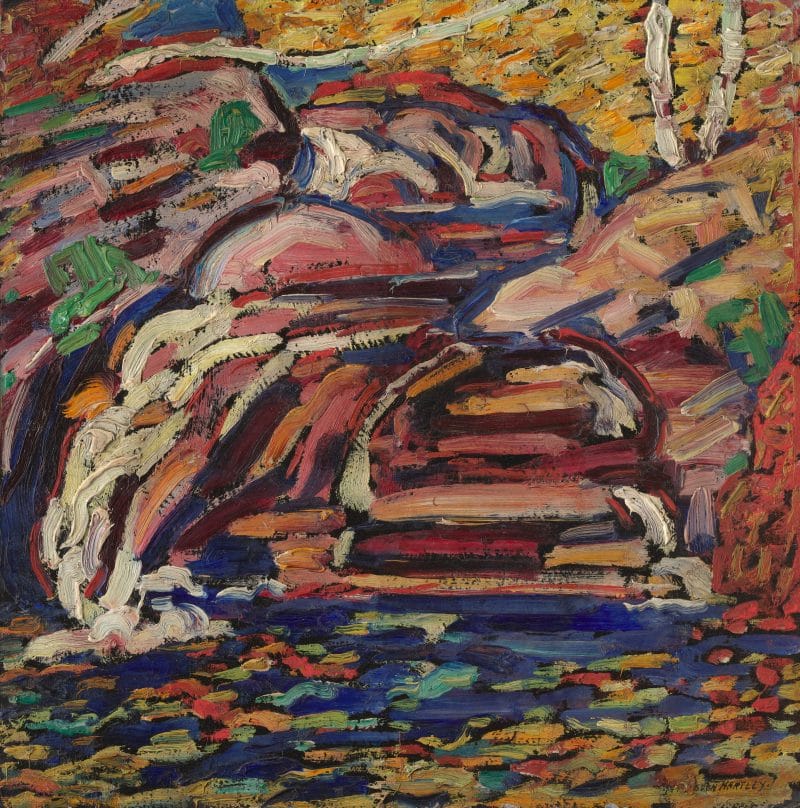 About the Object
This close-up and abstracted view of a waterfall is set in the woods of Lovell, Maine, an area Hartley returned to almost annually from 1902 to 1912. Water flows from the upper left of the canvas, cascades over a rocky outcrop in the center, and into a pool of water in the foreground that appears dotted with fallen leaves. The woods consume the composition; there is no horizon.
Additional Information
Hartley painted this scene at least four times, each version done on 12- x 12-inch board. Landscape, c. 1910, is in the collection of the Fogg Museum, Harvard Art Museums; Waterfall, 1910, is in the collection of the Weisman Art Museum; and Autumn Cascade, c. 1910, is in a private collection.
The Artist;
Kenneth Hayes Miller, February 5, 1910;
Private Collection, New York, c. 1925;
By descent in the family;
[Martha Parrish & James Reinish, Inc., New York, NY];
Possibly: New York. Little Galleries of the Photo-Secession (291). March 1910.
Tulsa. Philbrook Museum of Art.  From New York to New Mexico: Masterworks of American Modernism from the Vilcek Foundation Collection (February 8-May 3, 2015); Phoenix. Phoenix Art Museum (June 5-September 6, 2015).
New York. The Met Breuer. Marsden Hartley's Maine (March 15-June 18, 2017); Waterville, ME. Colby College Museum of Art (July 8-November 12, 2017).
Lewiston, ME. Bates College Museum of Art. Marsden Hartley: Adventurer in the Arts. September 20-November 19, 2021.
Agee, William C. and Lewis Kachur. Masterpieces of American Modernism: From the Vilcek Collection. London: Merrell, 2013, pp. 23, 46-47, 266, ill. p. 47.
O'Hern, John. "Modern Manor," American Fine Art Magazine, September/October 2013, ill. p. 61.