Vishva M. Dixit is a biomedical researcher and the vice president of early discovery research and physiological chemistry at Genentech, a member of the Roche Group. He receives the Vilcek Prize in Biomedical Science for his groundbreaking discoveries on the mechanism of apoptosis—a biochemical process of programmed cell death.
An immigrant family
Dixit was born in Kenya, and grew up in the town of Kericho. Both his mother and father were born in India; they immigrated to Kenya during World War II, when both countries were still under British colonial rule. Growing up, Dixit was inspired by the way that immigration shaped the opportunities he and his family had in Kenya. As physicians, his parents were highly regarded in their community. Dixit admired the compassionate approach they took in providing care to people, recalling, "They made it a point, when people could not pay, to just deliver free service."
He pursued medical school at the University of Nairobi, and in 1980 he immigrated to the United States for a residency at Washington University in St. Louis, his sights set on pursuing a career in medical research. "I was driven by curiosity," he said. "I wanted an opportunity that would allow me to pursue curiosity-driven work."
Stepping up to the plate
Following his residency, Dixit began research at the University of Michigan. He was doing work on extracellular matrix protein, but was uninspired, knowing he wasn't at the forefront of the field. "I wanted to embark on a larger problem," he said. Dixit began looking at areas of science that had great potential, seeking to delve into research where he could have a larger impact with his work.
At that time, he recalled, "Everybody was very interested in how cells divide and proliferate. And there was very little attention to the other side of that question, which is how do cells die?" Looking at the new technologies that became available to biomedical researchers during the 1980s—recombinant DNA technology, genetic screens, and monoclonal antibodies—Dixit saw an opportunity to make real progress in the study of cell death.
Programmed cell death is an important part of the life process for multicellular organisms, allowing the death of particular cells to build the tissues of the body, and to clear cells from the body so they do not become cancerous. Dixit began investigations on the actions of tumor necrosis factor (TNF) on endothelium, looking particularly at TNF receptors and cell death. He discovered that caspase, a protease enzyme, was a key component of the molecular mechanism that led to apoptosis, or programmed cell death. This discovery marked a major breakthrough in the field, and is now a fundamental component in biomedical textbooks.
Swinging for the fences
At Genentech, Dixit's laboratory studies the pathways that drive inflammation in the body. His work has led to the development of therapies for inflammation-driven diseases including autoimmune disorders, rheumatoid arthritis, inflammatory bowel disease, and inflammatory atherosclerosis. Many of these therapies are now in clinical trials, and Dixit is enthusiastic and hopeful that many will become prescription medicines.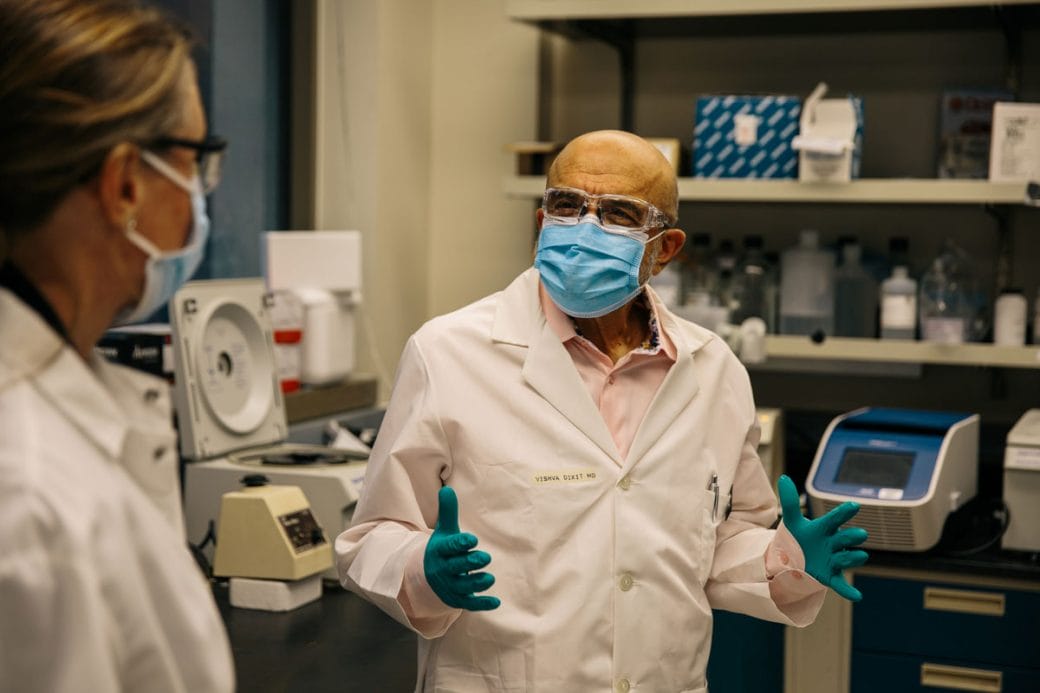 Describing his research ambitions, Dixit says, "I want to swing for the fences…. When you swing for the fences you miss a heck of a lot, but when you do hit one, you hit it out of the park."