Aizzah Fatima has lived many lives. An actor, screenwriter, and producer, Fatima is the creative force behind the romantic comedy Americanish (2021).
The Vilcek Foundation is delighted to host Fatima as one of our New American Perspectives Filmmakers at the 41st Annual Hawai'i International Film Festival (HIFF). Americanish will screen at the festival on Saturday, November 13, and be available to stream in Hawai'i on the festival's platform November 15–28. Fatima will participate in a panel discussion, filmmaker Q&A programs, and HIFF's guest filmmaker program as part of the New American Perspectives program.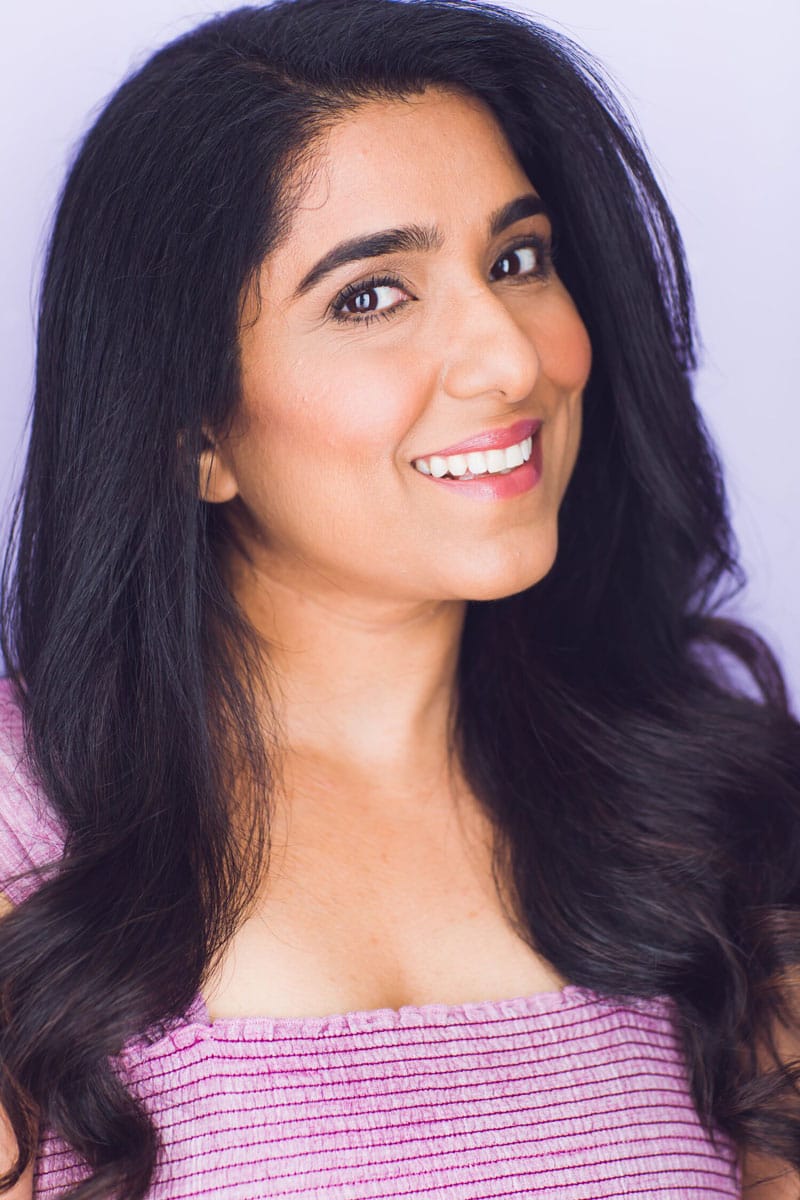 A Creative Spark
Born in Saudi Arabia to Pakistani parents, Fatima and her family moved to Mississippi when she was 12. Fatima found her interest in theatre piqued by the drama program at Starkville High School, however, found it challenging to envision a future career in theatre, due to a lack of representation. Fatima pursued a path in science, earning her BS and working as a microbiologist before going on to earn her master's in computer information systems.
Fatima landed a job with Google, where she found the confidence and flexibility to begin pursuing her interest in theatre on the side. "I was just surrounded by so much creativity at Google," she said, "it led me to explore that creativity a bit." Fatima began taking courses and workshops at NYU and the American Academy of Dramatic Arts, while continuing to work full time.
One Woman Show
Finding a dearth of roles available to her, Fatima began writing a series of monologues which would evolve into her one-woman show, Dirty Paki Lingerie. In Dirty Paki Lingerie, Fatima plays six Pakistani American Muslim women, ranging in age from 6 to 65. Through each of these characters and their stories, Fatima embodies a complex interplay between heritage, familial and cultural expectations, and contemporary society.
Dirty Paki Lingerie debuted at the New York International Theatre Festival in 2011, earning glowing reviews from NPR and the Wall Street Journal. Fatima was overwhelmed by the response, particularly hearing from audience members who saw their own lives reflected in the show. "That was a meaningful experience, seeing women say, 'I've never seen myself,'" said Fatima. "Growing up I never saw myself being represented," she said. "That is honestly what draws me to the work."
Taking a leap of faith, Fatima left her job at Google to pursue her passion, taking Dirty Paki Lingerie to the Edinburgh Fringe Festival and to festivals around the globe.
From Stage to Screen
Egyptian American filmmaker Iman Zawahry saw Dirty Paki Lingerie at New York's All For One Festival in 2012. She approached Fatima after the show, and asked her about whether she'd ever thought about making the show into a film. The pair began working on writing what would become Americanish.
A break from the traditional romantic comedy, Americanish highlights different layers of womanhood as they intersect with cultural and societal expectations. Americanish invites viewers into the home and lives of three young adult Muslim women as they navigate the often turbulent waters of romance, culture, career, and family.
Fatima stars in the film as "Sam," an ambitious young woman who is working on building a career for herself in a corporate communications firm. Fatima reflects on how some of her experiences informed the character's arc. "Sometimes you need to put things in your art to make sense of your own life," she says.
The Road Ahead
Looking forward, Fatima is enthusiastic about writing and producing more work, and trying her hand at directing. "I want to tell the often-untold and remarkable stories of women, immigrants, and people of color," she says. "Each one of us has a unique story to tell that only we can tell."