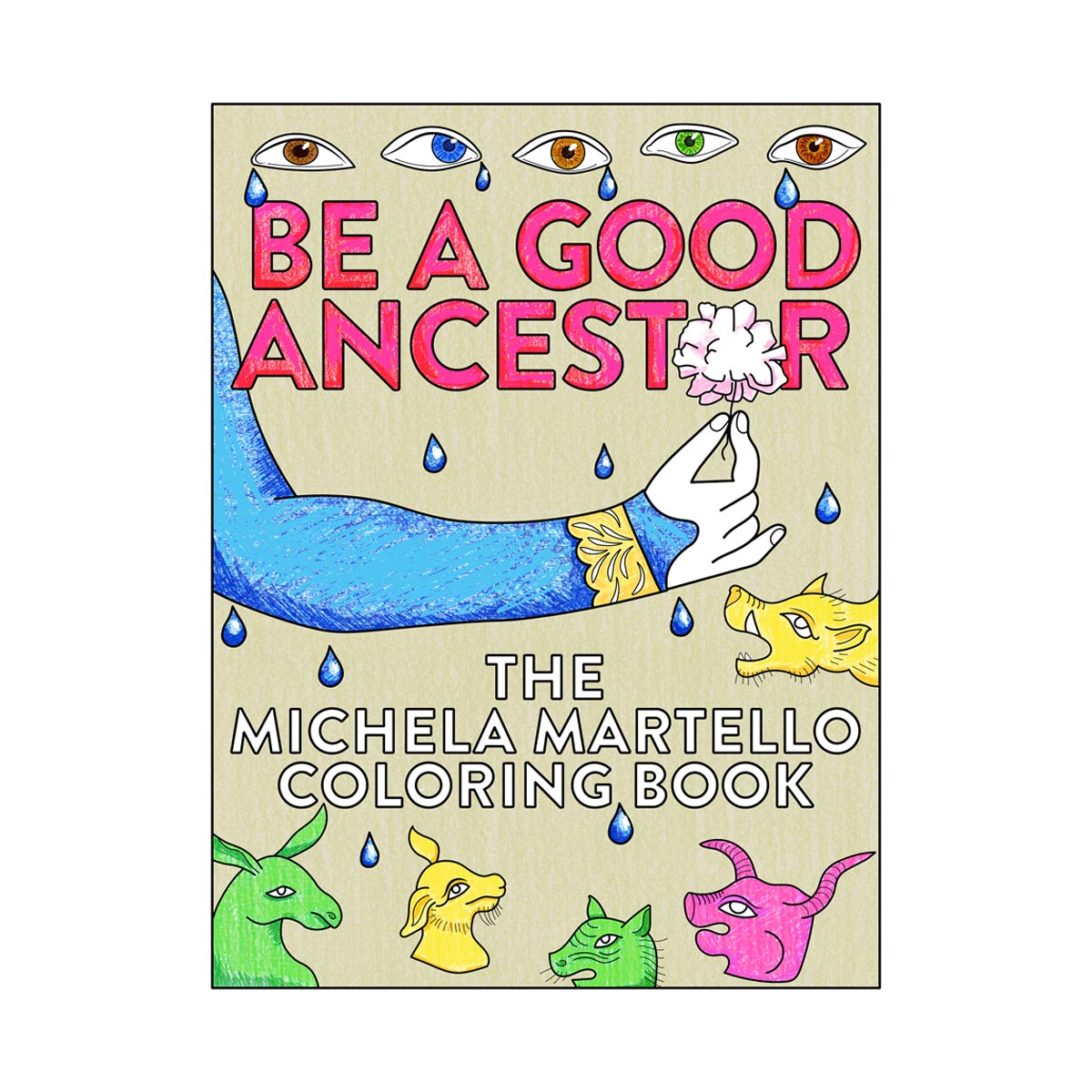 The Vilcek Foundation has partnered with Pen + Brush to develop Be a Good Ancestor: The Michela Martello Coloring Book. The digital coloring book features 20 illustrations for coloring – drawn from Martello's extensive body of work over the past two decades – and reinvented as bold line drawings by graphic designer Paula Kinsel.
Born in Grossetto, Italy, Martello has been living and working in New York since 1998. An illustrator-turned artist, her layered works incorporate images drawn from world religions and artistic traditions, rendered in mixed media.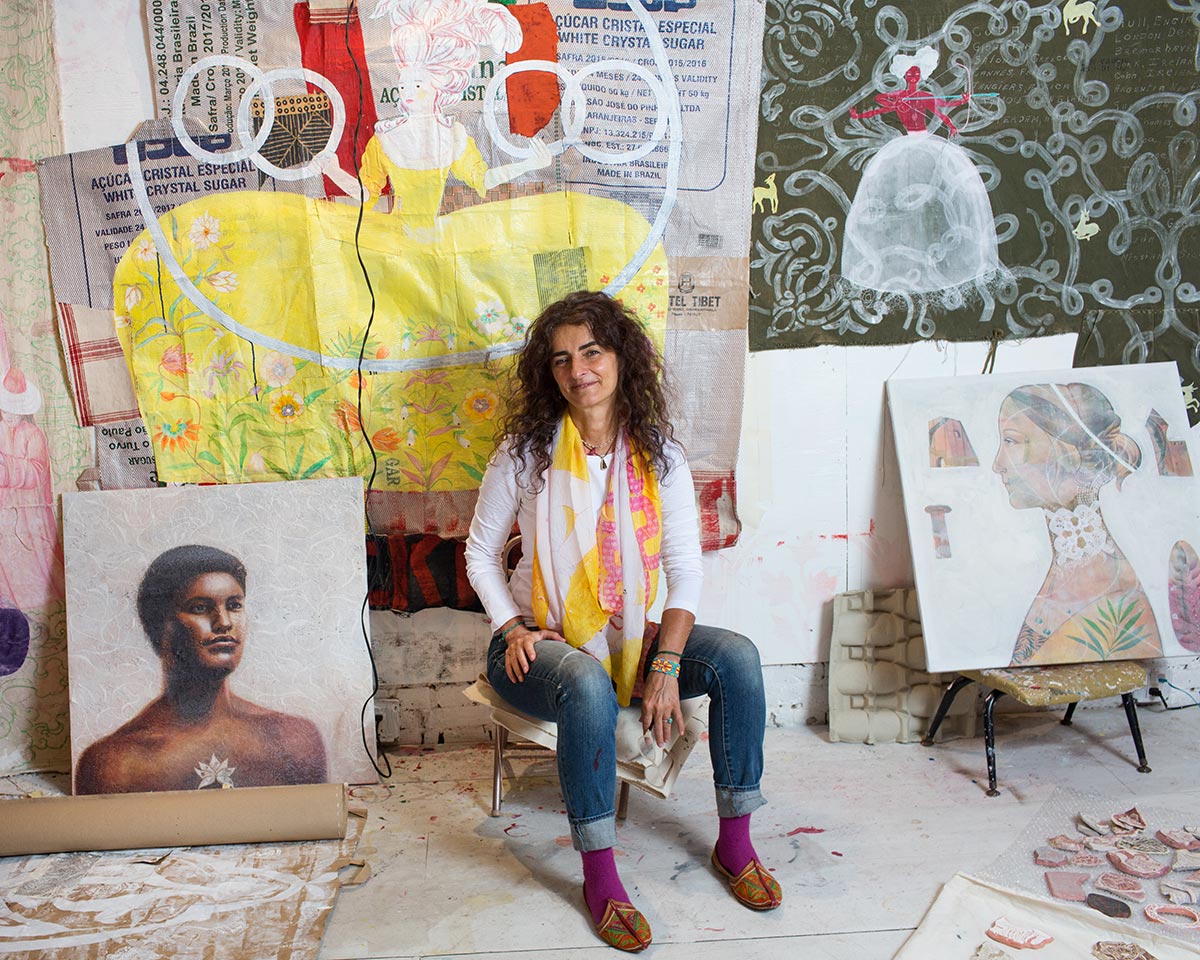 In Martello's work, these elements coalesce to create a new narrative: a contemporary mythology open for contemplation and interpretation. Martello's art speaks to our time—when our awareness of authorship, the use of symbols, and appropriation are so present in mind.
My artwork is a reaction to the environment I occupy. I wish to express a certain balance and harmony, but I realize that the process that leads to such an experience usually involves the opposite aspects.
Martello's artwork has been exhibited in numerous solo and group exhibitions in New York, Italy, and Taiwan, with her most recent being a solo show, Of the Earth—Sulla Terra, at Galleria Giovanni Bonelli in Milan, Italy, in October 2020.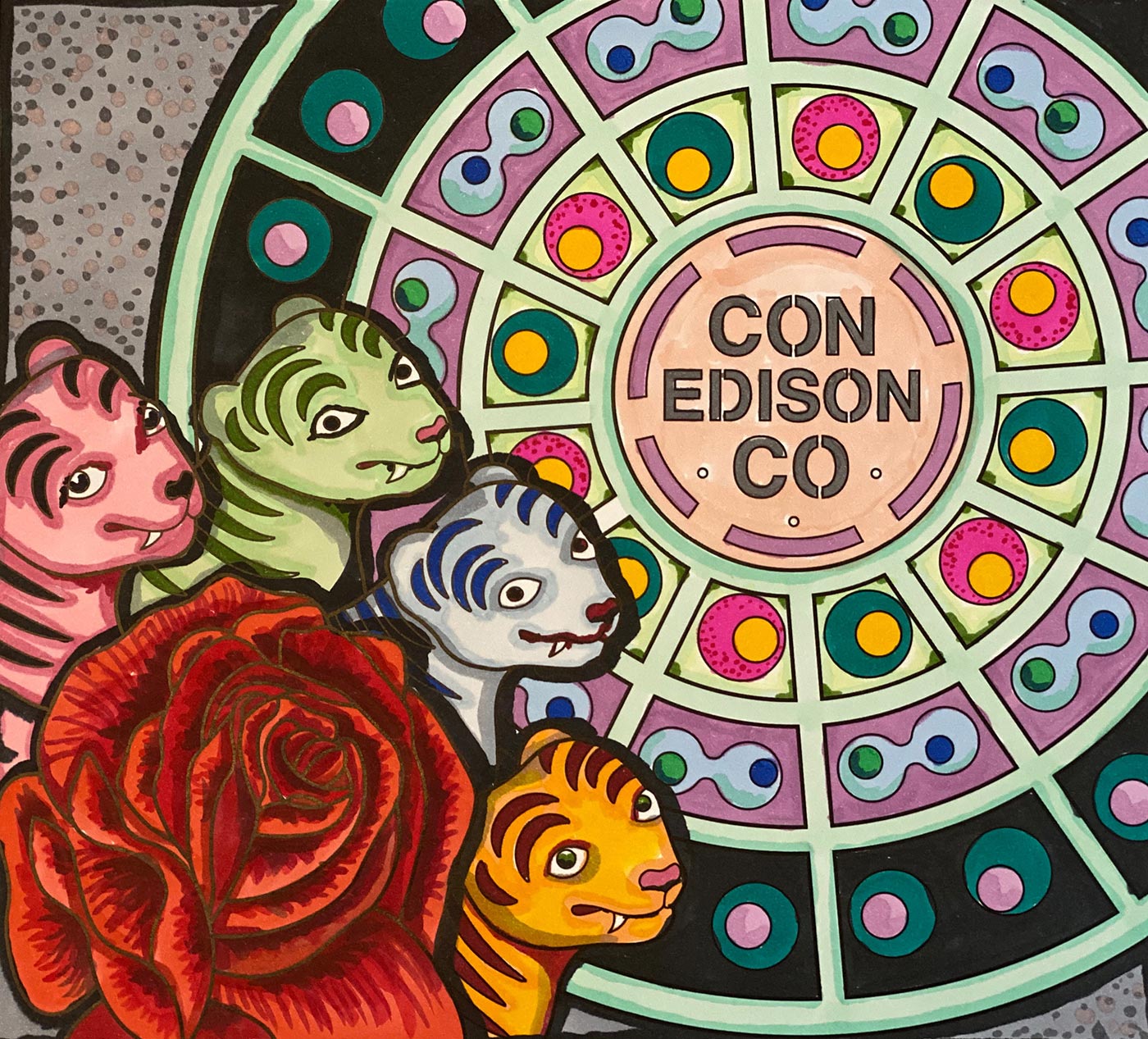 The foundation and Pen + Brush previously partnered in 2016, when Vilcek Foundation President Rick Kinsel co-curated the Pen + Brush exhibition Domesticity Revisited. The exhibition explored the relationship between process and product through the works of artists who engage craftsmanship and domesticity as objects and subjects in their work. Martello was one of four artists whose work was featured in that exhibition.
"Martello's early career was as an illustrator, primarily of children's books, which in later life has given her a great sensitivity to narratives, as well as a natural inclination to join together word and image," Rick Kinsel said. "Her pieces include drawing and painting as well as collage, sewing, and embroidery. Rather than turning her attention to these domestic craft forms, however, she chooses instead to make them part of a larger illustrative endeavor, one that draws upon familiar folktales and folk-art forms, often with a spiritual dimension."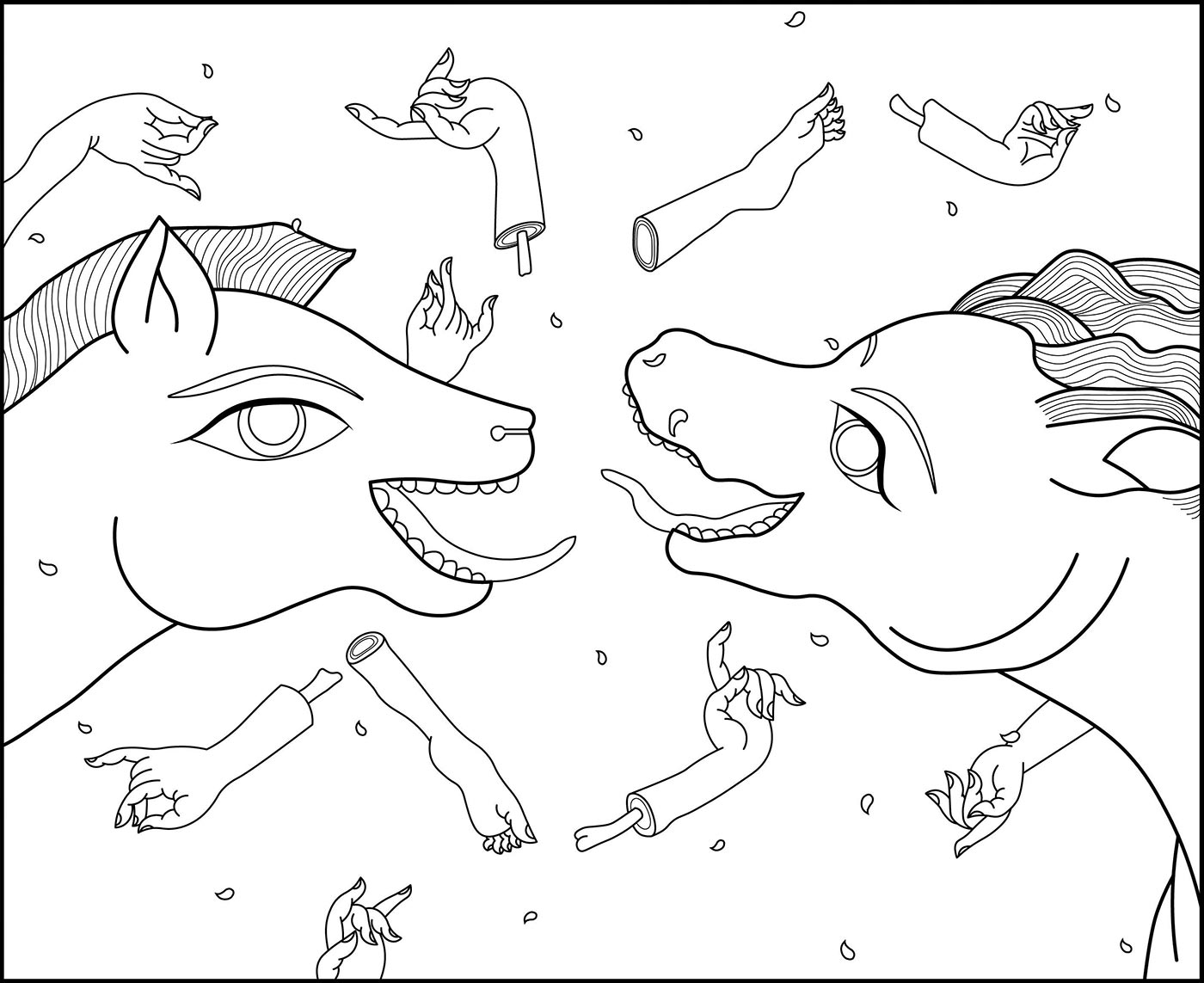 Dawn Delikat, associate executive director of Pen + Brush, said, "Martello's approach is an open exploration of history, belief systems, and their corresponding symbols, and is driven by the discovery and rediscovery of meanings." She continued, "She interweaves medium and technique to capture and convey the complex themes including gender, religion, culture, and identity. It is in this spirit—through Martello's unique ability to take the heaviest substance of life and translate it into something beautiful, accessible, and interactive—that this coloring book was born."
You may also be interested in
Panel Discussion, November 24, 2020
The Vilcek Foundation presents an artist and curator talk with Italian-born artist, Michela Martello.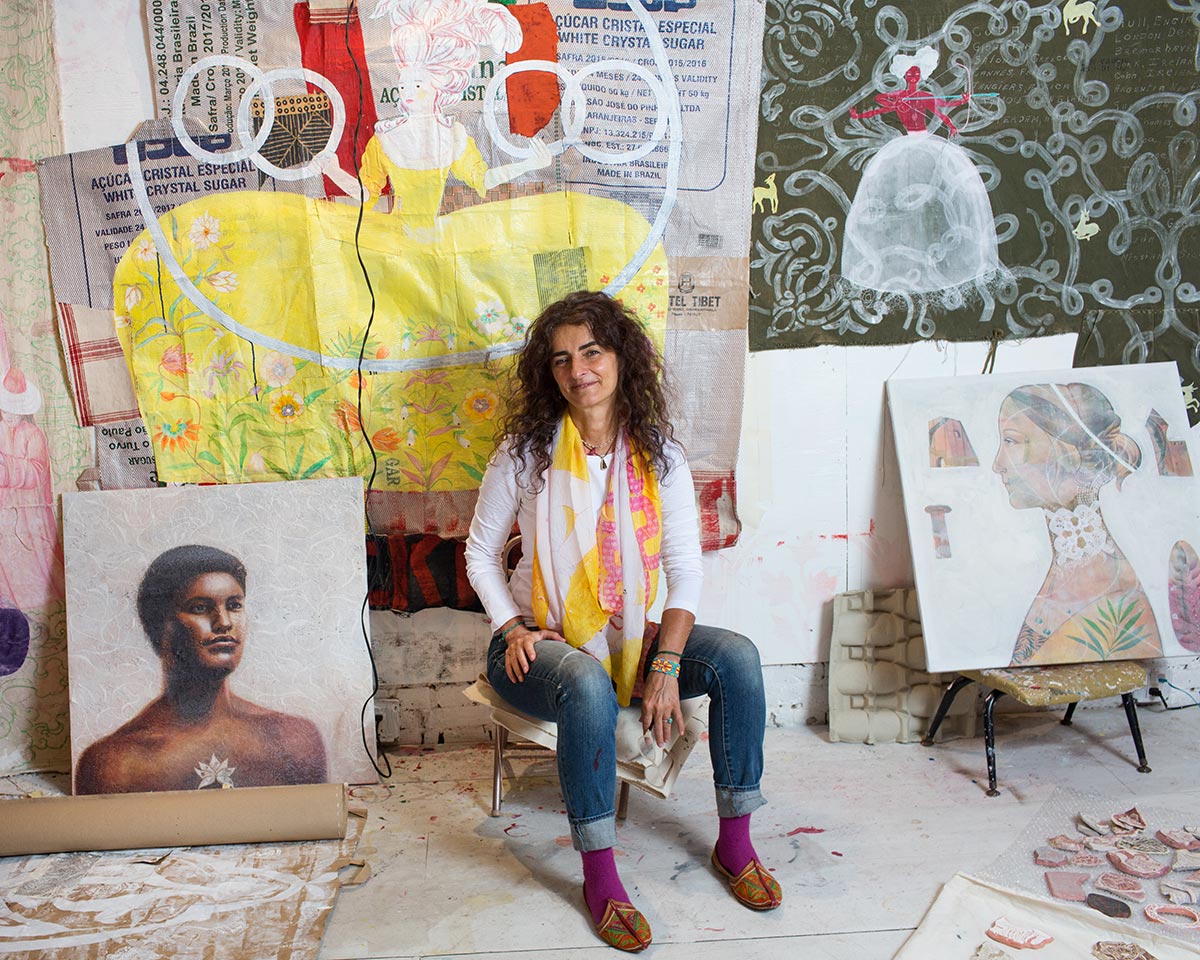 2017 Vilcek Prize for Creative Promise in Fine Arts
Born in Botswana
Meleko Mokgosi receives the Vilcek Prize for Creative Promise in Fine Arts for paintings that rely on intensive research, reflection, and conversation in order to address widespread misrepresentation of Africa and Africans, and to accurately portray the continent's complex social and political realities.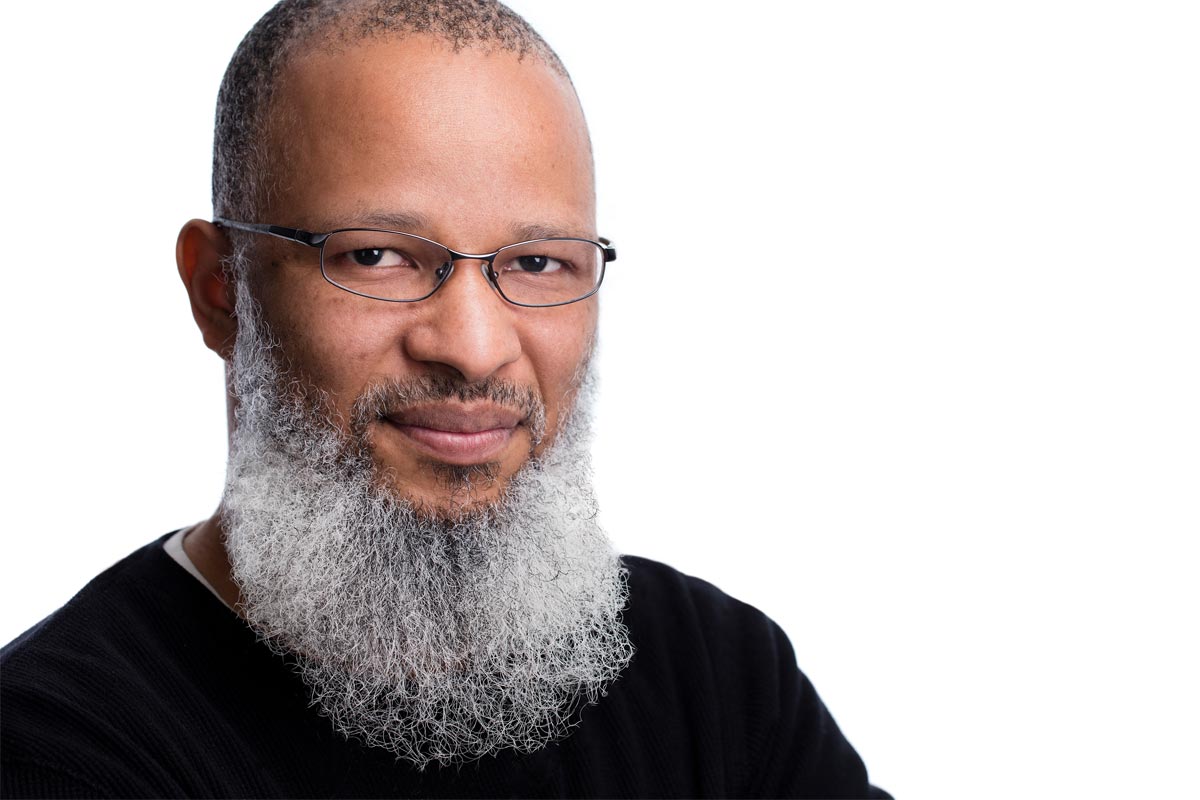 2017 Vilcek Prize for Creative Promise in Fine Arts
Born in Colombia
Carlos Motta receives the Vilcek Prize for Creative Promise in Fine Arts for his engagement, through performance, film, and other media, with the question of representation and democracy, the emotional underpinnings of political awareness, and the tension between dominant accounts of history and marginalized communities.