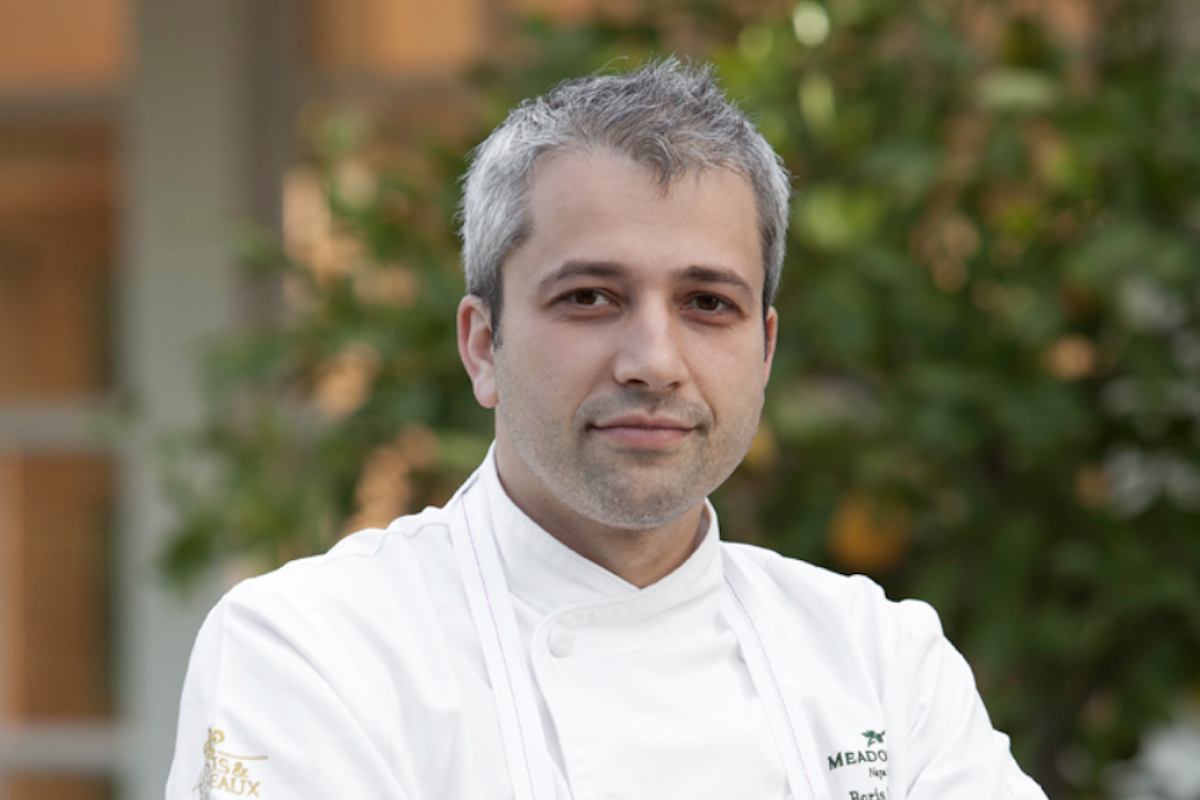 Born in Moscow, Boris Portnoy has always known he wanted to cook. As a youth, he took his earliest inspiration from culinary cookbooks, whose recipes he attempted to reproduce.
Portoy moved with his family to Brooklyn when he was 12 and studied at New School University in New York City before launching his career in the culinary arts. His training in the kitchen began at Deux Cheminees in Philadelphia, under Chef Fritz Blanc. Along with training in traditional French cuisine, Chef Blanc, a former microbiologist, exposed Portnoy to something more valuable: the chemistry of food. He also sparked the budding chef's creativity, motivating him to question everything about food and to work for experience — lessons Portnoy has never forgotten.
He found his next source of inspiration in Vernon Morales, with whom he opened the restaurant Salt in Philadelphia. Chef Morales encouraged Portnoy to go to Spain and expand his repertoire of creative cuisine. There, under renowned Chef Andoni Anduliz at Mugaritz, he learned about the application of modern techniques and, more importantly, the range of taste.
Back in the States, Portnoy became focused on learning pastry technique, and took on the role of opening pastry chef at New York City's critically acclaimed Cre. But in 2005 Portnoy moved cross country to join Chef Morales at Winterland in San Francisco. That same year he was named a Rising Star Pastry Chef by StarChefs.
A year later, Portnoy became pastry chef at Campton Place in San Francisco, where his innovative pastry concepts and flavor combinations began to take shape and earn acclaim. His pastry "philosophy" is to use ingredients with a common denominator. Among his favorite ingredients are astringents such as tea, coffee, or chicory.
Since 2008, Portnoy has been working as a freelance pastry chef. In that capacity, he has teamed with mixologist Daniel Hyatt to establish SucrePunch, a collaborative project to contribute to the dessert and cocktail culture. More recently, he has been working with Iso Rabin of ForageSF to set up a network of foragers, gleaners, and others who want to eat wild foraged foods.
Jury Members
2010 Vilcek Prize for Creative Promise Honoree in Culinary Arts
Karine Bakhoum
President, KB Networks
Darra Goldstein
Professor, Williams College, Editor-in-Chief, Gastronomica: The Journal of Food and Culture
Andrew Knowlton
Restaurant Editor, Bon Appetite
Gabrielle Langholtz
Editor-in-Chief, Edible Brooklyn/Edible Manhattan
Harvey Levenstein
Professor Emeritus, McMaster University, Author, Paradox of Plenty