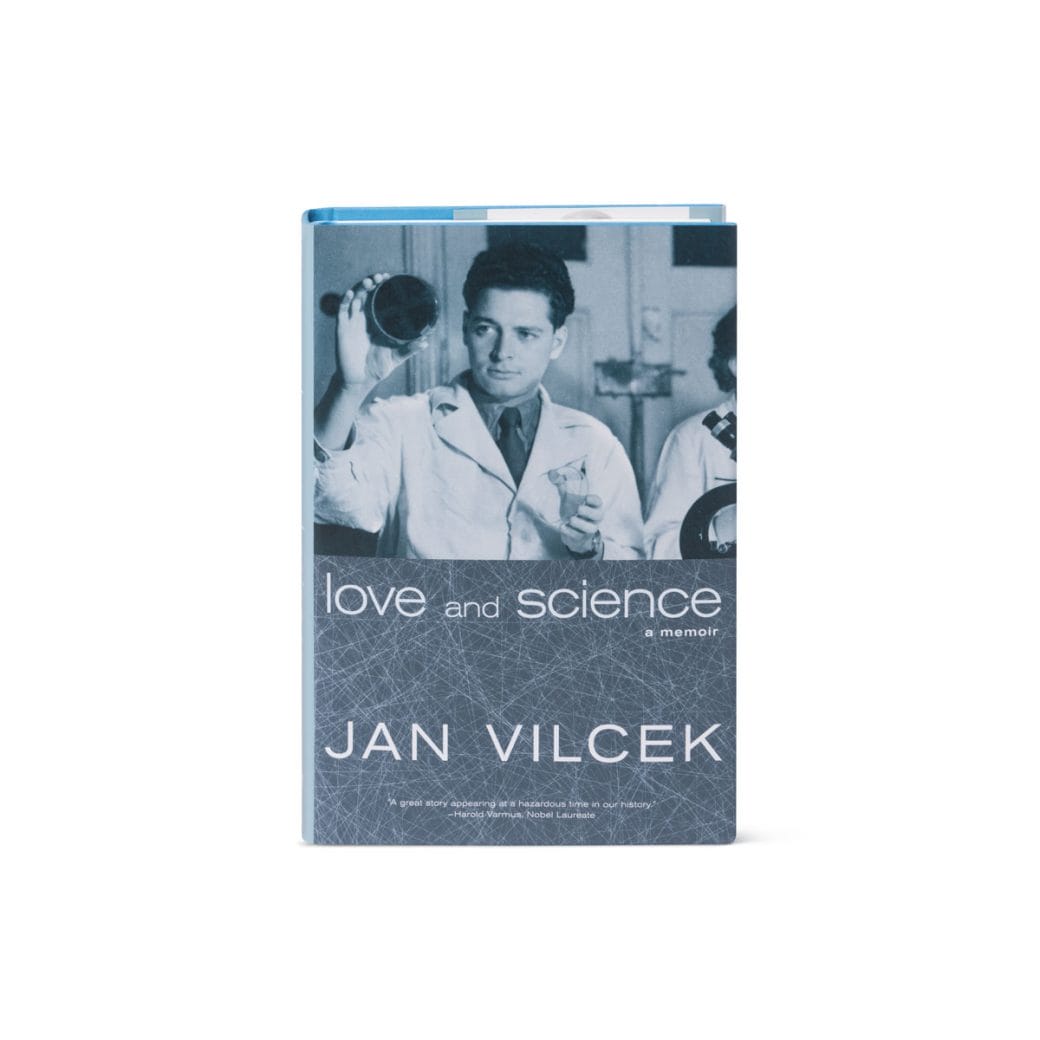 In Love and Science, Jan Vilcek tells the story of his life as two intertwined threads, wound together in alternating chapters. The first is an illuminating tale of research and scientific discovery. The second tells of the fateful and bold decisions that led Jan and his wife, Marica, to defect from the former Czechoslovakia and immigrate to the United States.
In an early review of Love and Science, Pulitzer Prize–winning historian David Oshinsky wrote: "This is a memoir to be cherished. Dr. Jan Vilcek's remarkable life bears witness to the totalitarian evils of Nazism and Communism that shaped his native Czechoslovakia and to the life-saving miracles he produced in the laboratories of his adopted homeland, the United States. It's a story of courage and freedom, of discovery and philanthropy—told with the elegant modesty of a man who devoted his life to easing the world's pain. Put simply, it demands to be read."
Jan's story begins in the former Czechoslovakia, where, as a Jewish child during World War II, he went into hiding to survive the threat of deportation to an extermination camp. Afterward, during the political turmoil caused by the communist takeover, he completed medical school in Bratislava and embarked on a career in virology and immunology, two nascent fields whose importance were, at the time, unfathomable. During this time, he met and married Marica Gerhath, an art historian and curator with a love of "decadent" Modernist Art.
In search of personal and professional freedom, the couple defected and immigrated to New York City in 1965. Arriving as penniless political refugees, they nevertheless built successful careers: Marica at the Metropolitan Museum of Art and Jan at the New York University School of Medicine.
At NYU, Jan continued his research in immunology, with a particular focus on cytokines and interferon. While studying potential treatments for sepsis—particularly to target tumor necrosis factor (TNF), Vilcek and Junming Le created a monoclonal antibody against TNF-alpha, called infliximab. The chimeric antibody was ineffective in treating sepsis—Vilcek and Le's initial goal—however, it proved successful in treating autoimmune disorders such as rheumatoid arthritis and Crohn's disease. Vilcek and Le helped develop the biologic drug, infliximab, or Remicade®. It quickly became commercially successful, and Remicade® remains one of the top-selling drugs in the world.
The success of Remicade® placed Jan and Marica in a position of unexpected material wealth, enabling them to establish the Vilcek Foundation in 2000. The Vilcek Foundation was established with a mission of honoring immigrant contributions to the United States, and more broadly to foster appreciation of the arts and sciences. The foundation's mission was inspired by the couple's respective careers in biomedical science and art history; its legacy is a testament to their gratitude for the opportunities that immigration provided Jan and Marica, and to their philanthropic generosity.
Love and Science is available for purchase from Seven Stories Press and everywhere books are sold. In March 2021, the Vilcek Foundation published Love and Science as an audiobook read by actor Daniel K. Isaac. Jan reads the postscript, a poignant statement on his life story as it continues to unfold: "Only in hindsight is any legacy made manifest," he reflects. The audiobook of Love and Science is available for purchase on Audible, Amazon, and iTunes.
"It's a marvelous book, as interesting about science as it is about the adventures of this extraordinary man," writes Charles Simic, poet, essayist and Poet Laureate of the United States. "I couldn't put it down."