Dr. Mona Fouad was presented with the 2022 Vilcek-Gold Award for Humanism in Healthcare at the Association of American Medical Colleges (AAMC) meeting in Nashville, Tennessee, on November 12, 2022. As the founder and director of the Minority Health and Health Equity Research Center at the University of Alabama, Birmingham, Fouad received the award for her career commitment to equity in healthcare.
Vilcek-Gold Award honorees receive a heart-shaped commemorative trophy and an unrestricted cash prize of $10,000.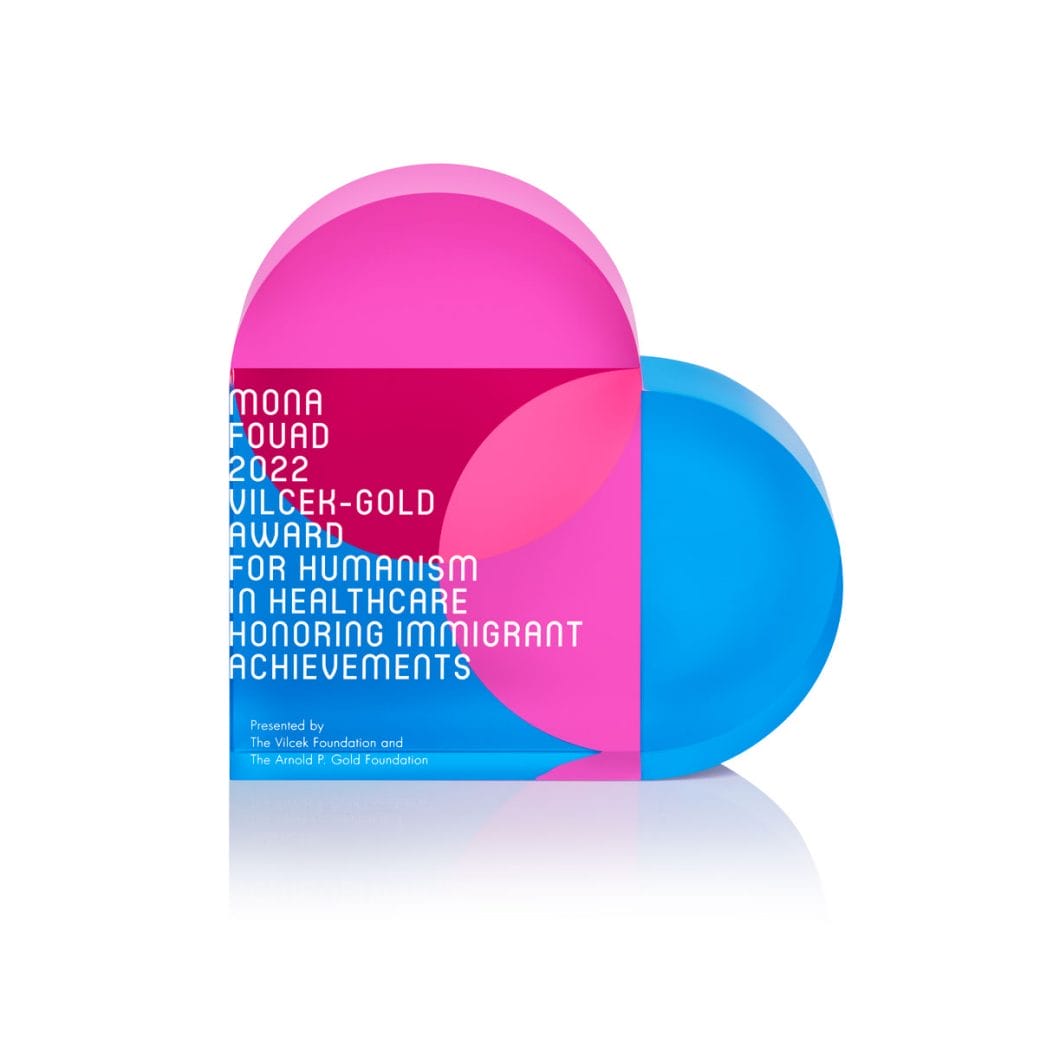 The 2022 Vilcek-Gold Award was presented by Dr. Rich Levin, chairman and CEO of The Arnold P. Gold Foundation, and by Vilcek Foundation Program Officer Julia Lo. Following the award presentation, Fouad gave a talk as part of the AAMC's Voices of Medicine and Society series, "It's all about the people: Compassion and resilience in the journey toward health equity," followed by a Q&A with Levin.
Composing her path
In her talk, Fouad spoke about growing up in Egypt studying music, recognizing her passion for the sciences as an adolescent, and the patterns that she saw in health inequities both as a medical student in Alexandria, Egypt, and as a public health researcher in Birmingham, Alabama. Fouad's talk wove together the different aspects of her life, experience, and human understanding that led to her outstanding impact in public health—just as a composer brings together melody, rhythm, and harmony to create a symphony.
"Alabama was the perfect place to study health disparities," she said. "The social determinants of health: the interlocking factors of education, income, race, and ethnicity; family and cultural background; social status; and numerous other elements all combine to determine the health of individuals and their communities."

Community-based approaches
"It's easy to get trapped in the numbers, to miss the symphony for the notes, but our health-disparities work has always been about the lives of real people," said Fouad.  She highlighted the importance of listening to community members' needs and the value of seeking solutions and insights from the community.
Of great import, too, noted Fouad, is recognizing the historic harms that have led to inequities and disparity in healthcare and health outcomes in the southern United States and in Black communities in particular. In her remarks, Fouad addressed systemic racism, as well as specific programs like the Tuskegee study that have led to skepticism in some Black communities about healthcare and medical establishments.
If the problem is in the community, the solution is in the community
Fouad has sought not only to better understand and to document social determinants of health through research, but to engage and empower historically underrepresented and underserved individuals and communities to work with her and other institutions. She describes her work with the UAB Minority Health Center as three-pronged, comprising research, community engagement with local organizations, and career development training in research, medicine, and public health.
"I always say that if the problem is in the community, the solution is in the community," said Fouad. "If we can just really focus on trust and listen to the people, we'll find the solutions."