Opening New Headquarters with Inaugural Exhibition
In case you haven't visited us yet, we opened our new headquarters at 21 East 70th Street in New York this year! The structure was originally built as a townhouse in 1919, later becoming a commercial art gallery in the 1960s; it was formerly occupied by Hirschl & Adler Galleries. Designed by by Architecture Research Office with renovations overseen by Adam Yarinsky, our new location has two floors of dedicated exhibition space.
Ralston Crawford: Torn Signs, the very first exhibition at our new headquarters, came to an end on November 13 with a successful closing celebration. The exhibition presents an important aspect of the modernist painter's oeuvre not often seen by the public and includes paintings, drawings, and photographs from the foundation's collection alongside loans from John Crawford, one of the artist's sons.
2019 Vilcek Prizewinners
Austrian-born Angelika Amon is one of the world's leading experts on cell division and winner of the the 2019 Vilcek Prize in Biomedical Science. She studies cell growth and division, and how errors in these processes contribute to birth defects and cancer; her research has shed light on the cellular origins of cancer, miscarriage, and other disorders, and may form the basis for new treatments capable of selectively targeting cancer cells.
Marcus Samuelsson, born in Ethiopia and raised in Sweden, was awarded the 2019 Vilcek Prize in Culinary Arts. Marcus was the youngest chef to receive a three-star New York Times review while helming Aquavit. Now he is now the owner of several restaurants, including Harlem's Red Rooster, the author of multiple cookbooks, and the host of PBS television show No Passport Required.
Vilcek Prize for Excellence in Art History
The inaugural Vilcek Prize for Excellence was bestowed to Chilean-born art historian and curator Carmen C. Bambach this year. The award was created to honor scholars who have had a profound impact on American society and world culture. Carmen recently published a four-volume monograph titled Leonardo da Vinci Rediscovered through Yale University Press and currently offers her talents to the Metropolitan Museum of Art, where she has been a curator of Italian and Spanish drawings since 1995.
Creative Promise Prizewinners in Biomedical Science
After receiving the 2019 Vilcek Prize for Creative Promise in Biomedical Science, Indian-born scientist Amit Choudhary successfully published a manuscript on precision control of CRISPR-Cas9, a tool that helps researchers edit the genomes of living organisms, in Biochemistry Magazine.
Georgian-born Jeanne T. Paz has dedicated her career to finding treatments for brain disorders. She was awarded the Michael Prize, Challenge Award, and the Challenge Award from Citizens United for Research in Epilepsy for her contributions to neuroscience. After receiving the Creative Promise Prize in Biomedical Science, Jeanne is diving deeper into innovating therapeutic approaches for intractable epilepsy.
For developing noninvasive technology to monitor neural activity in the brain, Mikhail G. Shapiro was awarded one of this year's Creative Promise Prizes. Mikhail has also earned the Paul and Daisy Soros Fellowship and been featured in Technology Review magazine's "Top 35 Innovators Under 35."
Creative Promise Prizewinners in Culinary Arts
New York Times journalist Tejal Rao, born in the U.K. to parents from Kenya and India, was awarded a Creative Promise Prize in Culinary Arts this year. Always actively pursuing her passion for using food to illuminate people's stories, Tejal was also awarded two James Beard Foundation Awards for restaurant criticism and has been named one of Forbes magazine's "30 Under 30."
Mexican-born Fabián von Hauske Valtierra, awarded a Creative Promise Prize in Culinary Arts, is the co-chef and co-owner of Contra, Wildair, and Una Pizza Napoletana in New York City. Building on his wildly successful Michelin-starred restaurants, Fabián recently opened Peoples, a wine bar and shop inside the Market Line on the Lower East Side.
Creative Promise Prizewinner Nite Yun was named one of the country's "best new chefs" by Food & Wine in 2019. Based in California, the Cambodian-born chef sees her restaurant not only as a place for food but also as a space to heal generations of Cambodian expats. Nite continues to cultivate a safe and close community for Cambodians in the United States.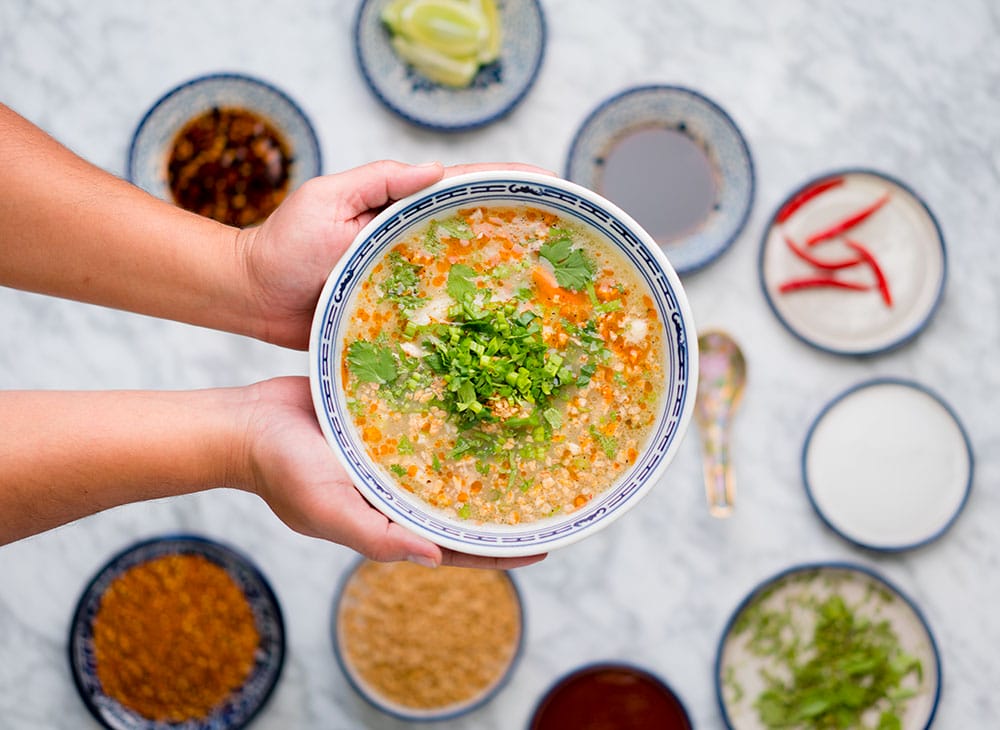 A Place at the Table
The foundation's first cookbook, A Place at the Table, was published this year! With a foreword written by José Andrés, the first winner of the Vilcek Prize in the Culinary Arts, and an introduction by Padma Lakshmi, host and executive producer of Top Chef, the book features more than 70 dishes created by 40 award-winning immigrant chefs — including 2019 Vilcek Prizewinners Marcus Samuelsson, Nite Yun, and Fabián von Hauske Valtierra.  A Place at the Table serves to celebrate the many contributions immigrants have made to America's cuisine and is a testament to the successes of immigrant chefs in this country.
Vilcek-Gold Award for Humanism in Healthcare
Dr. Mona Hanna-Attisha was awarded the inaugural 2019 Vilcek-Gold prize for Humanism in Healthcare at the Association of American Medical Colleges (AAMC) Learn Serve Lead meeting in Phoenix this year. A pediatrician and associate professor at Michigan State University, Mona was the whistleblower for the Flint water crisis after her research in 2014 uncovered dangerously high levels of lead in her young patients. At the AAMC meeting, she urged guests to speak up when witnessing injustice like she did, as detailed in her 2018 memoir What the Eyes Don't See: A Story of Crisis, Resistance, and Hope in an American City.
New American Perspectives
In November, we relaunched the New American Perspectives program with the Hawai'i International Film Festival to spotlight the contributions of immigrant artists to film and contemporary media arts in the United States. This year's program featured five immigrant artists: Saudi Arabian-born Haifaa Al Mansour, Filipino-born Isabel Sandoval, Taiwanese-born Emily Ting, Japanese-born HIKARI, and Chinese-born Jenny Dorsey.
Highlights from 2019