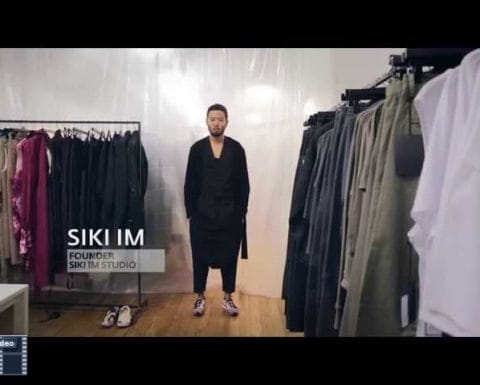 Designer Siki Im believes he is who he is today because of his parents. His parents emigrated from South Korea to Germany on work visas; his father was a chemist, and his mother was a nurse. And although they did not work in the arts, "they didn't say no," Siki says. "They let me try things out. I think that was the biggest blessing."
Legos were Siki's earliest medium: "For me, that was art," he remembers. He continued to experiment with art in all its forms while growing up in Cologne, Germany: he wrote poetry, played in bands, and made art. An avid fan of hip-hop, he even experimented with graffiti, although "nothing illegal," he says with a laugh. "I want to keep my immigration status here, you know."
Siki continues to draw inspiration from a wide range of arts and culture today. He left Cologne to study at the Oxford School of Architecture in the United Kingdom. There, Siki honed his technical skills and refined his appreciation of culture, finding inspiration everywhere, from choreographer Merce Cunningham to philosopher Michel Foucoult. It was also at Oxford that he learned to think of architecture as a theory of space, rather than a process of constructing buildings.
He moved to New York City to work for the firm Archi-Tectonics, but his striking sense of fashion soon caught the eye of David Vandewal, vice president of design at Club Monaco. He left architecture for fashion, and after designing for Club Monaco, Helmut Lang, and Karl Lagerfield, Siki founded SIKI IM STUDIO, a luxury menswear label, and DEN IM, a sister label featuring jeans, sweatshirts, and T-shirts.
Since launching in 2009, each collection from the studio has been created around specific themes — at least two, or else it would be "too literal and too linear and not modern enough," Siki says. These themes could be immigration and isolation, for example, or humans and machines. After devoting months of study to the themes, and the ways in which they interact with or clash with or embrace each other, Siki develops a menswear collection out of these extended contemplations.
In the Human/Machine collection (spring/summer '15), for example, the themes manifested themselves in garments that showcased technical details while infusing human elements such as hand-dyed fabrics. In describing the collection, Siki quotes philosopher Jean Baudrillard alongside the Disney movie Wall-E.
These concepts may seem unrelated to clothing, but to Siki, just as architecture is not about buildings, fashion is not about clothes — it just so happens to be his chosen medium. "Fashion is a medium to speak to people on," says Shan Reddy, managing director of SIKI IM. "When you speak about these ideas, you can write a book about it, you can sing a song about it, you can have a play about it. In this scenario…we chose to do a collection and show that spoke about them."
Fittingly, Siki does not consider SIKI IM STUDIO to be just a fashion studio. He continues to make music, and he plans on one day making furniture, graphics, and even a full-length feature movie. "We will one day," he promises.
You may also be interested in