On Wednesday, April 2, the Vilcek Foundation hosted the winners of the 2014 Vilcek Prizes, members of the design and biomedical science communities, and other friends of the foundation at the 9th annual awards gala at the Mandarin Oriental Hotel.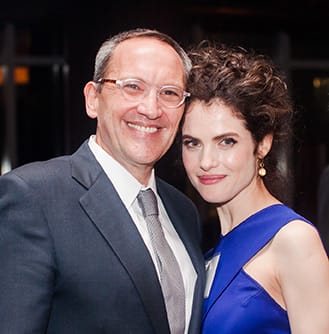 The prizes were established to honor immigrants whose careers have had a significant impact on the American arts and sciences. Amongst the guests were several past Vilcek Prizewinners, many of whom traveled far distances to attend the ceremony. Of note was Osvaldo Golijov, winner of the 2008 Vilcek Prize for Music, who came to cheer on Neri Oxman, winner of this year's arts prize, and – coincidentally – his wife.
Ross Tibbles and Shelley Fox
Georgiana Pickett, Vernon Scott, and Claudia Dreifus
Some of the guests joining in the festivities for the first time this year were Shelley Fox, Donna Karan professor of fashion at Parsons the New School for Design; Ingrid Abramovitch, senior editor/writer at Elle DécorNew York Times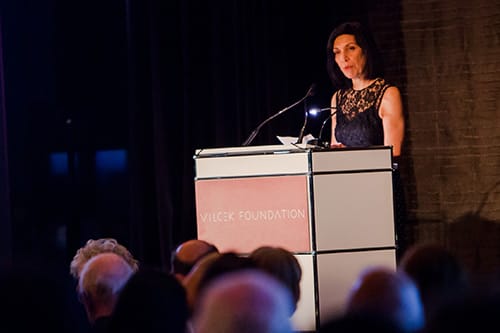 After a cocktail reception and seated dinner, the prizewinners were introduced by Huda Zoghbi, professor of molecular and human genetics at Baylor College, and Paola Antonelli, senior curator in the Department of Architecture and Design at the Museum of Modern Art. Both speakers were especially familiar with the work of the prizewinners, having also served on this year's selection panels.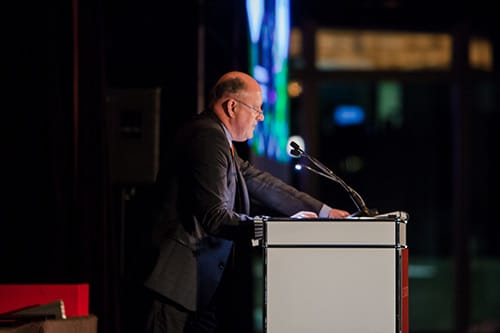 In his acceptance remarks, Thomas Jessell, winner of the Vilcek Prize for Biomedical Science, quoted immigrant artist Arshile Gorky: "We are part of the world creation, and we ourselves create nothing. Our knowledge allows us to make use of all the forces already in existence, our art to interpret emotions already felt." It was a fitting sentiment that summed up both the extraordinary collection of creative individuals in the room, and the warm enthusiasm shown for our prizewinners.