Immigrant Songs, a new video and radio series produced by KEXP 90.3 FM Seattle, in partnership with the Vilcek Foundation, searches for the diverse sounds of the immigrant experience.
The series, which is hosted and curated by world music aficionados Darek Mazzone and DJ Chilly, is composed of interviews, in-studio performances, and blog posts that spotlight immigrant musicians. "I'm an immigrant, and telling the immigrant story is very important to me," said Darek, a Polish-born American who hosts the weekly "Wo' Pop" show on KEXP. "I've been focusing on international music since 1987, and many of the artists I play are immigrants. The immigrant experience is transformational in all ways."
Since premiering on March 9, the series has featured four exciting musical groups — Meklit, Chimurenga Renaissance, Dengue Fever, and Blitz the Ambassador — each bringing their own stories and experiences to the show. "The first four episodes of the series have been incredibly thought-provoking," said Rick Kinsel, executive director of the Vilcek Foundation. "The interviews have provided meaningful insight into the experience of immigrant musicians, and, hopefully, given listeners a deeper understanding of the artists' work."
For Meklit Hadero, the experience of emigrating from Ethiopia to America makes up an integral part of her music. "I feel that being from another country, living in the United States, has been a part of the fabric of every song I've ever written," said Meklit in an interview with Darek. She embraces the experience in her music: "When I think of myself as an artist, I like to say I walk the road of hyphens … I sing classic Ethiopian songs that we [my band and I] totally rearrange, or I will use a scale from Ethiopia with English lyrics."
The show's most recent installment featured Vilcek Creative Promise Prizewinner Blitz the Ambassador. Blitz, originally from Ghana, says his perspective evolved when he moved to the United States to attend Kent State University: "That was when I saw the possibilities in a diaspora; so my entire music today and how it has connected Brazil and Brooklyn and Accra all came from landing in Ohio," he said in an interview with Mazzone. After living in America for the last 14 years, Blitz is trying to bring his experiences and knowledge back to Ghana. "The conversation for a lot of us is, how do we return and influence home the way the world has influenced us," he said.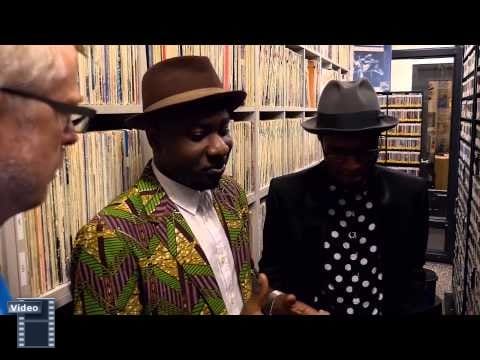 You can watch past episodes and keep up with future announcements of the series on the Immigrant Songs blog and YouTube playlist. And while Darek is not giving any hints about future guests, he did tell listeners what they can expect: "Each experience is unique, of course, but one thing has been constant — the need to tell a story, their story, through music."
You may also be interested in