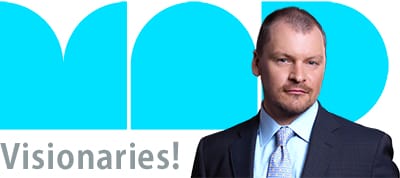 Congratulations to Vilcek Foundation Executive Director Rick Kinsel! The Museum of Arts and Design has selected him as a 2013 recipient of the MAD Visionaries! Awards, which recognizes creativity and leadership in the fields of arts and design. Rick is being honored for his ongoing work with the Vilcek Foundation, seeking out and supporting talented foreign-born artists and designers.
Rick will be recognized at a gala at the Mandarin Oriental in New York City on November 20. He will share the stage with fellow MAD Visionaries! honorees artist Frank Stella; Wilfried Vancraen, CEO of Materialise; and jewelry designers and creative directors David and Sybil Yurman.
"Over the past decade, Rick has played a critical role in seeing through the mission of the Vilcek Foundation," said Marica Vilcek, vice president of the Vilcek Foundation. "He has been a true visionary on our team, and we are proud to see his work recognized by the Museum of Arts and Design alongside such esteemed company. 
Rick is being honored for the expansion of foundation programs that acknowledge the contributions of immigrants in design.  Such programs include the Vilcek Prizes in the Arts, which will be awarded in design for the first time in 2014. The prizes will recognize immigrant designers in the categories of product, graphic, social, and web design. (The winners of the 2014 Vilcek Prizes for Design will be announced in February — stay tuned!)
The gala will be preceded by a silent auction, where you may recognize the work of some of our past exhibition artists, including Kai-Duc Luong, Toshiko Nishikawa, and O Zhang.
All proceeds from the auction and gala will support MAD's exhibition and education programs.