All compelling protagonists have a unique origin story. Kate Telfeyan — one of the chefs featured in our first cookbook, A Place at the Table: New American Recipes from the Nation's Top Foreign-Born Chefs — is no exception.
"I like to think that when I was found I was nestled with care in a bed of gomchwi, a jar of kimchi tucked into the folds of a soft blanket wrapped snugly around my baby body — a fermented fairytale of sorts." Conjured by Kate in a piece published by Catapult in 2016 — this image is a lens through which to view the stark image of Kate's early life: At approximately 12 months old, Kate was found abandoned in a supermarket, and promptly brought to an orphanage in South Korea.
Kate arrived at JFK airport in New York City at the age of 2 in March of 1982; she was received and welcomed by her family, who brought snacks for a daughter they knew would be hungry following her journey. As Kate grew up, she found connection and satiety in her relationships with her family, navigating beyond the insecurity she experienced before coming to the United States. Kate recalls: "Until my mid-teens I ate painfully slowly and deliberately… I savored every bite, experienced every flavor and familial interaction," and notes that: "I view every meal as an opportunity, whether to experience pure joy in the moment, or share personal expression where sometimes words fail me." Food became a unifying aspect in Kate's life — a symbol for community and communion with others, and a means of nourishing body and soul.
Today, Kate is the head chef at Mission Chinese Food, working with Danny Bowien to develop Sichuan-influenced banquet-style menus. On East Broadway in Manhattan, Mission Chinese Food is situated at the intersection of Chinatown and the Lower East Side. This location has manifested as a source of support and community for millions of immigrants over the past two centuries — embodying home for Chinese, German, Irish, Italian, and Russian diasporas — and representing a concentrated microcosm of the United States as a home for multiple immigrant communities. In October 2018 the Mission Chinese Food spirit of culinary collaboration and reinvention spread to a second New York location, in Brooklyn, where Kate has presided as head chef since opening day.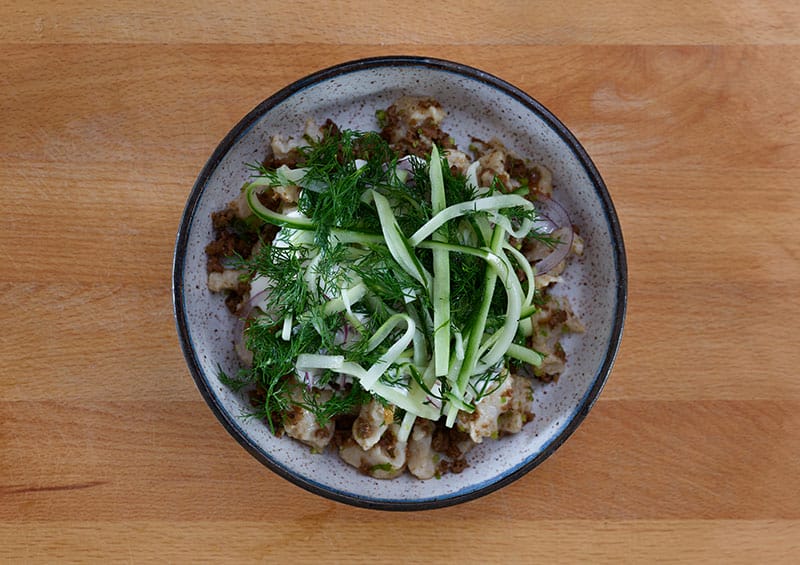 The cuisine of Mission Chinese Food applies Sichuan flavors and culinary techniques to globally-sourced ingredients to create unique dishes. Kate's interpretation of Sichuan cuisine with techniques and inspiration from diverse sources parallels how immigrants interpret and reinvent traditions over time and space, and speaks to the importance of food as a form of both physical and emotional nourishment. The banquet-style dinners that are a hallmark of Mission Chinese require diners to connect and communicate while sharing food, invoking the ritual of the family meal — an institution and tradition common to nearly all cultures around the world.
The two recipes that Kate contributed to A Place at the Table combine the flavors and textures of some of Kate's childhood favorite foods — lamb* (a culinary call-out to her father's Armenian heritage) and seafood chowder (a New England institution) — with flavors and techniques from Chinese and Korean cuisine. The combination of experiential and culinary influences that Kate brings to her food — how she has constructed and embodied her story — is an exemplar of how valuable immigrants are to the culinary arts in the United States, and is what inspired us to invite Kate to our table.
Follow Kate
Instagram @katetelfeyan and @missionchinesefood
Twitter: @kt5000 and @missionstfood
*Get Kate's recipe from A Place at the Table on Carolyn Jung's Food Gal blog: Hand-Torn Noodles with Cumin Lamb.
You may also be interested in