This past year was eventful for the Vilcek Foundation: We moved into new headquarters on Manhattan's Upper East Side, loaned works to museums around the U.S. and abroad, and prepared for our own upcoming program of exhibitions at our gallery space. The 2018 Vilcek Foundation Prizes recognized immigrants whose work pushes boundaries in architecture and biomedical science, while our alumni continued to make headlines and advances, worldwide. And in 2019, we look forward to sharing two new publications—one, a catalogue based on the Ralston Crawford pieces in our American Modernism collection, and the other, a cookbook based on immigrant contributions to the American culinary arts.
To celebrate the end of 2018, we've put together an article highlighting some of the year's biggest stories around the Vilcek Foundation, our art collection, and the many immigrants we are honored to know. We hope you enjoy them, and wish you a wonderful start to the new year!
Vilcek Foundation Prizewinners in Biomedical Science Shine in 2018
After taking home one of this year's Creative Promise Prizes in Biomedical Science, Feng Zhang received two prestigious appointments. The Chinese-born biochemist, who helped pioneer the revolutionary genome-editing tool CRISPR, was elected to the National Academy of Science. Feng also joined 2013 Creative Promise Prizewinner Howard Chang as a member of this year's class of Howard Hughes Medical Institute Investigators. The 19 new recipients of these positions will receive seven years of generous funding, allowing them to take greater risks with their research and explore new avenues for discovery.
Fellow 2018 Creative Promise Prizewinner Sergiu P. Pasca made headlines with his innovative research. The Romanian-born scientist was recognized in numerous publications for developing a technique for creating three-dimensional cultures of the cerebral cortex using skin cells—a unique advancement that allows for the non-invasive study of patient-specific brain cell models.  The broad-ranging implications of this study landed him a feature in the Washington Post and inclusion on the New York Times' list of individuals "Using Medicine and Science to Improve the Quality of Life." He was also recognized by the American Society for Cell Biology with its Early Career Life Scientist Award.
The accomplishments weren't limited to this year's prizewinners: 2009 Vilcek Prizewinner Huda Zoghbi, whose research revealed the genetic and molecular basis for the debilitating Rett syndrome, was honored by the Feinstein Institute for Medical Research at Northwell Health with the 2018 Ross Prize in Molecular Medicine. Additionally, she was named a fellow of the National Academy of Inventors and elected into the National Academy of Arts and Sciences. 2015 Vilcek Prizewinner Peter Walter also gained membership in a prestigious institution, as he was elected into the National Academy of Medicine.
In Case You Missed It
We've moved!
After years of renovation, we've packed our bags and moved! Our brand-new headquarters are located on Manhattan's Upper East Side, at 21 East 70th Street, New York, NY 10021. Our new offices are based in a five-story landmark building that includes additional space for our staff, as well as two floors of exhibition space, where our art collections will be available for public viewing. The opening exhibition, scheduled for spring 2019, will focus on the Torn Signs series by Canadian-born artist Ralston Crawford. Stay tuned for more information! 
Jan Vilcek Honored by Charles University in Prague
Jan Vilcek, our cofounder and CEO, returned to the city where he began his research career to receive the title of Doctor of Medical Sciences, Honoris Causa, from Charles University. The honor was in recognition of his many scientific discoveries, including the basis for the anti-inflammatory drug now known as Remicade©, which was created as a treatment for Crohn's disease and rheumatoid arthritis. Also honored was linguist Philippe Martin, professor emeritus at Paris Diderot University, for his research on acoustics and linguistics.
Spotlight on Film
Maineland
After making waves on the festival circuit in 2017, Maineland had its theatrical release in March 2018. Directed by New American Filmmaker delegate Miao Wang, the documentary explores the fast-growing phenomenon of Chinese students who arrive to study in American schools. Filmed over three years, Maineland tells the stories of two such students enrolled at Maine's Fryeburg Academy. The coming-of-age film documents both their joys and struggles as they adjust to life thousands of miles away from home. If you missed it in theaters, it's now available for rental on Amazon Prime Video.
The Burial of Kojo
You might remember Blitz the Ambassador as the recipient of the 2013 Creative Promise Prize in Contemporary Music, but in 2018 he proved he also has some serious directing chops. Blitz premiered his first feature-length film, The Burial of Kojo, at the Urbanworld Film Festival, where it took home the award for Best Narrative Feature (World Cinema). Filmed independently, The Burial of Kojo uses a dramatic family tale to shine a light on the practice of illegal gold mining in Ghana. While a theatrical release date hasn't been scheduled yet, there will be more screenings in 2019. Stay up to date on the film by following Blitz on Facebook or Twitter.
1985
Malaysian-born filmmaker Yen Tan—whose previous film, Pit Stop, was produced by the Vilcek Foundation—released his fifth film, 1985, earlier this year. After premiering at SXSW Film Festival in March, it traveled the world, playing everywhere from Barcelona to Nashville, and collecting positive press wherever it went. The understated drama, centering around a gay man's visit to his conservative parents in Texas during the height of the AIDS crisis in the 1980s, was named a New York Times' Critics' Pick and was praised for being "meticulously composed" and "superbly acted all around." It's now available for rental on YouTube, Amazon Prime Video, and Google Play.
Chef José Andrés Draws Praise for Humanitarian Efforts
The remarkable efforts of Spanish-born chef José Andrés to feed those affected by natural disasters earned him the James Beard Foundation's 2018 Humanitarian of the Year award and a nomination for the 2019 Nobel Peace Prize. José was the recipient of the 2010 Vilcek Prize in Culinary Arts and used the accompanying cash award to seed the World Central Kitchen, a nonprofit that addresses issues of hunger and poverty worldwide. In 2018 alone, World Central Kitchen was on the ground in Puerto Rico, Florida, North Carolina, Guatemala, California, and Tijuana, organizing meals for those in need.
Art from the Vilcek Foundation Collection on View in the U.S. and the U.K.
This September, 50 works from the Vilcek Foundation Collection traveled to the Art Museum of South Texas in Corpus Christi. Curated as a collaborative partnership between the staffs of the AMST and the foundation, Masterpieces of American Modernism from the Vilcek Collection of American Art highlights a few unique aspects of the collection, such as Oscar Bluemner's Sonnet Series, Ralston Crawford's Torn Signs group, and Morgan Russell and Stanton Macdonald-Wright's Synchromist works. The exhibition also draws on two strong themes in the collection: the City and the Southwest. The exhibition will be on view through January 6, so see it while you can!
The Vilcek Foundation also loaned works to several other exhibitions; works by George Ault, Arthur Dove, and Louis Lozowick made the trip across the pond to be displayed as a part of America's Cool Modernism at Oxford's Ashmolean Museum. The exhibition, which ran from March to July, explored the quality of "cool" that permeated American art in the 1920s and 1930s. Additionally, works were loaned to shows at the Peabody Essex Museum, Crystal Bridges Museum of American Art, Georgia O'Keeffe Museum, and Princeton Art Museum. To stay up to date on which pieces from our collection are currently on view, check out the "Artworks on Loan" section on our website.
Looking Forward to 2019 
This year is coming to a close, but there are exciting things on the horizon for 2019. Here are just a few events we've already added to the calendar.
"Nari Ward: We The People" at the New Museum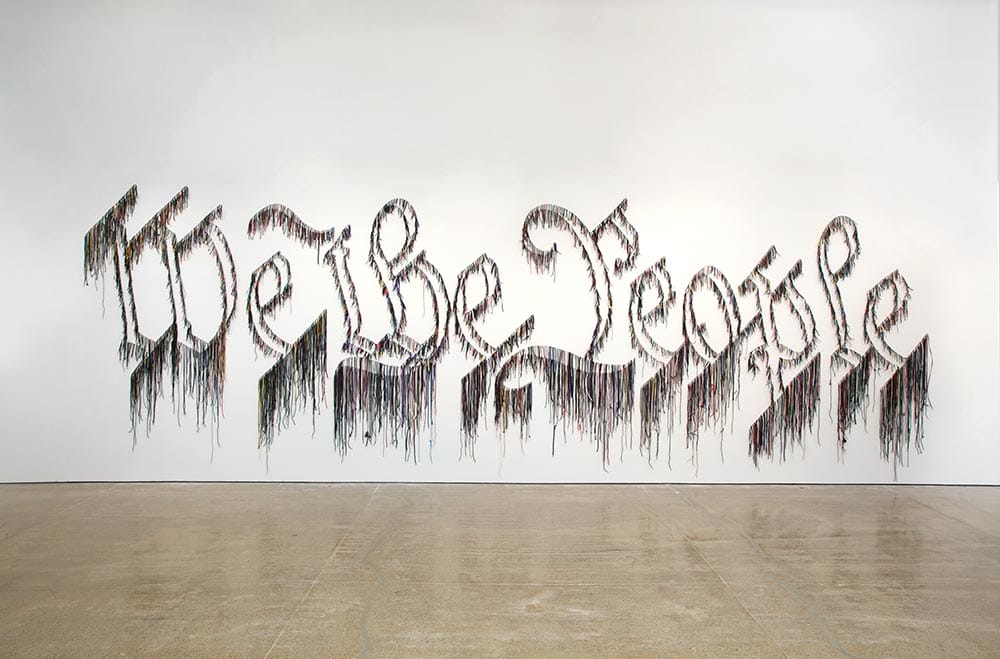 The New Museum will host a major survey of works by Vilcek Prizewinner Nari Ward.  Focusing on the significance of New York City in the Jamaican-born artist's oeuvre, Nari Ward: We The People will occupy three floors of the museum and feature more than 30 sculptures, paintings, videos, and installations. The exhibition will run from February 13 to May 26 and has us looking forward to the new year!
A New Novel from Téa Obreht
Serbian-born Téa Obreht, an honoree of the 2011 Creative Promise Prize in Literature, is slated to release her second book, Inland, on August 13. The follow-up to her award-winning debut, The Tiger's Wife, will tell the story of a frontierswoman awaiting the return of her husband and Lurie, a former outlaw haunted by his past.
2019 Vilcek Foundation Prizes in Culinary Arts and Biomedical Science
Next April, we will celebrate immigrant contributions in biomedical science and culinary arts in our annual Vilcek Foundation Prize ceremony—as well as announce a brand-new prize. Stay tuned!
Favorite Clicks of 2018
You've likely heard of CRISPR, the revolutionary genome-editing tool that 2018 Creative Promise Prizewinner Feng Zhang helped pioneer—but understanding how it functions can be difficult. This article from Vox gives a clear description of CRISPR and explains a few of its potential uses, such as improving crop yields and developing new treatments for genetic disorders. read more

 >

ake a look inside Heavenly Bodies: Fashion and the Catholic Imagination, the record-breaking exhibition at the Metropolitan Museum of Art curated by 2015 Vilcek Prizewinner Andrew Bolton. read more

 >

Not one, but two Vilcek Prizewinners were featured in CNN's list of the "Five Top Women in World Architecture." In this article, Zambian-born Denise Scott Brown and Israeli-born Neri Oxman share their advice for current and future female architects. Read More >
The rise of antibiotic-resistant superbugs is a global threat, but 2016 Creative Promise Prizewinner Houra Merrikh may have found a solution: The Iranian-born microbiologist identified a bacterial "evolvability factor," opening up potential avenues of treatment. Learn more about this fascinating topic in this feature from The Atlantic. read More >
Our summer 2018 newsletter, "Models, Moguls, and Muslims: Artists Against Islamophobia," spotlighted Muslim Americans in arts and media who are using their platform to challenge stereotypes and take action against Islamophobia.
In the Mexico–United States border region, architects are exploring ideas of transnationality through ecology, transportation, and urban planning. This feature from the Washington Post highlights some of the designers who are rethinking the U.S.'s relationship with our southern neighbor, including 2018 Vilcek Prizewinner Teddy Cruz. read more >
Israeli-born computational biologist and Creative Promise Prize honoree Aviv Regev is leading an effort to map the cells in the human body—all 37 trillion of them. This article from NPR takes us inside the ambitious effort. read more >
2016 Vilcek Prizewinner Blanka Zizka was featured in the New York Times for her efforts to revitalize The Wilma Theater through the creation of its own acting company and welcoming productions "whose daring aesthetics depart from the factory-setting naturalism of most American stages." read more >
In this wide-ranging interview, 2006 Vilcek Prizewinner Christo discusses his experiences as a political refugee, the progression of his art, and his massive installation, The London Mastaba, which was on display in London's Hyde Park from June 19 to September 6. Read More >
2010 Creative Promise Prizewinner Harmit Malik wrote a short article for the Public Library of Science, explaining the origins of multicellularity—the evolutionary transition from single-celled to multicellular organisms. read more >