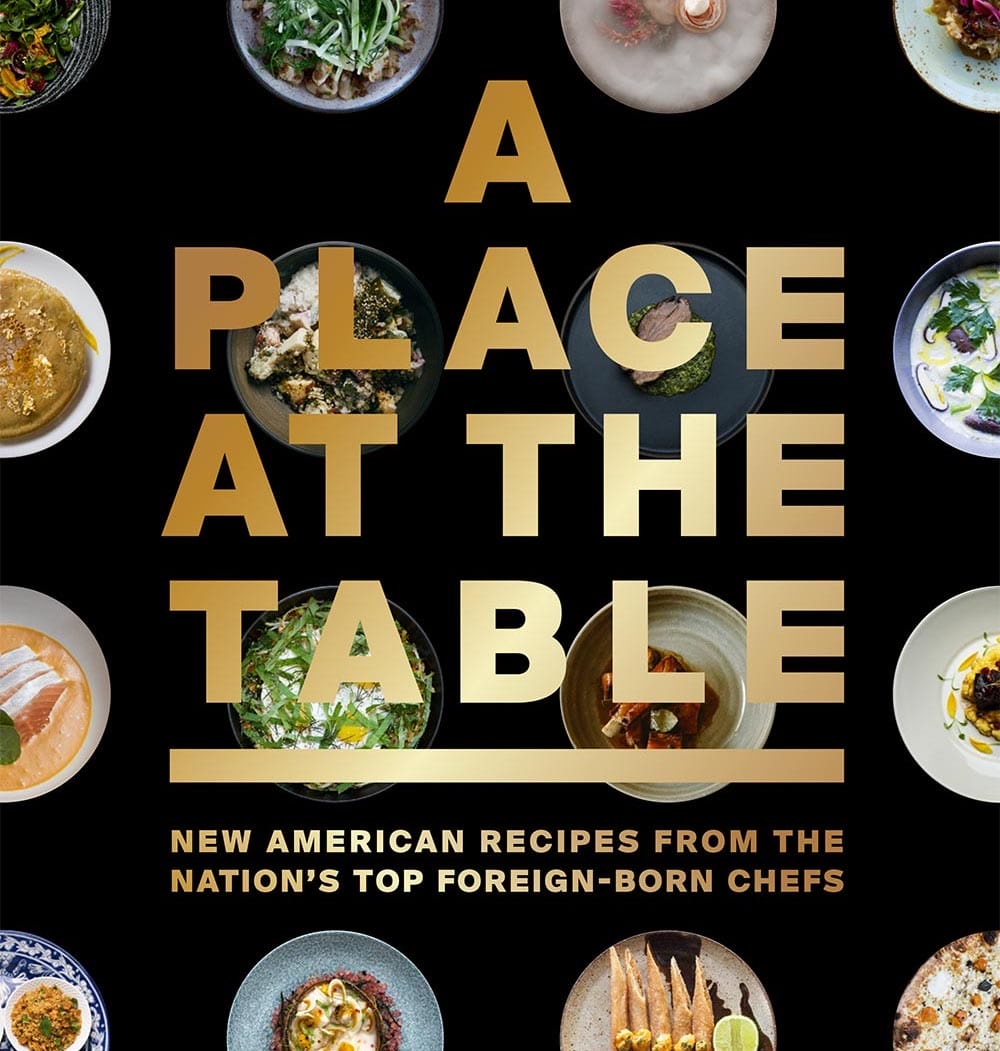 A Place at the Table officially launches today! Produced by the Vilcek Foundation and published by Prestel, the cookbook features more than 70 dishes created by 40 award-winning immigrant chefs, including 2019 Vilcek Prizewinners Marcus Samuelsson, Nite Yun, and Fabián von Hauske Valtierra. Other contributors include Mexican-born Daniela Soto-Innes, who was recently named "World's Best Female Chef" by World's 50 Best, Serbian-born pastry chef Miroslav Uskokovic of New York's Gramercy Tavern, and 2019 James Beard Award recipient Ann Kim.
Edited by Rick Kinsel and Gabrielle Langholtz, A Place at the Table not only highlights the chefs' tantalizing recipes, but also includes stories about their personal journeys. With a foreword and introduction written by celebrity food expert Padma Lakshmi and Vilcek Prizewinner José Andrés, respectively, the cookbook serves as a celebration of immigrant contributions to America's palates.
A Place at the Table is available today! Click here to order your copy.
See A Place at the Table in Grub Street and the Washington Post.
Upcoming A Place at the Table Events:
Sunday, November 3, 3pm–4:30 pm
Smithsonian Institution, S. Dillon Ripley Center, Washington D.C.
Hosted by Maria Godoy, senior editor for NPR's science desk, and host of NPR's food  blog The Salt.
Guest chefs: Bin Lu / Pineapple and Pearls / Washington D.C. / China; Daniela Moreira / Timber Pizza / Washington D.C. / Argentina; Erik Bruner-Yang / Spoken English, Brothers and Sisters / Washington D.C. / Taiwan; Carlos Delgado / China Chilcano / Washington D.C. / Peru; Diego Galicia / Mixtli / San Antonio / Mexico
Saturday, November 9
92nd Street Y, 1395 Lexington Avenue, New York, NY
Hosted by Julia Moskin, reporter for the New York Times, Pulitzer Prizewinner, and Recipe Lab video columnist.
Guest chefs: Jae Jung / Le Bernardin / New York / South Korea; Simone Tong / Little Tong Noodle Shop / New York / China; Emma Bengtsson / Aquavit / New York / Sweden