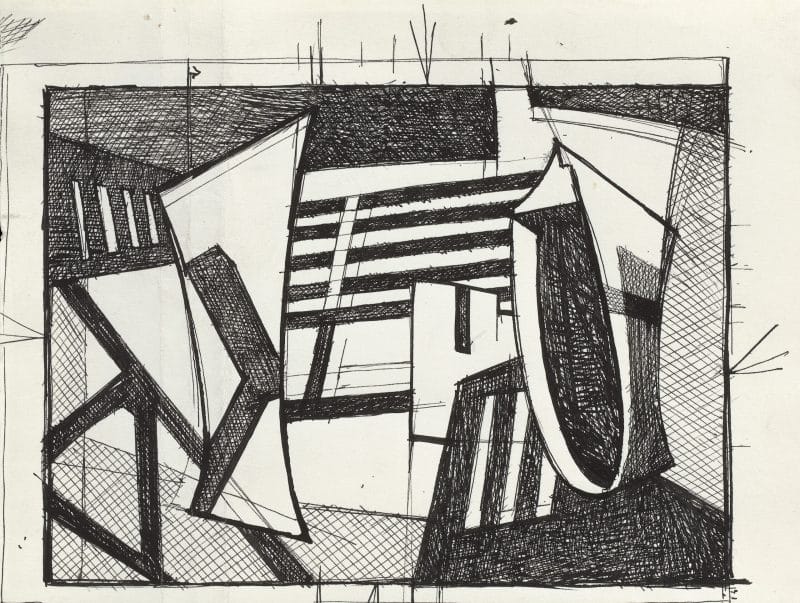 About the Object
Crawford created this ink drawing after his visit to the Curtiss-Wright Aircraft Plant in Buffalo, New York. It is part of a group of studies including Curtiss-Wright Aircraft Plant Aircraft, VF2013.01.17, and Curtiss-Wright Aircraft Plant – Aircraft Study, VF2013.01.18, that feature explorations of a wing fabrication fixture and an airplane wing.
Additional Information
In December 1944, Crawford received a commission from Burton Tremaine, president and chairman of the Miller Lighting Company, to commemorate the installation of nine miles of continuous fluorescent lighting in the Curtiss-Wright Aircraft Plant in Buffalo, New York. Crawford was given special permission to photograph inside the plant, taking a least a dozen pictures and creating dozens of drawings, resulting in at least 11 related paintings including Wing Fabrication, 1946 in the Fred Jones Jr. Museum of Art, for which these drawings are studies.
The Artist;
By descent to the Artist's son, John C. Crawford, New York;
New York. Hirschl & Adler Galleries. Ralston Crawford: Images of War. March 19-April 24, 1993, pp. 6, 34, ill. p. 31, cat. no. 34 [illustrated upside down].
Chadds Ford, PA. Brandywine River Museum of Art. Ralston Crawford: Air + Space + War (June 19-September 1, 2021); Dayton, OH. Dayton Art Institute (October 30, 2021-January 23, 2022).
You may also be interested in