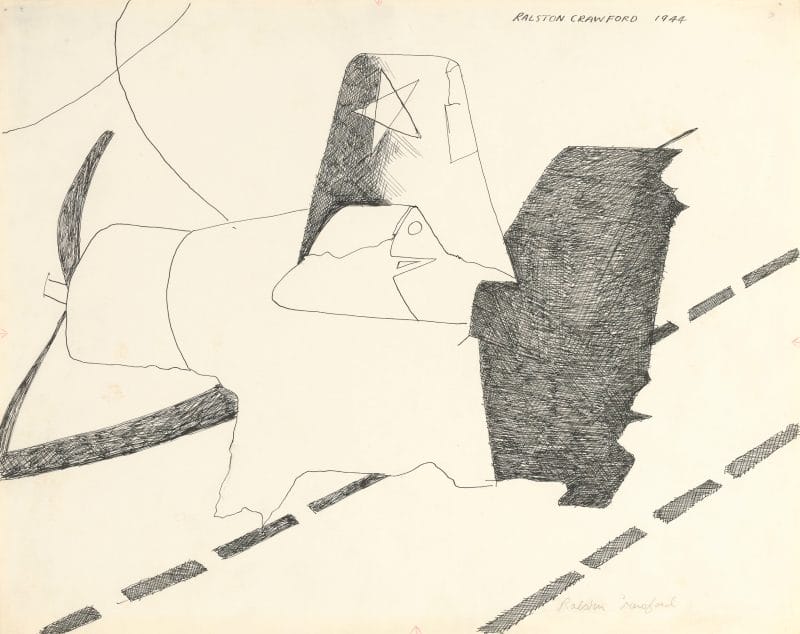 About the Object
In this drawing of a plane crash, Crawford combined parts of a destroyed plane into a form that is difficult to fully reconstruct. The front of the plane includes two thin propeller blades. The cockpit and rudder appear mangled and fused together. The fuselage, covered in crosshatched markings, appears ripped open and flattened. The dashed lines on the ground are suggestive of a runway or road.
Additional Information
Crawford served in the Weather Division of the Army Air Force during World War II. As chief of the Visual Presentation Unit of the Weather Division, Crawford created pictorial representations of weather patterns for officers and airplane pilots. In the course of his work he was exposed to countless images of plane crashes. Crawford's experiences in the war had a profound impact on his life and art.
The Artist;
Estate of the Artist;
By descent to the Artist's son, Neelon Crawford, Wyoming;
[Menconi & Schoelkopf, New York City];
New York. Hirschl & Adler Galleries. Ralston Crawford: Images of War. March 19-April 24, 1993, pp. 10, 33, ill. p. 10, cat. no. 17.
Laramie, Wyoming.  University of Wyoming Art Museum. Ralston Crawford: The Artist's Eye, August 23-December 20, 2014, p. 184, ill. p. 142.