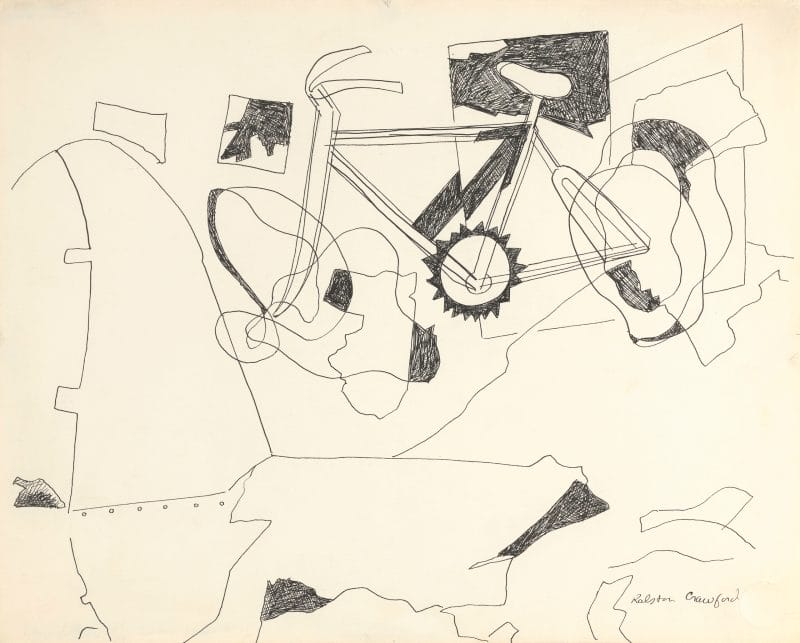 About the Object
In this drawing, which is related to the painting Bomber, VF2016.03.02, Crawford focused in on the wreckage of a plane crash. The tail of the plane remains intact on the left, connected to the shorn metal of the fuselage scattered across the bottom of the drawing. A mangled bicycle floats above the debris, set against jagged and fractured shapes suggestive of broken windows.
Additional Information
Crawford served in the Weather Division of the Army Air Force during World War II. As chief of the Visual Presentation Unit of the Weather Division, he created pictorial representations of weather patterns for officers and airplane pilots. In the course of his work he was exposed to countless images of plane crashes. Crawford's experiences in the war had a profound impact on his life and art.
The Artist;
Estate of the Artist;
By descent to the Artist's son, Neelon Crawford, Wyoming;
[Menconi & Schoelkopf, New York City];
Milwaukee. Milwaukee Art Center. Ralston Crawford, February 6-March 9, 1958, p. 40, cat. no. 62, ill. p. 6.
New York. Hirschl & Adler Galleries. Ralston Crawford: Images of War. March 19-April 24, 1993, pp. 10, 33, ill. p. 10, cat. no. 20.
Laramie, Wyoming.  University of Wyoming Art Museum. Ralston Crawford: The Artist's Eye, August 23-December 20, 2014, p. 181, ill. p. 91.
Chadds Ford, PA. Brandywine River Museum of Art. Ralston Crawford: Air + Space + War (June 19-September 1, 2021); Dayton, OH. Dayton Art Institute (October 30, 2021-January 23, 2022).