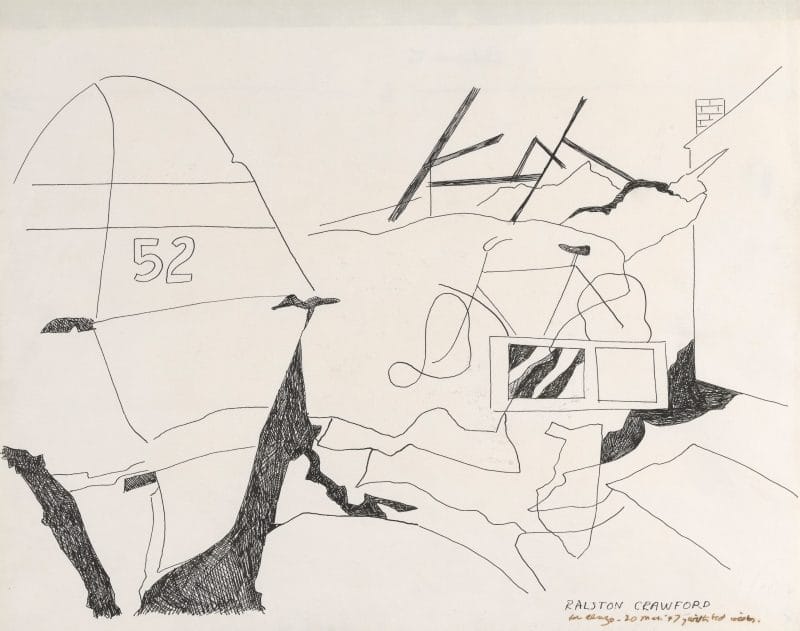 About the Object
In this drawing, which is related to the painting Bomber, VF2016.03.02, Crawford focused in on the wreckage of a plane crash. The tail of the plane remains intact on the left, connected to the shorn metal of the fuselage scattered across the bottom of the drawing. A mangled bicycle rests between a broken window and the remains of a nondescript building. Crawford signed, dated, and dedicated the drawing at the lower right: Ralston Crawford/ for Alonzo – 20 Mar. '47, with best wishes. Presumably this was Alonzo J. Aden (1906-1961), who served as the first curator of the Howard University Gallery of Art, where Crawford had an exhibition of drawings from May 2-15, 1947.
Additional Information
Crawford served in the Weather Division of the Army Air Force during World War II. As chief of the Visual Presentation Unit of the Weather Division, he created pictorial representations of weather patterns for officers and airplane pilots. In the course of his work he was exposed to countless images of plane crashes. Crawford's experiences in the war had a profound impact on his life and art.
The Artist;
James Vernon Herring;
By descent to Private Collection, Cambridge, MA, 1969-2014;
[Martha Richardson Fine Art, Boston, MA];
[Menconi & Schoelkopf, New York];
Chadds Ford, PA. Brandywine River Museum of Art. Ralston Crawford: Air + Space + War (June 19-September 1, 2021); Dayton, OH. Dayton Art Institute (October 30, 2021-January 23, 2022).
Crawford, Ralston, "Four War Drawings," in James Laughlin, New Directions 9. Norfolk, CT: New Directions, 1946, pp. 411, 414, ill., p. 414.
You may also be interested in