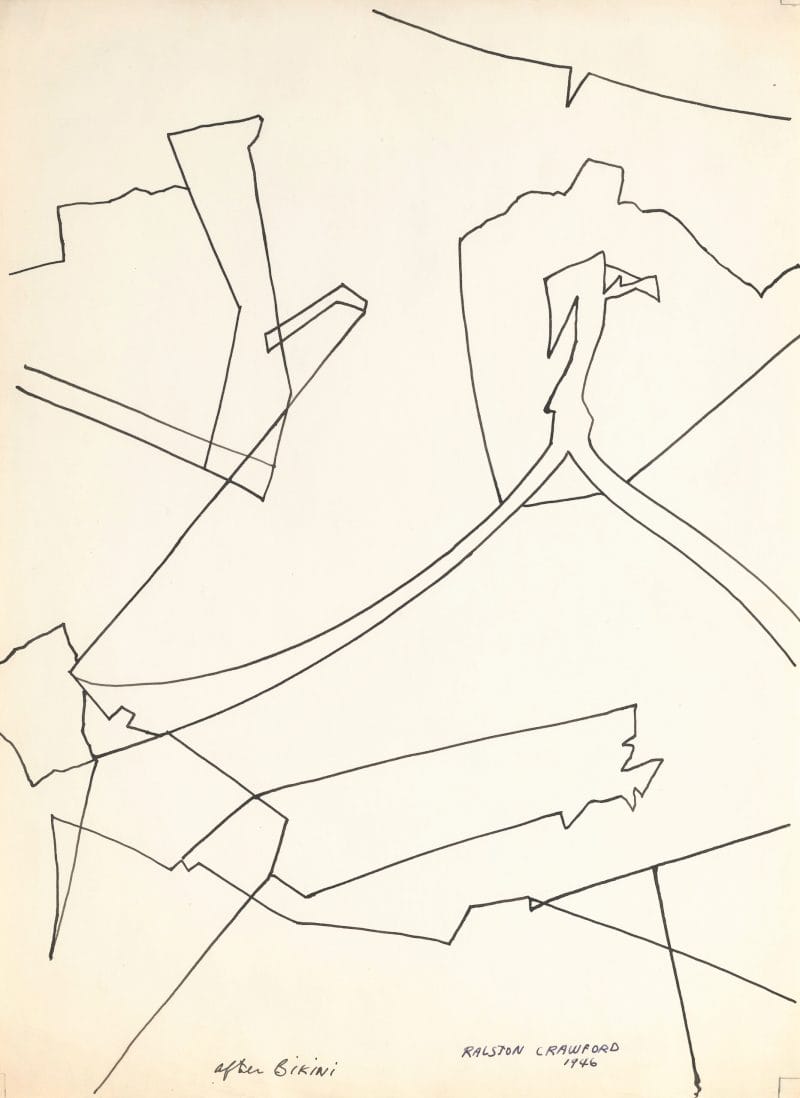 About the Object
Fortune magazine sent Crawford on assignment by to witness and document the atomic bomb Test Able at Bikni Atoll on July 1, 1946. In this drawing, he captured the aftermath of the test in twisted and jagged metal. Crawford created at least a dozen drawings, paintings, and prints based on the destruction he witnessed.
Additional Information
This work is closely related to Bikini, 1946, in the Hirshhorn Museum and Sculpture Garden.These two drawings are so similar in composition they invite close examination and offer a window into Crawford's working method, which often involved the slightest variations. Visible in these two works are shifts in the scale and the placement as well as the orientation of objects. The elongation of shapes is perhaps most notable in the rectangular form that crosses the bottom third of each drawing, which also appears across the bottom of the painting Bikini, Tour of Inspection, 1946, VF2015.01.01.
The Artist;
Estate of the Artist;
By descent to the Artist's son, Neelon Crawford, Wyoming;
[Menconi & Schoelkopf, New York City];
Possibly: Milwaukee. Milwaukee Art Center. Ralston Crawford, February 6-March 9, 1958, p. 40, cat. no. 63.
Laramie, Wyoming.  University of Wyoming Art Museum. Ralston Crawford: The Artist's Eye, August 23-December 20, 2014, p. 181, ill. p. 92.
Chadds Ford, PA. Brandywine River Museum of Art. Ralston Crawford: Air + Space + War (June 19-September 1, 2021); Dayton, OH. Dayton Art Institute (October 30, 2021-January 23, 2022).