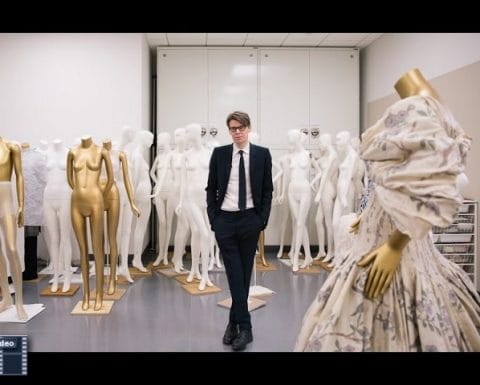 To hear his praises sung is to believe that Andrew Bolton elevated fashion from a commercial enterprise to an integral field of the arts; they are not without merit. Prior to assuming the role of curator at the Costume Institute at the Metropolitan Museum of Art in 2006, there were murmured doubts about the legitimacy of fashion as an art form amongst critics and curators. Thanks to Andrew's academic rigor and anthropological curiosity, the Costume Institute is now one of the most popular and well-respected departments at the museum.
Despite his achievements, the British-born curator does not come from a fashion background. Although Andrew was always fascinated by fashion (he recalls, in particular, an intrigue with punk stylings during his childhood in the U.K.), he "never thought you could do a career in it," he says. "At least, not an academic career." Instead, Andrew comes to fashion with an anthropologist's eye.
Andrew earned an undergraduate degree in anthropology and, after taking a year off to travel in Southeast Asia and Australia, a master's degree in non-Western art from the University of East Anglia. "What interested me was the similarity between cultures, how people from different cultures had similar behavior patterns," Andrew said in an interview with The New Yorker in 2013. He took a position with the Museum of Archaeology and Anthropology in Cambridge before becoming a curatorial assistant at the Victoria and Albert Museum in London, in the East Asian department. Andrew remained there for eight years, only leaving when Harold Koda, the institute's longtime curator in charge, unexpectedly offered him his current position at the Costume Institute — "my dream job," he says.
Superheroes: Fashion and Fantasy
Joining the Costume Institute was a change of pace for Andrew, on many levels. Although he had curated fashion exhibitions at the V&A and was responsible for the museum's procurement of many pieces by Asian and Asian-American fashion designers, he found that the Costume Institute operated using a different philosophical approach. There, fashion pieces are seen first as objects of art. "[It] was enormously freeing not to be bogged down by fashion theory or cultural context," he says, "and just to see these objects as objects of beauty and to focus on their artistic relevance and integrity."
And if Andrew was intrigued, as a budding anthropologist, by the similarities between disparate cultures, as a fashion curator, Andrew is drawn to the individualistic and "deeply, deeply psychological" aspect of fashion. "What's so extraordinary about fashion is that it allows you to transform yourself," Andrew says. "It allows you to be different people. It's very much connected to identity and the politics of identity."
Punk: Chaos to Couture
Under Andrew's initiative, with guidance from Harold Koda, the Costume Institute has earned its place within the Met. Although its close link to the fashion industry once cast doubts on whether the department was as academically rigorous as it should be, Andrew's work has dispelled any such uncertainty. It is known for exhibitions that combine seductive visual spectacle with a rigorous academic approach, a combination that has earned the respect of critics and gained popularity with the public. Andrew was the steam behind the spectacular 2011 retrospective on British designer Alexander McQueen, Savage Beauty, one of the most highly attended exhibitions in the museum's history. The model is a successful one, and many museums around the globe are now also venturing into fashion exhibitions.
Alexander McQueen: Savage Beauty
That said, Andrew still faces some uphill battles. "One of my pet peeves with the art press in America is that they still have that hierarchy of arts, where fashion is still at the bottom rung of the ladder," Andrew says. "And they often attach very different values and a very different critical examination of fashion."
His British accent notwithstanding, Andrew says that these days New York is his home. "It took me a while to get to that," Andrew admits, but he has grown to love working in the U.S. "Working in America, there's a sort of open-mindedness and optimism that I find really beautiful in a way," he says. "There's never a 'no' on the other end of the line. You ask something which might seem completely unreasonable and there's always a 'Yes, I'm sure that can happen.'"
One can see the influence of immigration on Andrew's work. China: Through the Looking Glass, the institute's next exhibition, scheduled to open this May, examines the ways that China has influenced Western fashion for centuries. Presented in collaboration with the Met's Chinese Galleries, with the renowned Hong Kong filmmaker Wong Kar Wai acting as artistic director, the exhibition juxtaposes Western clothing with Chinese costumes, paintings, and art objects. It is an examination, Andrew says, of how "one's culture is translated, or reinterpreted, or mistranslated, or misinterpreted, in a different culture than the one you come from." With Andrew's keen sense of both artistic beauty and psychological impact, the exhibition will surely be another success for the Costume Institute, and for fashion.
Photos by The Metropolitan Museum of Art