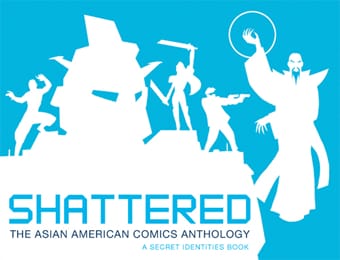 If you had a superpower, what would it be?  What would you use it for?
Tired of waiting patiently for a nuclear accident to propel them into the ranks of superheroes, Jeff Yang, Keith Chow, Jerry Ma, and Parry Shen decided to take matters into their own hands with Shattered: The Asian American Comics Anthology. 
Shattered follows Secret Identities, a collection of original characters and stories that shed light on Asian American culture and issues.  Shattered revisits many of the characters first introduced in Secret Identities, but delves deeper into the issue of the many negative stereotypes Asians face in America.  The collection's "Prologue," written by the editors and illustrated by Ma, sets the stage for the rest of the book, introducing five archetypes that have been frequently associated with Asians throughout popular culture: the brute; the brain; the temptress; the alien; and the manipulator.  Each embodied by a demon bent on destroying humankind, the heroes of Shattered must work together to overcome the threat of being subsumed by these false images.
While many of the writers and artists of Secret Identities – all of Asian descent – contributed again to Shattered, the second volume branches out stylistically, taking pages from the genres of horror, adventure, fantasy, and science fiction.  The book features art from legendary Asian American artists and writers, as well as some indie and up-and-coming artists: Bernard Chang (Supergirl), Sean Chen (Iron Man), Cliff Chiang (Wonder Woman), Larry Hama (G.I. Joe), Sonny Liew (Malinky Robot), Takeshi Miyazawa (Runaways), Christine Norrie (Hopeless Savages), Greg Pak (The Hulk), G.B. Tran (Vietnamerica), Gene Yang (American Born Chinese), among many others.
Shattered was published just in time for the launch of two exhibitions at the Museum of Chinese in America in New York City, both exploring the role of Asian Americans in comics: Marvels and Monsters: Unmasking Asian Images in U.S. Comics, 1942 – 1986</em>; and Alt.Comics: Asian American Artists Reinvent the Comic.  The exhibitions will be on view through February 24, 2013, and will feature original artwork from Shattered. 
Both anthologies are published by The New Press, a non-profit organization, and are available through The New Press website or through Amazon.com.  The publication was supported in part by a $21,400 grant from the Vilcek Foundation in 2010.  For more information about the contributors, please visit Secret Identities.
Cover illustration by Cliff Chiang.