In March, two Marsden Hartley paintings in the Vilcek Foundation's American Modernist Collection earned quite a few frequent-flier miles, traveling from New York to Berlin for the exhibition Marsden Hartley: The German Paintings 1913–1915, at the Neue Nationalgalerie. "Portrait Arrangement No. 2," 1912–13, and "Berlin Series No. 1," 1913, are currently on view alongside an incredible group of paintings that reveal the profound impact Berlin had on Hartley during the two years he lived there in the early 1900s.
Hartley, born in Maine to English immigrant parents, traveled to Europe in 1912, visiting Paris, Munich, and Berlin. He was so taken with Berlin after a three-week visit that he moved there in May 1913. Hartley was drawn to the vibrant culture, military pageantry, and mystical ideas he discovered in Berlin, and the impact of the city can be seen in his paintings from that time, including "Portrait Arrangement No. 2," which features a soldier on horseback surrounded by mystical and religious imagery. At the Ethnological Museum in Berlin, Hartley encountered Native American art, which he appropriated and abstracted in works like "Berlin Series No. 1," a piece that includes Hopi pictographs. Hartley lived in Berlin until December 1915, when the war forced his reluctant return to New York.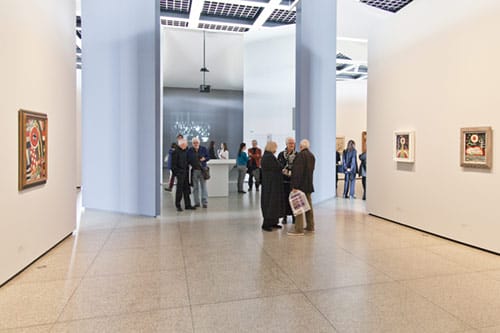 Marsden Hartley: The German Paintings 1913–1915 is on view in Berlin until June 29th, when it will travel to the Los Angeles County Museum of Art and be on exhibit from August 3rd through November 30th. Visit the Neue Nationalgalerie and LACMA websites for more information about the exhibition, and be sure to check out two more works from Hartley's 1913–1915 stay in Berlin in the Vilcek Collection, "Symbol IV" and "Symbol V," both c. 1913–1914, which also draw on Native American imagery.
Photo credit: Kai Jakob