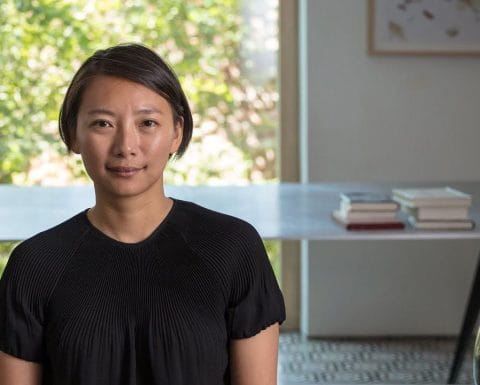 "My intention is to use architecture as a means to communicate and to create discourse on our collective values, whether on an intimate, domestic scale or a larger, cultural scale," says Creative Promise Prizewinner Jing Liu.
This intention informs the work of SO-IL, the international architectural firm that Jing, originally from China, established in 2008 with her partner, Florian Idenburg. Along with Ilias Papageorgiou, who became a partner in 2013, SO-IL has worked across countries, cultures, and disciplines to create an impressive body of work, including a tent to house the Frieze Art Fair, a line of furniture for Knoll, a revitalized public square in Paris, and showrooms, office spaces, and art galleries in cities such as Seoul and New York.
Jing is especially interested in designing cultural spaces and housing units, which she considers to be closely related: "We consider [cultural institutions] as houses for communities, built for a group of people to come together to contemplate common issues and ideas, and to experiment with [ideas] as well as with physical forms," she says.
This can be seen in the recently completed Jan Shrem and Maria Manetti Shrem Museum of Art, the museum of the University of California, Davis. Created by SO-IL, in association with BCJ (Bohlin Cywinski Jackson), the space is large and grand, while still visually referencing the flat, agricultural landscape of inland California. The site is covered by a 50,000-square-foot Grand Canopy, which fluidly connects interior and exterior spaces: The actual museum occupies about half the space underneath the canopy, while the remaining area becomes public space for students to congregate.
"The director had a strong vision that the [building] needed to not create a distance between the student body and the collection itself," Jing says. Thus, "the canopy conveys a sense of openness and generosity, of reaching out to the students."
Jing's other main interest is in the housing market, where she hopes to rethink domestic spaces—and, in so doing, their potential to change society. She cites the works of Western feminist writers in the late 1800s, who urged forms of cooperative housekeeping as a method of social transformation, as well as Chinese writers who, in detailing the social and gender hierarchies that unfolded in the domestic sphere, helped bring about the first democratic movements in China.
"We're trying to find a way to take living spaces out of the post-war, early modernist housing development that's more politically motivated," says Jing. "In the past 20 years, housing has been used as an economical tool for asset appreciation and to generate value in cities. We're trying to think of ways to take living to another level, so they can be more socially generative tools."
Specifically, Jing is looking at the ways that housing can better fit the digital age. Historically, the divide between living and working had been minimal until the Industrial Revolution. "Modernization divided our work from our living, the residential from the office, and they became indifferent from each other," Jing says. "In this informational age, I'm interested in how we can rethink these private spaces and how we can bring work and living back together."
This is part of the impetus behind the line SO-IL designed for Knoll Furniture Company, which primarily creates modern office furniture. Recognizing that contemporary work had become more fluid and casual, Knoll commissioned SO-IL to design furniture "that was between meeting room and living room," Jing says. "Something that allows you to relax and play but also work." The result was three sculptural pieces that serve multiple functions, simultaneously providing seating, surface space, and decorative use, that debuted at the 2016 Design Miami Design Curio program in Basel, Switzerland.
Jing can trace her interest in communal living spaces that blend living and working to her childhood in Nanjing, China. In the years after the Cultural Revolution, private life in China was still very collective, and Jing remembers growing up in shared housing, where 10 families shared a single bathroom, kitchen, and courtyard. "My parents worked in factories and so did our neighbors, so there was something quite communal about it," Jing remembers. "We all ate together and helped each other with homework. Sometimes we didn't have things but others would have it, and they would be ready to share."
Although her current work is inspired by her childhood in China, it was not until Jing left her native country that she realized that architecture could be a profession. Buildings in communist China were created through architecture and construction bureaus, and architecture as a building art did not exist until about 10 to 15 years ago. "I didn't know it was something you could pursue as an intellectual enterprise," she says.
At the age of 13, Jing left Nanjing to join her parents in Tokyo, where her father was tasked with fostering business relations between China and Japan. She completed most of her secondary education there and in London, before coming to the U.S. to study architecture at Tulane University in New Orleans, where she completed both her bachelor's and master's degrees. There, she remained ambivalent about her chosen major until a mentor told her that architecture was an "open-ended discipline, and that you could define your own space in it," Jing says.
To this day, Jing is continually redefining her role in the field. For her, architecture is "an exploration rather than a practice," she says. As an adjunct assistant professor at Columbia University's Graduate School of Architecture, Planning, and Preservation, her research focuses on ways that housing can be a social tool. She brings these explorations into play with her work at SO-IL, which was established with the intention of bridging the gap between academia and the building profession. Through its various projects, designs, and interdisciplinary collaborations—such as "L'air pour l'air," an installation and performance created with artist Ana Prvački for the Chicago Architecture Biennial—it seeks to create forms that are conscious of the people involved in its construction, its relationship to resources, and its potential to transform society.
"Architecture is a medium that can make very abstract ideas into concrete forms and materials," Jing says. "If we want to create a more open-minded society, we have to start making a more generous architecture as well."