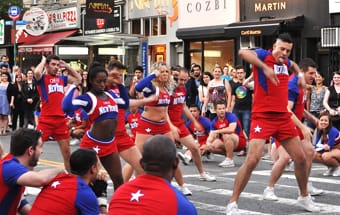 As the co-founder of Cheer New York, a charitable LGBTS cheerleading squad, Felipe Hernandez fulfills a wide range of roles: non-profit director, business administrator, and event planner.  "I used to be the Safety Coach and Artistic Director too," he says, "but over the years, I had to learn how to delegate."
A child psychologist and researcher by day, Dominican-born Hernandez formed the squad during the aftermath of September 11th.  "I felt the city needed something new and positive," he says.  While he was then cheering with another group that has since disbanded, Hernandez wanted to establish something that could also serve the community and had a charitable component.  The result was Cheer New York, an all-volunteer adult squad of almost 60 members that raises money through their performances to benefit small, local charities that support people with AIDS and other life-challenging conditions.
As a gay immigrant growing up on Long Island, Hernandez (pictured above, right, with Athletic Director Mike Vandermause) says that what initially piqued his interest in cheerleading was its Americana mystique—that same thing, however, also deterred him from giving it a try.  "I didn't do it as a teenager because I thought it wasn't accessible to me, I thought it was for 'all-American' Caucasian people from the mid-west," says Hernandez.
During his undergraduate studies at Columbia University, two friends, collegiate cheerleaders and fellow dance class students, urged Hernandez to join.  He took the leap and fell in love with it instantly.  As a graduate student of clinical psychology at Yale University, he continued his cheerleading career as the assistant coach, honing his expertise from the sidelines this time.
Hernandez never forgot how close he was to not becoming a cheerleader though, and aims to make Cheer New York as diverse and inclusive as possible.  "Cheerleading is still very homogenous and somewhat sexist and homophobic as a sport in the United States, but I think the fact that we exist is changing that," he says.  The squad includes a wide range of ethnicities, professions, and sexual orientations (the "S" in LGBTS stands for "straight"), and the members range in age from 21 to 52. Some members had never cheered before in their lives while others have cheered since they could walk.  "We're a mixed group that somehow magically all works together," Hernandez says.  "We all have strong sparkling personalities that shine on stage, which sometimes can be a challenge behind the scenes, but we pull together as one to promote our charities."
Each year, Cheer New York team members nominate and vote for which local charities to support through their Cheer for Life fund; the goal for 2013 is to raise $20,000 that they will split between two charities: Art Start, which provides arts education to children in homeless shelters, and the Bronx AIDS Services, which provides health, education, and prevention services for people with HIV/AIDS.
Cheer New York is currently getting amped up for the annual NYC Pride March, which will take place on June 30.  There, the group will be performing their trademark high-energy mix of cheers, dance, gymnastics, and acrobatics proudly under the rainbow flag.  "The bottom line is, we ARE 'all-American' too.  I never forget that I'm an immigrant and I'm proud of it! It wouldn't be Pride without all the colors of the rainbow."
All photos courtesy of Cheer New York.