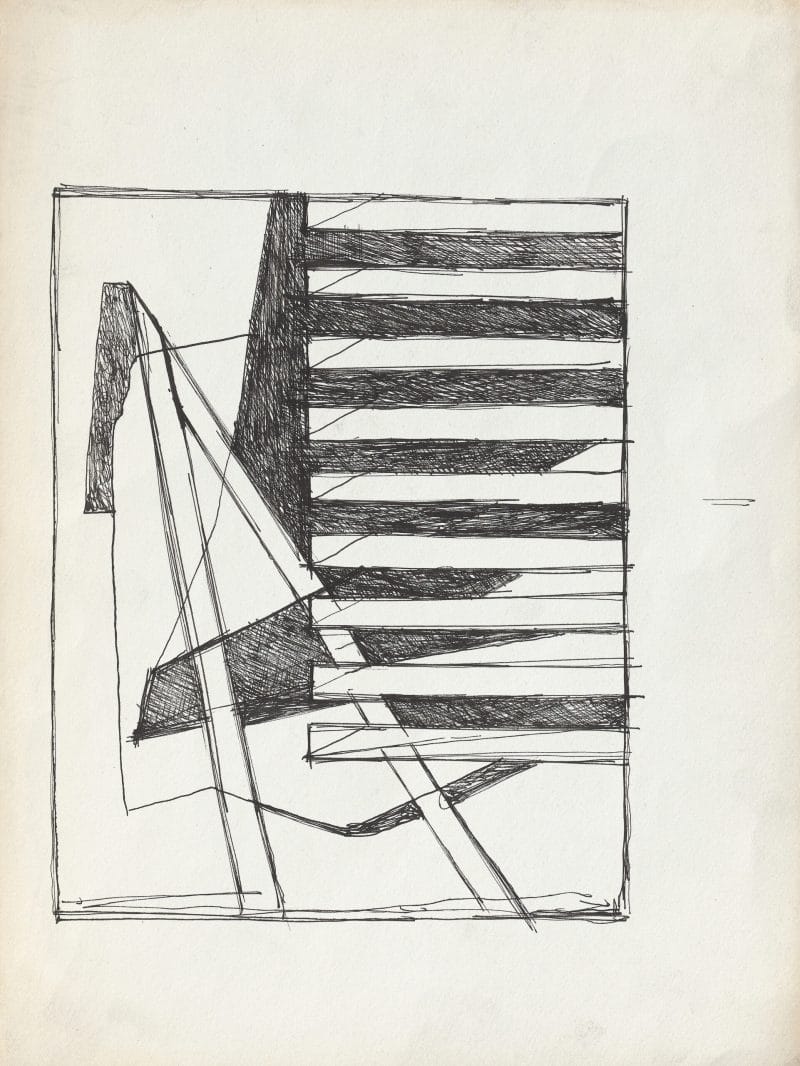 About the Object
This ink study focuses on a ladder, its top tilted toward the upper left corner that Crawford encountered on the plant floor during his visit to the Curtiss-Wright Aircraft Plant. The construction of alternating bands of black ink and untouched page plays with the eye, at the top it reads as stripes, suggesting the rows of lighting against the ceiling, but as our eye moves down the sheet, we see that the ivory bands are an object layered on top of the ladder and the black shape behind it. These striped bands appear as contained forms in several related drawings and in the related painting Factory with Lights in the Hirshhorn Museum and Sculpture Garden, Smithsonian Institution, Washington, D.C., the stripes become the flattened background of the painting, stretching from edge to edge, on top of which plane parts and factory fixtures float.
Additional Information
In December 1944, Crawford received a commission from Burton Tremaine, president and chairman of the Miller Lighting Company, to commemorate the installation of nine miles of continuous fluorescent lighting in the Curtiss-Wright Aircraft Plant in Buffalo, New York. Crawford was given special permission to photograph inside the plant, taking a least a dozen pictures and creating dozens of drawings, resulting in at least 11 related paintings.
The Artist;
By descent to the Artist's son, John C. Crawford, New York;
Chadds Ford, PA. Brandywine River Museum of Art. Ralston Crawford: Air + Space + War (June 19-September 1, 2021); Dayton, OH. Dayton Art Institute (October 30, 2021-January 23, 2022).
You may also be interested in