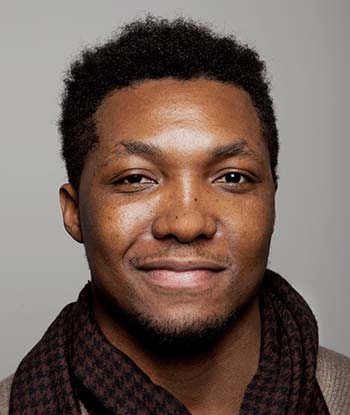 Credit: Andreas Nilsson
Mansour Ourasanah is an industrial designer by trade, but at heart, he's a storyteller.  This is something he's known since his childhood in the West African country of Togo, where he spent much of his time drawing and writing. 
His passion for creative expression followed him to the United States, where he emigrated at the age of 16 to join his parents, who had arrived 14 years earlier.  Upon his entry to the University of Notre Dame, however, Mansour struggled to reconcile his creative instincts with his intended undergraduate major of engineering.  "It was very mathematical and very technical, which I enjoyed, but the part about creativity that I loved had to do with using my experiences to connect with people on an emotional level, as opposed to just making things work," he says.
Mansour decided to switch his studies to architecture instead, but after a summer internship, he realized his urge for storytelling still remained.  Although he considered majoring in art, Mansour worried about what his parents would think. "There was no way that my parents would have allowed me to be just an artist, given that education at Notre Dame was so expensive and I was on loan," Mansour remembers.
Mansour was at an impasse then; that is, until the day he was sent to attend a showcase on industrial design at his school.  Despite never having heard of the field before, Mansour knew, as soon as he saw examples of student and faculty work, that it was what he had been looking for.  "I hadn't been able to verbalize or visualize it until then, because I didn't know that kind of career existed," he says.
Mansour's unique combination of storytelling and design can be seen in Lepsis: The Art of Growing Grasshoppers.  Equal parts design object, kitchen appliance, and culinary debate, Lepsis is a small terrarium for raising and harvesting grasshoppers for urban consumption.  Created as a thesis project toward his master's degree at the Swedish Umea Institute of Design, Lepsis was nominated in 2013 as a finalist for the INDEX: Design to Improve Life Award, the most prestigious design award in the world.
While Lepsis is not yet available on the market, it is already carrying out one of Mansour's most important objectives: telling a story about food.  Inspired by his childhood in Togo, where he experienced firsthand the effects of poverty and food scarcity, Mansour designed Lepsis both as a way to meet growing demand for protein in a sustainable fashion, and to raise awareness.
"I wanted to create an object and a story that could exist in the real world and on the internet," says Mansour, "something that would challenge people while they shop, eat meat, or throw away food, a memorable image that would get them to think, 'Hey, this is a real problem, this is how the world might look if we don't do something about food.'"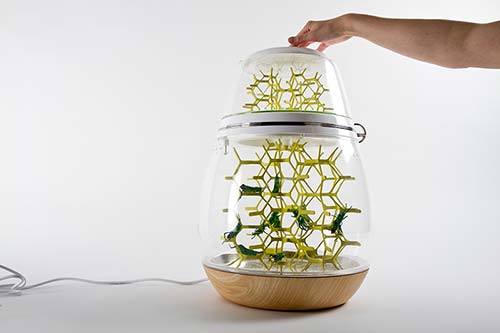 Storytelling is so key to Mansour that it forms a vital part of his design process.  "The way we interact with our favorite products plays out like a beautiful story, so I always start by imagining the story component of a problem I want to solve," says Mansour.  "There's a beginning and the anticipated happy ending, but somewhere in the middle it becomes obvious that the story is incomplete.  There's something missing, and oftentimes the solution is what is missing.  It's what I have to design."  This philosophy has influenced the design process for his most notable product designs, such as the EJECT Power Strip; Mansour noticed people's tendency to yank plugs out of power strips by the cord to avoid bending down, which causes fraying and increases the risk of electrical fires.  To combat this risk, the EJECT Power Strip features foot paddles that quickly and safely eject plugs.
Mansour hopes that one day his own story, too, will be part of a larger solution.  "In so many ways I feel like I'm an outlier," says Mansour.  "For me to spend 16 years in Togo in poverty, and to today work as a designer for one of the biggest corporations in America, says to me that poverty doesn't necessarily make you dumb, it doesn't make you useless, and it shouldn't make you hopeless; most poor people just need the right opportunities to shine and show the world what they can do.  I hope that I can get to a point in my life where I can take that message back to kids who have grown up in the same circumstances that I did."
Check out the other recipients of the 2014 Vilcek Prizes in Design and Biomedical Science!
You may also be interested in