Alejandro Sánchez Alvarado receives the Vilcek Prize in Biomedical Science for his contributions to the field of regeneration—from the identification of crucial genes that control regeneration in living organisms, to the potential for regenerative medicine to address how we treat disease in humans.
Born in Caracas, Venezuela, Sánchez Alvarado was fascinated with science from a young age; he was inspired by his high school biology teacher to pursue further studies in molecular biology. Following high school, Sánchez Alvarado was on a track to go to medical school in Venezuela, he convinced his father to let him attend school in the United States for a year, on the condition that if he did well, he could complete his education in molecular biology—the field he was passionate about—in the United States.
While completing his PhD in pharmacology and cell biophysics at the University of Cincinnati School of Medicine, Sánchez Alvarado recalls that while studying embryonic cells, he became—in his own words—"smitten with the plasticity of the genome—how cells channel genetic information to produce specific outcomes."
Particularly fascinated by the regenerative capabilities of tadpoles under different conditions, Sánchez Alvarado began interrogating what species scientists might study further to better understand the molecular and cellular processes that drive regeneration. He settled on the planarian flatworm, Schmidtea mediterranea, which has become a core subject in his studies.
Sánchez Alvarado is now the executive director and chief scientific officer of the Stowers Institute for Medical Research, and a Howard Hughes Medical Institute investigator. His lab explores the process and genetic control of regeneration and tissue maintenance, and has identified dozens of genes and genetic programs that drive regeneration.
By identifying and characterizing molecular and cellular agents of regeneration, Sánchez Alvarado's work has the potential to lead to a better understanding of how the adult forms of higher organisms, including humans, carry out their biological functions. His research also has led to insights on the molecular and genetic drivers of both regenerative and degenerative cellular processes that contribute to disease.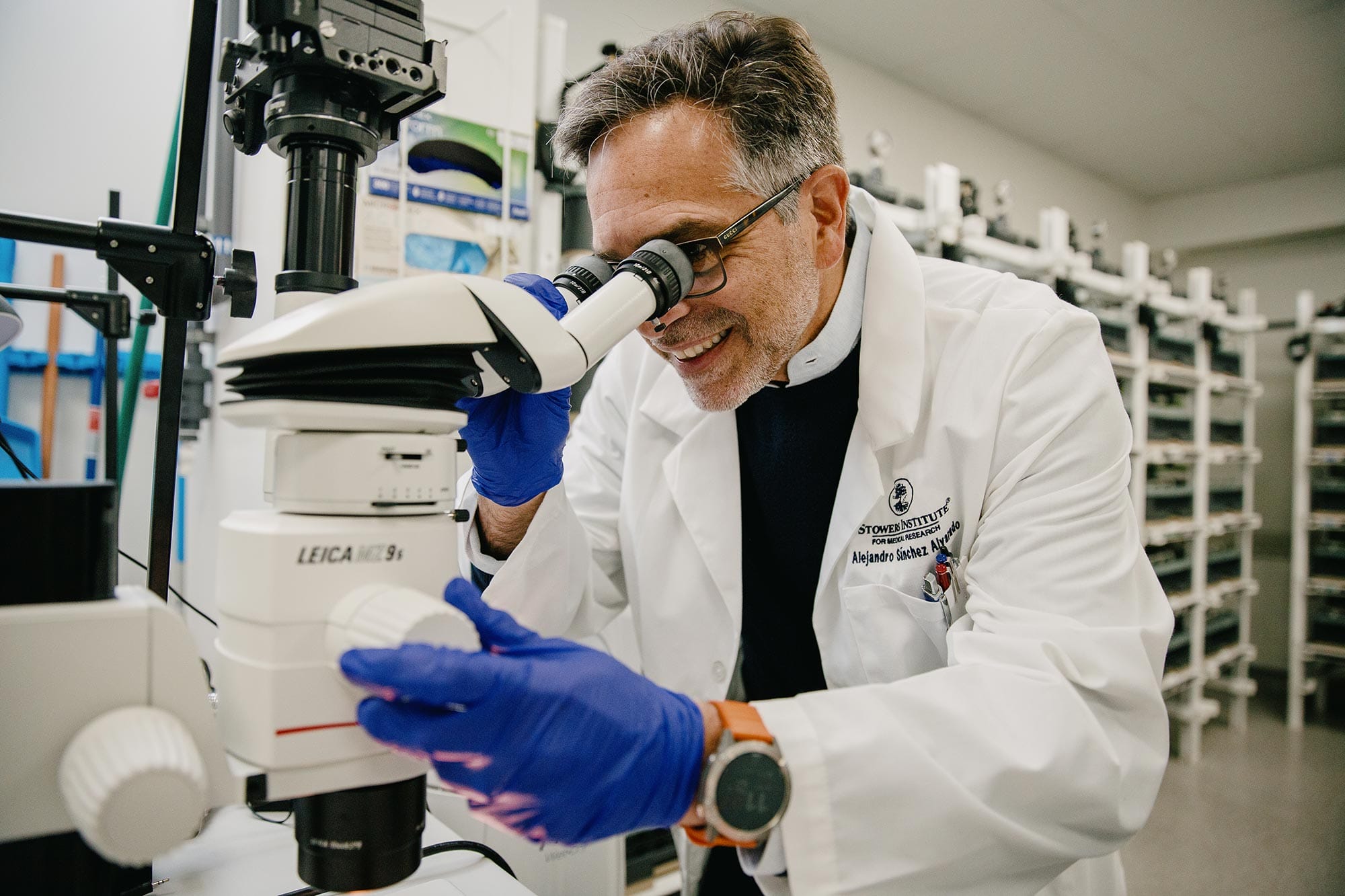 Awards and Accomplishments
Priscilla Wood Neaves Chair in the Biomedical Sciences (2022)
Fellow, American Association for the Advancement of Science (2021)
Member, National Academy of Sciences (2018)
Member, Latin American Academy of Sciences (2017)
Fellow, Marine Biological Laboratory (2016)
Member, American Academy of Arts and Sciences (2015)
National Institutes of Health, MERIT Award (2009)
National Academy of Sciences Kavli Fellow (2008)
E.E. Just Award from the American Society for Cell Biology (2007)
Jury Members
2023 Vilcek Prize in Biomedical Science
Heran Darwin
Professor, Department of Microbiology, New York University
Titia de Lange
Professor of Physiology and Biochemistry, University of California, San Francisco
Dan R. Littman
Helen L. and Martin S. Kimmel Professor of Molecular Immunology, New York University Langone Health
Joan Massagué
Director, Sloan Kettering Institute, Memorial Sloan Kettering Cancer Center
Ruslan Medzhitov
Sterling Professor of Immunobiology, Yale School of Medicine
Xiaowei Zhuang
David B. Arnold Jr. Professor of Science, Professor of Chemistry and Chemical Biology, Professor of Physics, Harvard University
Huda Zoghbi
Professor, Departments of Pediatrics, Molecular and Human Genetics, Neurology and Neuroscience, Baylor College of Medicine